Welcome to my review of BearBullTraders, an online chatroom and stock education service.
I joined BearBullTrader to test it out. You can check them out here if you want to learn more from them directly.
My brief overview is that they have a great educational suite and some fantastic webinars and classes. However, I am less than impressed with their 'trade alerts'.
Disclosure: There are some affiliate links below, but these are all products I highly recommend. I won't put anything on this page that I haven't verified and/or personally used. I may get paid a commission if you buy anything through these links, at no extra cost to you.
Other Services to Consider – SideKickTrades, ThetaTraderz and EagleTrades
If you are looking for similar services…..here are three that I recommend.
1.EagleTrades is a service that does a lot of cash secure puts for passive income that work 90% of the time. They also do morning scalps on a live stream audio. Powerful daily watchlists you can use to make your own trades with breakout levels.
2.ThetaTraderz is similar options selling service that caters to smaller account sizes – a huge plus if you want to sell options but don't have a lot of money in your account to use.
3. SideKickTraders is an awesome community of stock and options traders that offers the best bang for your buck – something for everyone and all the alerts are top notch!
The Complete Guide to Day Trading FREE EBOOK!
For a limited time, Markus Heitkoetter is giving away the electronic version of his bestselling book "The Complete Guide To Day Trading"
It's 296 pages and full of tips, tricks and practical information that you can use right away in your trading.
Click here to download the eBook now.
Facebook Group
I run a thriving Facebook group called How To Make Money Trading Stock Alerts that brings together people that use stock alerts services. It's a great place to share what works and what doesn't! We welcome anyone (with a positive attitude!) and it is FREE to join.
BearBullTraders Chatroom
The first thing that happens in the chatroom is that Carlos and Norm give a market commentary pre-market. They start to build their watch lists while sharing their screens and giving their commentary as they go through each stock.
Here is a screen shot.
I think that it is best described as 'busy' when it comes to the charts, time & sales and the watch list displays.
Carlos builds his watch (right of screen) while discussing each stock in detail. Pretty much all technicals for quick day trades. It is really helpful to listen his thoughts on the charts of each stock as he decides where on his watch list it should be, based on how much he likes it.
He looks at volume pre-market and all the usual chart indicators.
If you are looking for a service that gives you a ton of information about lots and lots of different stocks – you could just let this commentary play in the background. He goes through so many stocks!
Carlos and Norm only do pre-market and it switched over to other guys by about 9:20am ET.
Brian Penzam is another of the guys that comes on after Carlos and gives his commentary on what he is looking at.
BearBullTraders Alerts
I was a bit underwhelmed with the 'alerts'. It really is more like listening to people trading – they mention they are in a stock or might buy it.
Most of the time I found that I wouldn't even know that they had taken the trade.
This is not a newbie friendly approach. Although I am a veteran trader, I couldn't follow what they were doing, although a few people in the chatroom seemed to be able to follow them into trades occasionally.
Here is a what I experienced on day 1 in the chatroom.
A moderator on the mic shorted $AAL on the reversal pull back as it spiked. Really not clear when his short alert was issued….I didn't even hear him entering just him taking partial profits on the way down…
He then scalped $AMC for a few percent. This time I was able to follow him in, but the buy price wasn't clear and it was very confusing. I made a quick 1% on the trade and it did go up a lot more a few minutes later. I don't think he was in it at that point either though.
Aiman shorted $ROKU and got out for breakeven. Unfortunately, I missed his entry again because to me it wasn't clear when he executed the trade!
All the moderators are technical day traders, I listened to a guy called Thor Young make a bunch of trades. It is not clear from their commentary if they are up or down for the day or how much they are making.
They all seem to use typical day trading technical indicators – pennants, VWAP, moving averages,volume, resistance and support. That kind of thing.
They love to look at 1min, 2min, 15 min and 30 min all at once. This makes for a crazy experience for new traders in my opinion. When all indicators are positive on all the different time frames – a trade is extremely attractive!
Bear Bull Traders: Ed Martin Small Account Chat
There is a new guy on the Bear Bull Traders team. His name is Ed Martin and he runs a great new live chat everyday starting at 9AM ET daily.
You can watch him as he scans for stocks that fit his criteria for growing a small account.

Ed shares his screen and ideas while he trades small share size in order to grow his account. Don't miss his post-market scan looking for movers after-market.
Ed was a teacher living pay check to pay check. He took a $1500 bonus check and slowly 'traded his was out of poverty'.
He worked with Warrior Trading many years ago before he started AverageJoe Trading.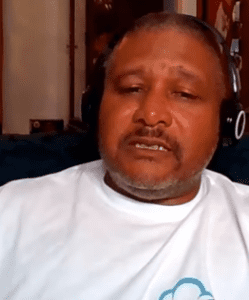 He teaches new traders to just watch the chart and don't watch your P/L. The goal is to just perfectly execute your trade plan.
Ed Martins daily morning chatroom is really great. The screenshot below shows what you see when you login to the chatroom. The text box is on the left and the rest is Ed's screen share.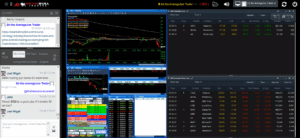 Ed's approach to trading is based on technicals. In particular he focuses on key levels of resistance and support.
Ed starts his commentary half an hour before the market opens as he scans for small cap stocks to trade in his small account.
Stocks reporting earnings is one of his main strategies. One of his main scanners looks for stocks gapping up or down $1 with volume.
Ed Martin Transparency
Ed is very transparent. He is streaming his brokerage and you see his position and orders – superb!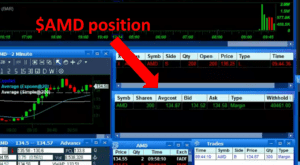 The only thing I noticed is that this is a 'small account' but one position is $42k. Small to some!
I enjoy Ed's commentary and relaxed demeanor. He walks you through each trade as it is happening.
BearBullTraders Education

This is where BearBullTraders team excels in opinion.
The education suite is extensive and they even have a psychologist! You can see the different menu's on the right of the screenshot below.
The education center is pretty good. They have a lot of video lessons on almost every topic you will need to become a successful day trader. Here are some of the things they cover.
1. Finding stocks and learning about support and resistance.
2. How to place different types of orders.
3. Various day trading strategies and examples.
4. Lessons on price action and candlestick charting.
5. Risk management modules. This is SO important!
6. Tax information.
7. Trading position sizes.
8. Psychology of trading.
9. Scanning for stocks and level 2.
10. Anatomy of a short squeeze and reversal patterns.
11. Overview of options trading.
I do like the education center and I think it offers some good advice and tutorials. They also run webinars and classes periodically.
They also offer a whole bunch of lessons about DAS – something I know very little about. I just use conventional brokers and charting offered by them.
You can learn more about DAS here.
The Complete Guide to Day Trading FREE EBOOK!
For a limited time, Markus Heitkoetter is giving away the electronic version of his bestselling book "The Complete Guide To Day Trading"
It's 296 pages and full of tips, tricks and practical information that you can use right away in your trading.
Click here to download the eBook now.
BearBullTraders Trading Psychology
This is one of the areas that BearBullTraders seem to be more focused on that most other services. They recently added two more excellent women to their Psychology and Performance Improvement team.
Créde Sheehy-Kelly (BA, MSc, C.Psychol. PsSI) is an internationally renowned High-Performance Psychologist who helps traders and professional athletes to gain a mental edge and excel under pressure. Créde is a leading expert in the science of mental training and combines this knowledge with an intuitive understanding of people in order to deliver world-class results for her clients. Créde will be leading the "mental edge" aspect of the BBT psychology center, where she will focus on helping traders to cultivate the right mindset, emotional control, self-awareness and habits to gain a true mental edge in the markets.
Neda Changizi, who lives in Vancouver, British Columbia, Canada, will be leading the mindfulness section, where she will focus on helping traders to be more aware of their present moment experiences. This non-judgmental awareness will bring more calm and equanimity when in the midst of negative emotions and thoughts, in addition to assisting traders to improve their overall concentration and performance. Neda earned a Master's degree in Computer Science from Simon Fraser University in British Columbia, and currently is an Instructor at the British Columbia Institute of Technology
Bear Bull Traders YouTube
You can probably learn a lot about the basics from Bear Bull Traders Youtube channel (check it out here). They have so many videos all about trading!
I feel like you almost don't need to sign-up for their premium service – there is that much stuff for free on YouTube.
BearBullTraders Review: Conclusions
This BearBullTraders review is pretty short – mainly because there is not a whole lot to say about the service. I really don't think it is worth paying for it if you are just looking for stock alerts.
The cost of BearBullTraders is $99 a month if you pay for an annual subscription.
You can check out some of the pricing options and learn more here.
This is not worth it for me. I am looking for more clear cut alerts etc. I also don't think that the chatroom is particularly helpful apart from the market and stock commentary.
However, the education is great for new traders!
It is nice to have all the research done for you and spoon fed into my ears while I work on other stuff. I think the whole thing is a bit noisy, complicated and not that helpful.
Good Luck!
Russell
Related Articles
Charles Moon Trade Alerts Review
David Jaffee Beststockstrategy Review
I hope that you found my brief review of BearBullTraders, an online chatroom and stock education service helpful.