Welcome to my Dan Parker Truetrader review! I like what I see with this service! This is an HONEST True Trader review.

Disclaimer: There are affiliate links on this page. This means that if you click through and purchase anything, I might earn a commission for the introduction with no extra cost to you. In no event will we be liable for any loss or damage including without limitation, indirect or consequential loss or damage, or any loss or damage whatsoever arising from loss of data or profits arising out of, or in connection with, the use of this website.
Through this website you are able to link to other websites which are not under the control of stockalertsreviewed.com. We have no control over the nature, content and availability of those sites. The inclusion of any links does not necessarily imply a recommendation or endorse the views expressed within them.
I recently came across Truetrader.net when I clicked on one of their Facebook ads. I swear, I get more stock alerts service ads than anyone else!
I hadn't heard of True Trader or Dan Parker so I decided to learn more about them and write it up for you guys. There are many subscribers to TrueTrader in my Facebook group (How To Make Money With Stock Alerts Services) that can give you more info on Dan's TrueTrader service.
LEARN HOW TO WIN 90% OF YOU TRADES IN 90 SECONDS!
 >> CLICK HERE TO LEARN MORE! <<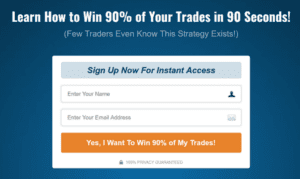 Bullseye Trades: Best Alerts Service

Every Monday at the market open, Jeff sends you his weekly Bullseye Trade.
2022 has been AMAZING for these Bullseye Trades!
(+50% to 300% per week in my experience)
My initial impression is that Dan Parker is a legit trader and that his TrueTrader service is pretty great.
In this Dan Parker review, I will give you 3 of his recent stock alerts and show the analysis of each, where a REAL MEMBER was able to make money from these alerts.
My only complaint is the cost – there are much cheaper services out there that you can make just as much money from.
FB Group and Free eBooks
Check out my Facebook Group for a community of traders that are interested in stock alerts services.
If you are interested in learning an options trading strategy with a 95% win rate……check out my store of free eBooks!
We also have stock/option alerts, algo bot alerts, live trading, education and an AWESOME community! Here is an interview with Michelle one the the professional full-time options traders in SideKickTraders.
Who is Dan Parker of TrueTrader.net ?

I wasn't able to find out much about who Dan Parker is exactly. However, after watching hours of his live trading recordings, I feel like I know him!
But, this doesn't help my confidence all that much – why is there no record of him on social media? I can't find him on Facebook, Linkedin, Twitter or anything else….
The TrueTrader.net live trading recording below gives you a good idea of what would happen if you joined his live streaming trading chatroom.
True Trader Review: How Does True Trader Work?
True Trader is a day trading alerts service. They offer some of the fastest trade alerts that I have ever seen – this is a simple scalping strategy that is hard to replicate.
Dan offers subscribers a trading plan before the market opens. This includes things like the stocks he is watching and what will trigger a trade in them.
The morning live-stream that he runs is extremely exciting and fast paced. It looks like it would be very difficult to copy his trades though…..as he will become very excited and shout 'Guys, I am in $FCEL at $2.45' then repeat it a few times and within a minute or less 'Guys, I am out FCEL at $2.5'.
While this style of live-streaming trading is quite unique and exciting, I am not sure how useful it is for subscribers.
If this is the style of trading that interests you, then seeing an expert do it could be extremely useful and confidence inspiring.
The stocks that Dan Parker is interested in usually have a simple pattern. A stock often makes a dramatic move either up or down in price at the stock market open.
Dan's strategy is to enter the stock on this unjustified move and sell it when the price corrects within a few minutes.
This works when a stock price drops then bounces back up or when it spikes up and then drops back down. It isn't a bad strategy but if you are not quick enough to copy him, you will get burned because you are trading against the current price direction.
However, there are some advantages to this style of stock trading.
1. You get a good risk/reward ratio because you only enter trades on short-term extreme price movements. This means you generally get a stock at an unjustified low price. It isn't like you are catching a falling knife.
2. It looks like TrueTrader's winning trades are much bigger than their losers.
3. Limited exposure to the market works well in today's volatile world. You are not at the mercy of some crazy world event in the same way that swing traders are.
LEARN HOW TO WIN 90% OF YOU TRADES IN 90 SECONDS!
 >> CLICK HERE TO LEARN MORE! <<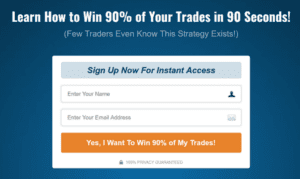 You can do this strategy and follow along as long as you can focus on the service for the hour after the market opens. This is usually when all the trades are executed –  9:30am-10:30am EST.
True Trader claims that you can 'piggy back' on the trades but they encourage you to learn how to find your own trades and become self-sufficient. Copying the trades seems like it would be very difficult to me because they are so fast.
In my small poll of subscribers….not many people are able to blindly replicate the trades.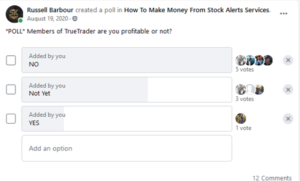 What is Included in the TrueTrader.net Subscription?
You do seem to get some decent value for your money. Here are the things that I think are quite valuable in the service.
1. They teach you the trading process that Dan uses so that you can trade without him. This is the key to longer term stock trading success.
2. Dan seems to be very patient and diligent when it comes to his pre-market analysis. He teaches you how to allow the market to come to you and how to stay disciplined. You get a trade plan 15 minutes before the market opens that includes things like buy/sell zones of particular stocks on watch. Technical indicators seem to be quite simple (a good thing!) and usually focus on just support/resistance levels.
3. Apparently, you can also personally chat with him on live trading sessions! If this is true, it is quite unique in my experience with live trading chatrooms.
4. Trading alongside an expert can help to give you the confidence to actually enter trades. New traders often lack the confidence in their ideas and fail to take action for fear of losing money.
5. There is also an end-of-day video lesson that shows you what went well and what failed. This is always a good thing to have in a stock alerts service.
6. A lot of alerts and trades throughout the day. It seems like they have a good success rate of 70% – 80% wins. You get to see all the trades live so there is no doubt that they are real trades being executed.
Bullseye Trades: Best Alerts Service

Every Monday at the market open, Jeff sends you his weekly Bullseye Trade.
2022 has been AMAZING for these Bullseye Trades!
(+50% to 300% per week in my experience)
They have multiple scanners that are available to subscribers to view. The scanners that show you the top gainers/losers, or the spike can be obtained through some broker platforms, or Trade Ideas.
However, their pivots scanner is much more advanced.
I don't think you can simply find this pivot scanner for free.
Why Don't They Show Profit/Loss?
They claim that there is a reason they don't show their P/L screen.
First, they say it doesn't help the subscribers to become better traders, so they only care about the percentage gain.
If you go in with a large amount of capital then you will make a lot. A smaller position size will of course mean that you make less. So who cares?
Second, there is a period where Dan actually showed his order screen and P/L. Let's say he is bidding on a stock at $1.5, and the stock goes down to $1.55 then bounces back up – Dan won't get filled.
He said that subscribers would see what price he was bidding, then put their orders a little higher, and he wouldn't get filled. While this is possible (especially with this style of trading) I am not 100% convinced of this argument.
I am ALWAYS suspicious of day traders that stream live but don't show their actual broker account that they see as they trade.
Dan Parker Truetrader Review: Cost



True Trader is not cheap. Currently, the price is $395 monthly which is one of the most expensive services I have seen.
However, their annual cost is extremely reasonable at the equivalent of just $99 a month. Weirdly, this makes me wonder why it is only 25% of the month-to-month cost.
I understand nice discounts for yearly memberships, but it makes me wonder if the reason for such a deep discount yearly might be because they have found that noone stays for more than a month or two. A yearly subscription might get them way more money.
Of course, this might be nonsense and they just want to give value for committed members!
Bullseye Trades: Best Alerts Service

Every Monday at the market open, Jeff sends you his weekly Bullseye Trade.
2022 has been AMAZING for these Bullseye Trades!
(+50% to 300% per week in my experience)
Dan Parker Truetrader Review: Testimonials
 There are plenty positive testimonials for True Trader on their website and YouTube Channel. Here are some of them.
"I have been a member of your service for about 5 or 6 months now, I love it! Your levels are bang on and I am constantly profitable with them" – Elliot
"Signed up last week and wow loving the service. The best thing about it that its stopped me over trading in the chop." – Bryden
"Out of the hundreds of trading systems I have tried, yours has jumped to the top part of my list. Your levels are virtually perfect." – Winfried
"After sitting and watching the livestream for the last week, I want to say WOW, I am blown away…I feel that I have come home, this is where I should be, and I can see that following you will really help me mature as a trader." – Rick
"There is no question and you may quote me, your service pays for itself quickly." – Chase
"During the six months I've had your service I've tried about ten others for various trading strategies and yours is the only one I've kept the whole time." – John
"I joined TT 9 months ago, and since that time I have had 31 winning weeks and only 4 losing ones, without a single losing month. I am generally profitable 4 of 5 days per week. Each profitable month I have increased my trading size by 15% and I have actually had several days where I made more in a day than I took home in a month working for the San Francisco Zoo. I know it is about the process and not so much about the money, but when you have bills to pay, it is nice to be making money. I can say without a doubt that had I not found truetrader.net, I would not be trading today." – Emry
"I've been with you guys for the last 4 months or so and have been doing incredibly well. To be honest I was a little worried with the oil drop and covid19 affecting the market and causing a massive spike in volatility. Well one month into the "chaos", and you guys are still killing it as if nothing even happened. World class group of traders here." – Armin
LEARN HOW TO WIN 90% OF YOU TRADES IN 90 SECONDS!
 >> CLICK HERE TO LEARN MORE! <<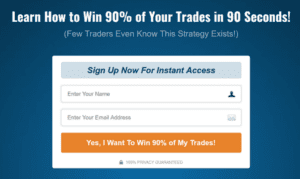 Dan Parker's Recent Trade Summary
Here is a snapshot from this week of the trades that Dan has done.
Dan Parket TrueTrader Real Trade Examples from a REAL SUBSCRIBER
Their strategy is to go long/short on stocks that make extended moves to the downside/upside. They use pivots as indicators. For more information on how to calculate the pivots, please visit  https://www.investopedia.com/trading/using-pivot-points-for-predictions/.
On the charts, the pivot levels are the dotted horizontal lines.
1. Trade 1: FOXF, Date: June 18
If you look at the chart below, in the premarket, FOXF went from 82s to 76s. You can also see the pivot level at 76.2 as a purple dotted line.
Here is the alert that was sent out….

This line is a support level. FOXF dropped 6 points into a support pivot, so we look to go long. The alert was called in the room. You may or may not be able to get the same price, but definitely you can capture some profit.
2. Trade 2: CHGG, Date: June 17
If you look at the chart below, CHEGG went from 61s to 64s. You can also see the pivot level at 64.16 as an orange dotted line. This line is a resistance level. CHEGG moved up 3 points into a resistance level, so we look to go short. Also look at how extended away it is from the moving averages.
This is what an extended move is.
This is the alert that TrueTrader sent out to subscribers. Seems pretty legit to me!
3. Trade 3: YUMC, Date: June 17
This trade came from the morning report, which is sent out to all members in the premarket daily. It contains a list of tickers and different price levels to go long or short.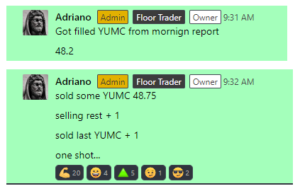 Somedays you can get a couple trades from the report, someday you don't get anything. It is just a watchlist. In the premarket, YUMC went from 51s to 48s. You can also see the pivot level at 47.95 as a purple dotted line. This line is a support level. YUMC dropped 3 points into a support pivot, so we look to go long.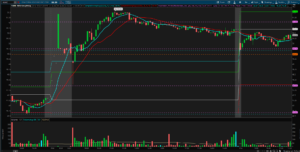 True Trader Review: What is the WORST Problem with True Trader?
The misleading advertising is a big problem in my opinion.
If you watch the True Trader seminar, you get the impression that they will provide you with the supply and demand zones where the big money players buy/sell.
They make it sound that all you do is just simply buy and sell in these zones.
In a way that is their strategy, but a lot of beginners got thrown off after joining because it is much more complicated than that.
Dan also claims that you can simply piggyback on his trades, which is not the case.
The seminar is just marketing tactics. Other than that, their strategy works, the chat room community is good, and they are doing a lot of things. It is like a one for all package.
LEARN HOW TO WIN 90% OF YOU TRADES IN 90 SECONDS!
 >> CLICK HERE TO LEARN MORE! <<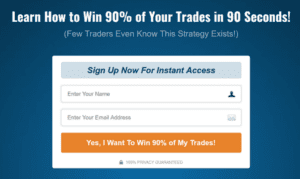 Dan Parker Truetrader Review: Conclusions
True Trader seems like a legit stock alerts and education service. I really enjoy watching the recordings of the live trading sessions and I think new traders could get a lot out of that.
But, don't expect to be able to replicate the trades.
Good Luck!
Russell
P.S I run a Facebook group called How To Make Money Trading Stock Alerts that brings together people that use stock alerts services. It's a great place to share what works and what doesn't! We welcome anyone and it is FREE to join.
Bullseye Trades: Best Alerts Service

Every Monday at the market open, Jeff sends you his weekly Bullseye Trade.
2022 has been AMAZING for these Bullseye Trades!
(+50% to 300% per week in my experience)
True Trader Review: Related Articles
Hopefully, this Dan Parker True Trader review has been helpful. Let us know if you have tried his service!