Welcome to my Jason Bond Rooster Report review! I am a REAL SUBSCRIBER that honestly documents my results with stock alerts services.

I am a subscriber to Jason Bond Rooster Report and so far I love it! It has become one of my favorite services very quickly!
Disclaimer: There are affiliate links on this page. This means that if you click through and purchase anything, I could possibly make a commission without adding any extra cost to you.
Here are my other two stock alerts services that I can't do without! They help me make consistent returns month after month from the stock market.
1. Kyle Dennis Fast5 Alerts ($199 a year). Full Fast5 trading diary here.
2. Jason Bond Monday Movers ($199 a year). Check out Jason's FREE webinar for more info.
Stock Alerts Reviewed YouTube Channel
Be sure to subscribe to my YouTube channel where I review all these different stock alerts services and give you insights behind the pay walls so that you can make an informed buying decision.
I also have a rapidly growing Facebook group full of stock alerts subscribers that you can network with.
We often do polls of different alerts services in the Facebook group to help get a better idea of what is working and what isn't. Rooster Report has rapidly become a favorite, with 90% of people making money from it!
Jason Bond Rooster Report Review: What Is It?

Jason Bond is a multi-millionaire veteran trader that has taught 30,000+ students his winning trading strategy. He is having a bad year with his own trading strategy….but it happens! It is one of the signs of a real legit trading teacher when they report that they are just losing money.  A faker will not do that!
If you would like to learn more about Jason's past performance and his journey from broke school teacher to multi-millionaire stock trader – check out this Jason Bond review article.
One thing I like about Jason is that he listens to what his students want.
Recently, he created Monday Movers to fulfill the need for a simple way to make money from traders alerted on Friday and sold on Monday.
His students wanted this and he delivered. You can learn more about Monday Movers in his FREE WEBINAR.
I am a member of Monday Movers and his more premium service, Jason Bond Unchained. I am a big fan of both these services and therefore I was super excited when he released Rooster Report.

I immediately bought the Rooster Report service!
Jason Bond has a long track record of successful stock alerts and educational products.
Now he has created Jason Bond's Rooster Report Strategy.
One stock idea and due diligence emailed out to subscribers pre-market every day. Sometimes he emails a stock pick and sometimes an options contract idea.
The best part is that you get the plan before Jason buys or sends out an official 'buy alert'. This means that chasing stock alerts as the prices rise is a thing of the past.
Jason Bond's Rooster Report ideas are swing trades which means you don't have to be glued to your computer. They seem to be held for anything from 3 days to a week or so.
Jason Bond Rooster Report Overview Video
Here is a video overview of the Rooster Report for you. Please subscribe to my channel on YouTube for regular stock alerts service insights and reviews!
Jason Bond Rooster Report Review: Educational Resources

Jason's educational content in the Rooster Report is worth way more than the subscription price. You get hundreds of hours of video training from Jason.
He details all of his strategies, chart patterns, catalysts, building watch lists and so much more.
Here is a FREE webinar preview of Jason's 3 easy to learn stock patterns that he uses to pull money out of the market on a daily basis.
Honestly, this is what I have come to expect from Jason Bond and RagingBull – amazing value at an amazing price. You could easily pay the yearly subscription fee for some course and not get any of the daily trades!
Stock trading education is 100% key to being a successful trader and something that is often overlooked in favor of just copying alerts.
This is a mistake.
One of the things I love in the educational section is the big section on selling options. This is basically Jason teaching you his awesome options selling strategy that helps him make a ton of money in his Weekly Windfall service.
Here are some of the topics that he covers in the options selling guide in the RoosterReport.
Jason Bond Rooster Report Review: What Exactly Do You Get?

Here is what you get with the Rooster Report.
1. Daily due diligence for Jason's favorite stock that day. This comes as an email delivered to you pre-market. It outlines why Jason likes the stock and gives typical price targets etc. They are quite detailed but not overly so.
2. When Jason buys the stock or option he will alert members that he has done so.
3. Everyday Jason included his current portfolio in his email to ensure subscribers know what he is holding.
4. The awesome educational suite discussed above. Everything you need to know about Jason's strategy.
All this for a price of $299 a year. Pretty amazing really!
Jason Bond Rooster Report Review: Who Will This Work For?

The service is aimed at traders of all levels. It is a swing trading service so you don't have to be glued to the computer all day. This makes it well-suited for people that have other things to do during the day.
I do think that some level of trade management skills are required for this service as you will want to pick your own buy price, profit zone and stop loss. Relying solely on Jason to guide you in the trade is not wise in my opinion.
I often day trade the stock ideas but maintain a core position to see if the trade thesis will work out for bigger percentage gains.
Jason Bond Rooster Report Review: Week 1 ($PENN and $VERI)
This is the first trade diary entry in my Jason Bond Rooster Report real user review. I am trying to just do a few of these Rooster report trades a week – choosing to enter the ones I think seem the lowest risk.
I have managed to get into the Rooster Report on day one of the first ever alert from the service! So, here is the pre-market email that Jason sent to subscribers on July 30th 2020.
'Cock-a-Doodle-Doo!
PENN stock and options is today's RoosterReport.
Technical analysis is an ascending triangle in which the rising light blue trendline illustrates demand at higher lows. The purple horizontal supply line, seen as a double top around $40, is resistance.
Each time the stock dips it gets bought at higher lows, a bullish sign. Each time the stock knocks at the supply line, that line weakens. In theory, a breakout looms. Barstool partner is the catalyst, they are firing on all cylinders despite the pandemic. With earnings next Thursday I think this could rip above $40 before the call. 
I like the stock above $35 and am likely to buy 2,000 shares. I like the $37 calls for August 7 and am likely to put $10,000 or so into that.
I like selling a put spread too, which is a bullish way to collect option decay, and am thinking $35 as my basis. If I take any of these trades this morning I will record a video of my entries so you can see how each order differs.
Back in March I bought this stock in the $4's, damn near it's lows using my fish hook guidelines. Now I hope to be buying it as it breaks to new highs, using my continuation pattern into rocket guidelines. 
Welcome to the RoosterReport! Let's do this!
The diary of a real $ trader,
Jason Bond'
Jason ended up buying $PENN stock at $36.45 (2000 shares). I bought the next day quite a bit lower at $33.8 as the stock broke down shortly after Jason's purchase…..not a great start for him.
Here is what happened with the stock price over the next few days….
You can see that $PENN failed the breakout that Jason wanted. I waited until the stock pulled back and found some support before buying my position at $33.8.
I figured that there was a good chance the stock would rebound (according to the chart) and retest the $37 breakout level.
It did do this a couple days later and I sold for a nice profit. Jason was able to capture about $1 per share profits and make some extra money on his options contract.
Overall, a luke warm trade in my opinion….despite it actually being profitable. Jason's 'Triple tops never are' turned out to be false – this WAS a triple top lol.
I have been analyzing some of Jason Bond's trades from a couple of different services. Looks like he is badly timing his entries at the moment and buying for a breakout that doesn't happen. It does seem that the trade ideas work out but are pulling back from the highs very quickly after the alert!
This is not inspiring for new traders that are not use to this kind of price action.
Anyway, a win is a win!
Jason Bond Rooster Report $VERI, Week 1
The second alert that Jason sent out to members was $VERI. Here is his update email on Friday 31st July.
'Cock-a-Doodle-Doo!
Portfolio:
2,000 PENN at $36.45
30 PENN August 14 calls at $3.30
50 PENN August 7 $36 / $34 put spread at $.80
Advance notice:
VERI is Friday's trade idea. Back on July 8 they guided strong and the stock made a significant move on the 9th. But the market was down that day and choppy in the days to follow and shares retreated from $16 to $10's. Now basing in the $11's with earnings a week out, I like the strong guidance to act as a catalyst headed into the call. I'm thinking a move to $13-$14 on a swing trade here. Tech in general is strong right now and I suspect this could get frisky again. 
Additionally, back in June the President filed a form 4, buying in the $13.50's and the CEO filed a form 4 buying in the $13.50's as well. With earnings on August 10th, a swing between now and then for 10-20% seems like a high probability bet to me. 
The diary of a real $ trader,
Jason Bond'
Here is how I played it and how Jason played the trade. We both capture about 5% gains quite quickly…..but out trade prices etc. were quite different.
You can see the advantage of getting the advance notice email pre-market. I got a much lower entry ($11.07) than Jason did.
As usual though, I sold too soon and missed out on half the price move! Still it was a pretty easy base hit win for myself and Jason.
Here is the email we received from Jason regarding closing $PENN and $VERI.
'Hey guys and gals,
I made a few moves:
– Sold to close PENN 8/24 $36 calls for $3.35
– Sold to close PENN stock @ $37.31
– Bought to close PENN 8/7 $36/$34 put credit spread for $0.65
– Sold to close VERI @ $12.56.
Nice ~$4000 profit on VERI and $3,000 on PENN, all from the first two Rooster Reports!
Cock-a-doodle-doo!

Jason Bond'
I hope these initial two trades are indicative of the trades we will receive throughout the rest of this service. I will try my best to keep this trading diary updated!
Jason Bond Rooster Report Review: Week 2 ($ZAGG)
Another amazing trade this week. Here is the pre-market Rooster Report.
'Good morning,
Booked a few wins Tuesday putting RoosterReport up $7,000+ in the opening week and if the market holds up today, should be able to add to those gains. 
ZAGG looks like a good swing to me around $3. I've been wanting to buy this one but had to wait until after earnings. Looks like a nonevent but with AAPL's new iPhone coming in October, I think this is done bleeding out and a good takeover target too at these depressed levels. Good swing and good 2-3 months hold as well I think. Buy zone is $3 – $3.20 for me, I'd add if it dipped to $2.70's and stop below that level. 
The diary of a real $ trader,
Jason Bond'
Jason didn't end up buying it, but I did as did many of my friends! Check out the chart below to see what happened to the stock on the very first day of the trade.
Cock-a-doodle-doooooooooo! This was an 18% win on a day trade! I think that might be all for this week for me, I don't want to give profits back.
Jason Bond Rooster Report Review: Week 3 ($TSLA)
The only trade I made in this service was a stock position $TSLA. I broke even on it because my trading sucks right now.
However, Rooster Report members made 100% – 200% gains on the $TSLA options calls that Jason alerted. Overnight.
Seriously crazy trade and quite a bit of luck involved in it – they announced a 5:1 split which is a very Bullish sign for an expensive stock like $TSLA as it brings the price down per share to a level that more investors are interested in.
Here is Jason's email to subscribers about the trade and how it worked out.
'First MONSTER win for my RoosterReport which is my favorite trade, alerted premarket. 
Then in real-time too, when I jump on that cock and ride. 
So this morning I alerted TSLA calls premarket.
Then I bought TSLA $1370 calls before 10 a.m. ET and sent real-time alerts.
Then the rooster did something nobody expected. It split it's stock 5:1
And the rooster went off the rails! 
First monster win for the RoosterReport.
Let that be a lesson to short sellers, RoosterReport is one cock you don't want to mess with.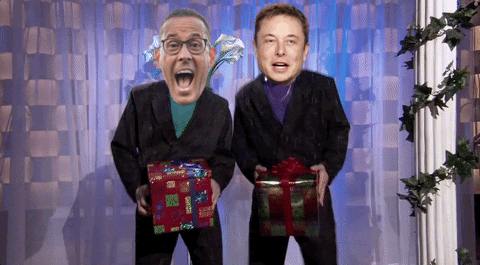 Join RoosterReport now …
… to get tomorrow's pick before the market opens.
CHEDDAR!

Jason Bond'
Jason also had a bunch of other winners this week in the Rooster Report. These included $PLAY and $ZAGG.
Jason Bond Rooster Report Review: Conclusions
So far, I love the Rooster Report. I love the simplicity of it. One new stock every day. No chasing an alert and plenty of time to do my own due diligence or wait for a pullback in price.
I think that this might turn out to be one of Jason's most popular service given the price, accuracy of the stock picks and the educational material.
You can check it out here for more info.
I will continue to document my trades that I make in Jason Bond's Rooster Report service. I am unlikely to take every single trade since they come out daily. When I do take them, I will document how they work out in this article.
So, if you are interested you could bookmark this page and check back regularly.
Related Articles
Jeff Bishop High Octane Options Review
I hope that you found my Jason Bond Rooster Report review useful! I am a REAL SUBSCRIBER that honestly documents my results with stock alerts services.