Welcome to my latest Jason Bond trading review!
Weekly Windfalls is Jason Bond's latest option trading offering to premium clients. The service has been extremely well received, with multiple large winners since it's conception.
I wanted to do this Jason Bond trading review to show you some of the options trading strategy that is at the heart of his services – especially Jason Bond's Weekly Windfalls.
Disclaimer: There are affiliate links on this page. This means that if you click through and purchase anything, I could possibly make a commission without adding any extra cost to you.
How Jason Bond Has Traded This Market
Jason has been trading this market with amazing success. It is a crazy trading environment due to the political unrest – but yet stocks are continuing to make record highs every other day.

This is a very old bull market and I think that everyone is anticipating the downfall that is certain to come eventually. I've noticed that the gurus are RagingBull.com are preparing for a market down turn.
In this article, I want to reveal Jason Bond's trading strategy that he has been implementing in his options trading service, Weekly Windfalls.
You can learn more about Weekly Windfalls in this FREE MASTERCLASS that Jason has recorded for you. Learn some of the trading strategy from the man himself!
Jason has made the Weekly Windfalls service for people that want to make money but not spend the entire day watching stocks.
Jason was a struggling school teacher with massive student loans until he discovered trading – he wants to change your life the way he changed his!
Jason Bond Testimonial – his trading services are the most popular on Wall Street!
So, lets find out how Jason times his trades in this ridiculous all-time high market!
First, some information so that we are all on the same page…..Jason Bond uses Fibonacci levels to trade successfully.
What is Fibonacci? Or Who?



Fibonacci was a math genius that lived in Italy in the 1100's.
The Fibonacci sequence is taught to kids in high school math. It came about when he was studying rabbit population growth – hence the mating like bunnies saying.
Basically, the Fibonacci sequence means that you at the previous two numbers to get the next number in the sequence:
0, 1, 1, 2, 3, 5, 8, 13, 21, etc…..
The sequence appears in nature and in the most weird places. One of those unexpected places is in stock trading price patterns.
Let me show you how Jason uses this to make money trading stocks and options.
Fibonacci Retracements in Stock Trading

I have followed Jason Bond for a long time. I am currently a member of his trading services (Jason Bond Jackpot Trades).
I have traded the Fibonacci Retracement pattern with Jason Bond alerts. It works pretty well, although it is not my favorite pattern.
Basically, Fibonacci retracement levels in stock trading are lines of support at important price levels after a large move. When a stock moves up, pauses and sells off, it can be very helpful to know where high probability lines of support are.
The Fibonacci levels are 23.6%, 38.2%, 61.8%, or 76.4%, of the price high. These are the levels to watch for the stock to bounce off.
Jason Bond uses these levels to trade on. He will buy the stock or place a bull credit spread (in his options trading program, Weekly Windfalls) .
Here is an example of how to trade Fibonacci retracements.
Example
Apple recently demonstrated the Fibonacci principle for us!
Last year (2019) the shares of APPL went from $140 – $210 in the first 4 months of the year. So, check out the chart below to see the Fibonacci lines.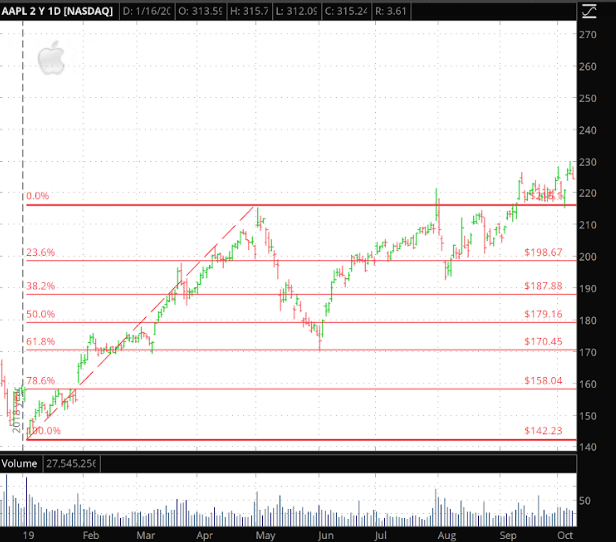 Jason puts the 0% Fibonacci line at the top of the chart where the highest price was achieved. The 100% line goes at the bottom, back before the rally began.
The example is a good one as you can see that the stock price retraced down until it his the Fibonacci retracement line (61.8%) before rallying back up in price.
So when you see the bounce starting to happen, you can bet on the stock price going back up. If it breaks that support line Jason will often short it.
Another good example that Jason uses to show people the power of the Fib retracement is shown below. Look at how Amazon stock price acts around the different key levels. Even over a long time period, these levels still hold.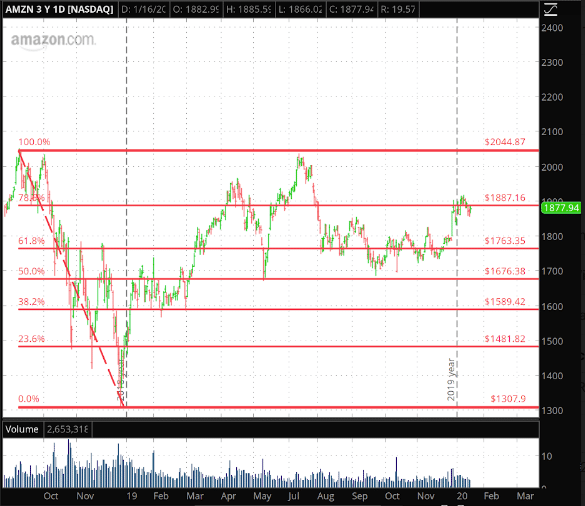 Jason Bond Fibonacci Extensions
Jason uses Fibonacci extensions to find options trades for Weekly Windfalls.
The cool thing is that most trading platforms will auto-populate the Fibonacci retracement levels for you. You just have to set the 0% and 100% levels on the chart.
You can manually set Fibonacci extension levels. Let me show you how Jason Bond uses Fibonacci extensions to plan his trades.
Jason Bond Example Trade: Fibonacci Extension
Let's use $MAT to illustrate Bond's technique. You can see all the Fibonacci extension levels included in the $MAT chart below.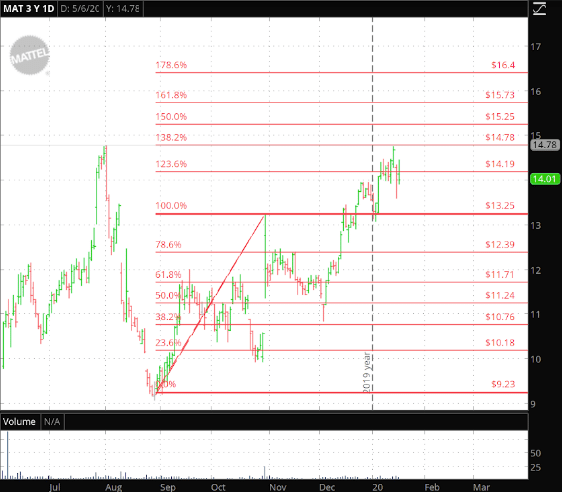 You can see how the growth of $MAT on the right side of the chart. However, in December the price retraced 50% of gains and hitting $11 per share support.

After this flag, the shares then rallied up to the 138.2% Fibonacci extension level. $MAT had a history of using this level – so it wasn't to hard to predict it!
Once you know where the key levels are, you can figure out a trading strategy of how to trade them. If an extension occurs, Jason will often short the stock or buy a put option.
If the stock chart shows a strong Fibonacci retracement, he will often buy the stock or buy a call option.
Understanding where the key price levels of a stock are is the KEY to trading success.
Jason Bond Trading Review: Important Takeaways



Remember that Jason doesn't just only use Fibonacci levels. He uses multiple other factors and indicators combined with Fib levels.

The best traders are always looking for multiple signals that a trade will work – the more the better!
Jason uses Fibonacci retracements to find the best ENTRY points for a long trade

Fibonacci extensions are used to find the best EXIT points for a trade or even to place a short trade.



 Jason Bond uses many other technical analysis tools (like his THREE CHART PATTERNS, FREE WEBINAR HERE) in conjunction with Fibonacci levels.

Jason looks for oversold, overbought or stocks that are just about to breakout. He is a master at timing his trades that have the highest probability of success.
You can learn his philosophy and watch Jason trade these indicators in real-time as well as get his free trade alerts.
Conclusions: Jason Bond Trading Review

I hope that you have found this Jason Bond trading review helpful. Jason doesn't use any secret patterns – all of his strategy is well-established in trading literature.
Jason is just really good at timing his trades and money management. I say 'just' but really that is at the heart of a successful traders strategy.
Good Luck,
Russell
Related Articles
Jason Bond's THREE Famous Trading Patterns
Jason Bond Freedom Trader Alerts
Kyle Dennis's INSANE Fast5 Trade Alerts Reviewed!
Jason Bond's trading strategy is simple, but multi-faceted. I hope that you have learned something about how he makes money with Jason Bond Picks and Weekly Windfalls using Fibonacci levels. These stocks appear on the Jason Bond watch list on a daily basis!