Welcome to my Jason Bond Unchained review and ongoing trade diary. I am documenting every single trade I make with his Jason Bond Picks service to give you the HONEST unbiased view of his alerts services.
I joined Jason Bond Unchained right after Jason had the worst couple of months trading that he has ever had. He was down $500k in a couple of months since the start of 2020.
Disclosure: There are some affiliate links below, but these are all products I highly recommend. I won't put anything on this page that I haven't verified and/or personally used. I may get paid a commission if you buy anything through these links, at no extra cost to you.

Who Is Jason Bond

Jason is a self-made multi-millionaire trader and entrepreneur. His main claim to fame is that he was a poor school teacher that turned to trading stocks to pay off debt.
There are pictures online showing him as an authentic elementary teacher with sports teams that he coached etc. There is little doubt that Jason's story is legitimate in my opinion.
Here is a picture of Jason and his wife, Pamela.
Jason specializes in trading small cap stocks. Typically, these stocks cost less than $10 per share. His trading style is quite short term (typically 1 – 3 days).
He sends out watch lists, emails and SMS alerts to subscribers telling them what he is buying and why. What you do with this information is of course up to you!
I have written extensively about the three patterns that Jason uses over and over again to pull money out of the stock market on a regular basis.
Over the years, I have been a member of Jason Bond's alerts services. Most recently, I joined his Monday Movers stock alerts service.
I document every trade that I make in his Monday Movers service here.
Or you can check out his FREE WEBINAR where he explains how his lowest cost service works.
Here is a video overview and walk through of Jason Bond Picks. I hope this helps you!
Don't forget to join my Facebook group (How To Make Money Trading Stock Alerts Services) for a ton of support in a positive and thriving community of fellow traders following stock alerts services!
Jason Bond Transparency
I recently joined his latest re-branded service called Jason Bond Unchained. This is the same service as Jason Bond Picks, the service that started it all years ago.
But, Jason has added one new feature: Advance notice alerts. More on this later!
I have to admit – it is not the best introduction to a stock alerts service when you buy it and the first thing you watch is a live video training where he explains how much money he is losing this year……lol.
But, I actually love that he is being so transparent. Most traders have horrible times when they just lose money all the time and Jason doesn't hide his.
I'd be VERY skeptical if he just claimed to make money all the time.
RagingBull.com Stock Trading Platform
Jason Bond and Jeff Bishop founded RagingBull.com to teach stock trading to people. The company has grown to be the leader in the industry.
Kyle Dennis learned from Jason Bond and rapidly became a multi-millionaire from trading stocks – before he was 30 years old!! He now has his own stock alerts services on RagingBull.
My favorite service Kyle offers is called Fast5 Alerts. One trade alert a week that has worked for me almost 100% of the time!
Check out my full Fast5 review and diary here for more information.
RagingBull actually care about their members, and not just because they say that they do.
Both Kyle Dennis and Jason Bond trade their own real money right alongside us, and always make it a priority to address every concern.
I wasn't surprised when Jason Bond decided to take it even one step further…and do something that no other trading guru out there is doing….
I'm talking about Jason Bond Unchained Advance Notice.
What this means is Jason alerts trades to his members, minutes, hours, sometimes even DAYS in advance of when he personally places the trade.
Advance Notice alerts are FULLY TRANSPARENT and give members the extra time and edge they need to nail these trades.
This is the new normal at Jason Bond Picks
Click Here Now and Watch Jason Reveal His Full Momentum Trading System.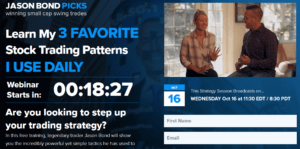 I want to make this the most helpful Jason Bond Unchained review online.
You can Google 'Jason Bond' or 'Is Jason Bond a Scam?' etc. to read all about the guy.
I think what this review has to offer is much deeper than all the other Jason Bond Unchained reviews – I want to show you REAL trades by a REAL Jason Bond Unchained subscriber.
Not just cherry picked trades to show off the service – ALL OF THE TRADES I MAKE WITH THE SERVICE BOTH GOOD AND BAD!
This is not something that you can really find anywhere else. I will do my best to update this review/journal every week and document every trade. I will show you all his watch lists and how those trades worked out.
Let's get started!
Jason Bond Unchained Advance Notice Review: Week 1
This was my first week as a paying member of Jason Bond Unchained (Advance Notice Alerts). He alerted three trades – 2 options trades and one momentum stock trade.
All of them were losses.
Luckily, I only bought the stock and luckily got out for break even. But, Jason was not so lucky.
In the video below, I do a short run through of the stock trade he alerted.
Week 1: Jason Bond Unchained Watch List
But let's get started with Jason's watch list – it was a really great watch list that he sent out pre-market on Friday.
Amazingly, every single stock on the watch list went up in price during Friday. This was a REALLY good watch list!
Unfortunately, Jason didn't buy any of those!!
Here is the watch list so you can see an example of the type of watch list he sends out in the service.
'Good morning,
Day 5: JasonBondPicks versus WeeklyWindfalls first to $50,000 realized profit competition:
JasonBondPicks +$100
Weekly Windfalls +$6,200
Competition notes: First service to $50,000 wins, then I'll reset and do it again. So far WeeklyWindfalls has been the more enjoyable strategy in this market because it's easier for me to play the long and short side of stocks. 
Thursday's profit booster replay, item 7, is located at the bottom of the vault. The trade I taught, SHOP, is down at $702 this morning meaning it's very possible I'm able to get nearly 100% of the premium on the trade. I will look to close it out today around $.10 if possible, otherwise I'll let it ride. It looks like an offering is weighing on it in the premarket. 
The board is green ahead of the Jobs report, China and the U.S. are playing nice I guess, for now. It's becoming apparent that bad news equals a rising market due to record stimulus.
I find this situation tricky to get aggressive trading momentum stocks because it feels like the market should roll back down. That said, I will likely start to ignore that feeling and get active again. If the Russell 2000 (IWM) is not below $128 Friday, I will likely close this position for a loss. If that happens there's a good chance I take the same trade with the $130 or $132 Puts as a hedge to my aggressive momentum trading. Transports (IYT) for example, continue to struggle in the low $140's. Transports are considered a leading indicator for the stock market which is one of the reasons I've been shorting the small cap index. 
CREX fibonacci Friday setup in play above $2.50 for a move into the $3's. The further this gets from the initial spike the less likely it is to fire. But on a Friday after a 10% move on light volume Thursday I'll definitely be watching today.
VUZI and TTPH both spiked Thursday but pulled from resistance levels. Both are in play for me above $2. VUZI has breakout potential while TTPH would be a trade to the recent highs since there's plenty of range into the low $3's. VUZI is my favorite here of the two identical patterns.
EROS is building toward a key breakout at $3 with little resistance above to $4. News that they partnered with Visa Thursday sure didn't hurt. The trade for me is above $2.80, looking for middle $3's to profit. I like the history of trending here too, stock tends to run for a few months when it gets going. 
CPAH is a continuation pattern I like. Volume is light so position sizing would reflect that. Range on this one is pretty good to the middle $4's and it sure looks like that's the way it's headed. Might be a boring trade but does have a history of monster spikes, which is something I always look for if I'm going to sit in a good pattern that I think might be boring until it's not. 
WATT I really like here on retracement and if it holds $2, I'm looking for a swing. The FCC certification news for them was really good I think and I suspect it'll lead to something positive in the near future.
Here's a note from Ladenburg via The Hammerstone Report, a news feed I subscribe to:
Good luck today,
Jason Bond

Jason Bond'
Jason Bond: Advance Notice Email for Week 1
Here is Jason's advance notice email to subscribers.
'Intraday bull flag. In play above $4.80 or $4.60 but really, I want to see it above $5 at this point. Definitely a TGIF day trade. High of day is $5.72, looking for it to visit that area for a profit. I'd like to enter between $5 and $5.30 and put a tight stop loss on it.

Jason Bond'
The first thing I noticed is that the email is not as polite as the ones that I receive from other traders, like Kyle Dennis.
Not really a big deal though!
Here is Jason's actual buy email, 23 minutes after his advance notice.
'Bought MRAM at 5.39, day trade, bull flag mentioned in advance notice email, looking for hod for profit, stop 5.20-5ish, in an ideal world this runs to $6's and i trim and trail it there, see what i see? 

Jason Bond'
A few hours later, Jason sold the $MRAM and his two options positions, all for a loss. Here is his email.
'Not much working for me this week. I sold the IWM Puts at $4.20, MRAR at $4.77 and APRN Puts at $.15. About -$18,400 on those trades. Going to sign off early today and regroup next week with a fresh mindset. I hope you had a better week than me. Have a good weekend.
JasonBondPicks  -$18,300
WeeklyWindfalls +$6,630
Sincerely,

Jason Bond'
Jason Bond Picks Review: Week 2 ($SIEN & $TLRY wins)

Week 2 in Jason Bond Picks has been a pretty good week for me despite market conditions. I stopped trading midweek as the market dropped 500 points.
I traded three of Jason Bond's advance notice alerts this week though. One was breakeven, one was a 5% winner and one made me 7% profits.
Here is a quick video overview of Week 2 in Jason Bond Picks Unchained! I made some more trades after I made this video though!
Here is the Advance Notice Jason sent out for the first trade this week.
'Good morning,
Buy zone on $FCEL for me is $2.03 – $2.07, stop loss under $2 and goal is 10% on a swing higher. 
Good luck today,

Jason Bond'
I bought it on the advanced notice at $2.09 which was a little high. I held it for a few hours and ended up selling it for about breakeven. I don't think Jason Bond even bought it.
The second trade for the week was much more productive. Jason sent out this Advance Notice for $SIEN on Tuesday.
'With earnings behind $SIEN is moving up today. Resistance at $3 was already tested and I'm looking for a higher low entry on the intraday chart for a move up tomorrow. Ideal entry for me is above $2.70, no higher than $2.80 for me though, don't want to chase. 
Wasn't able to get my fill Monday on FCEL, wanted $2.03 and it didn't get there but still watching as it's now in my wheelhouse.

Jason Bond'
I bought the advance notice at $2.81 and ended up selling at $3 for a quick 7% gain. The chart was a beautiful example of a coiling breakout. I missed out on another $0.3 in profits but I want to be nimble in these markets.
Jason is currently at a loss on this trade after buying at $2.84 about 1 hour after I did.
Last Jason Bond Trade of Week 2 – $TLRY, 5.5% winner for me.
On Thursday afternoon, Jason sent his advance notice. Here it is below.
'My afternoon advance notice:
I have the intention of buying 3,000 TLRY between $7-$7.20 this afternoon. The sector CGC & ACB are looking like bounce candidates and I think TLRY is my favorite of the group. My goal on the swing would be $1 / share. It's likely I'd buy more in the coming days if it got into the $6.70's and stop loss below the middle $6's if it broke down.'
I had already played $TLRY successfully like 5 times this week from alerts in Trade With Kyle and Fast5 Alerts.
The stock was a goldmine to me so I bought again on Jason Bond's advance notice alert.The chart was showing a nice solid stair step upwards and I figured that nothing has changed from Monday, when I bought based on Kyle Dennis's thesis for $TLRY.
Jason Bond ended up sending an email saying:
'I ended up buying 5,000 shares of TLRY, not 3,000, and my entry was smack dab in the middle of my $7 – $7.20 zone, picking them up at $7.09.'
The reason that Jason Bond is interested in $TLRY is pretty simple. The cannabis sector is doing really well this week. This is what good traders do in bad markets. They hunt down the sectors or individual stocks that are bucking the overall market trend!
Here is a snippet from Jason Bond's advance notice alert where he explains his simple thought process.
'The positive headlines flowing Thursday into Friday say it all. ACB pot sales grew faster than expected and revenue beat forecasts. Then U.S. cannabis operator Green Thumb (GTBIF) reported tripling revenue as it pared down losses but shares don't trade in the U.S. or it'd be on the board. But the point is it helps the sector and therefore TLRY.'
I got back in to $TLRY at $7.11 per share on Thursday.
The next morning $TLRY hit $7.7 but I was still in bed…..so I sold at $7.5 for a nice 5.5% profit overnight.
Jason sold close to highs of the day and did a better job than I did on the trade. I think he got about 10% gains. Here is a quick annotated chart to show the quick overnight trade.
So, you can see that I didn't just blindly follow a trade alert or idea here. I watched the charts and used Jason's advance notice email as extra 'evidence' rather than a command to buy lol.
I keep getting people leaving comments on my various platforms that claim I am 'not a real Jason Bond subscriber'. I promise you that I am. I recently started a YouTube channel where I show the email alerts and give some hints and tips on how I am able to make money with various stock alerts services.
Here is the relevant video that gives some more details about the $TLRY trade I just discussed above. I encourage you to check out the videos and join the Facebook group I started to give people support if they need it after joining stock alerts services.
Jason Bond Unchained Review: Week 3

A good start to week 3 of Jason Bond Picks. At the end of last week, Jason sent out the following advance notice.
'Advance notice: 
LC is a stock I want to buy before the close. It's reversing off Thursday's $4.89 low and I think this is a good time for me to take a shot on the stock.
Overall I get that it's bearish but within that trend it's been moving up and down in a channel and I think it could go for $6, maybe middle $6's if that keeps up.
I think 4,000 shares in the $5.30 – $5.40 range. I intend to buy this before the close today. 10% is my goal here. I'd be okay adding size if it weakened and then determine my stop loss from there. Looks like $5-$5.20 for that.
The diary of a real $ trader,

Jason Bond'
I bought $LC at $5.42 on Friday. Today, I sold my position at $5.76 for an easy $6.3% profit over the weekend. Jason is hitting winner after winner!
I also bought and sold $GOGO on Jason's advance notice but I got out of it for breakeven. I could have had a profit on it but I chased it and was in too high.
Here is a quick video walk through of the week so far.

On Tuesday, I had another nice winner with Jason Bond's alert $GRPN. I made 6% by day trading it.
Here is what Jason had to say in his advance notice where he said he was going to buy $GRPN.
'Afternoon advance notice:
GRPN is a stock I'm watching close and would like to buy this afternoon. It's up 9% today so I'm chasing and therefor will only buy half size, for me that's probably 10,000 shares. Range to $1.50 is pretty clear on the chart.
What I like here is the probability of good news and I'm basing that on the economy starting to accelerate reopening along with the big pile of cash they are sitting on. Goal is profit in the $1.40's. Buy zone for me is $1.13 – $1.23, in play above $1 for me.
The diary of a real $ trader,

Jason Bond'
I bought $GRPN at $1.19 and sold at $1.27 for an easy 6% gain! This week is working out so well with Jason Bond's stock picks! Jason got 4% for a nice base hit.
Here is the annotated chart summary.
So, no losers in Week 3 for Jason Bond or myself!
But, it gets better! Check out this MASSIVE winner that Jason pulled off overnight on Tuesday. I didn't buy because he said it was risky…..
Here is some of the details from the trade, directly from an email he sent out after he sold.
'Advance notice was at $3.05. I tried to buy in the $2.50's but it never dipped so I did what I said I'd do and bought just above $3. The key to this working for me is multi-faceted:
I followed my plan, first bidding middle $2's, then and only then, around 3:30 p.m. ET, when it was clearly still strong, did I move up my bid.
I went small so I could withstand some volatility, up 342% at the close I figured it might shake some and it did, in my favor, now up 540% as I type in the $4.90's.
The news was good evidenced by the $800 million in liquidity and price action. See first day big % movers on heavy volume usually suggests follow through.
I calculated there was less odds of an offering because they just did one in late April, this gave me confidence to hold overnight.'
And as a result of my knowledge and application of it, I'm walking away with $3,782 in CHEDDAR. Add that to the $2,000 on WATT, $500 on GRPN, $2,100 on PIXY and $6,000 on my SPY Puts into the close and I had one hell of a day with over $14,000 in realized profit Tuesday. 
My exit wasn't the best at $4.47 on the way to $4.90's as I type, but that's 40% and nearly $4,000 profit. Glad TD wasn't broken tonight lol.'
I managed to scalp this trade alert on $ONVO. Here is the advance noticed Jason sent out.
'Advance notice:
I think ONVO might make a run at the recent $.93 high. This might be a day trade and / or gap trade. $.90 is the clear resistance and if it takes out that level a move to round number $1 would make sense.
Currently trading at $.745, it's in play for me above $.72, stop loss below $.70 and a 10-20% goal on it. Very volatile stock so I deem it risky and therefore I'll go small with maybe 10,000 shares. 
The diary of a real $ trader,
Jason Bond

Jason Bond'
$ONVO formed a nice Bull Flag and Jason sent out the above advance notice. As soon as the chart started to curl back up, I bought in.
I took a nice little slice of the pie from $0.75 – $0.81 for a quick 8.5% gain. Easy money!
More trades this week! One of particular note was $ABIO. I didn't play it and Jason Bond missed it as well, but one of my friends from my Facebook group did – and he made BANK!
HUGE move on it today. I wish I had got in!
Here is what Jason had on his watch list regarding $ABIO.
'ABIO stock is one I'd like to day trade today or maybe even play for a gap tomorrow. My buy zone is around $10, prolly partial size, more in the $9 range and stop below $8 is my thinking. Would like to see if this bull flag is going for the high of day in the $13's. Very liquid and active 1st day mover on news, assuming no offering I'd think gap higher tomorrow. If this holds strong in the $11 range I'll move up later today.'
Jason Bond Unchained Review: Week 4
At the end of last week Jason alerted $WATT. Here is what he said in his advance notice.
'Picked up 10,000 WATT at $1.96, swing trade. Catalyst is the recent FCC news, my thinking is that comes back into play. Small position, will look to add 10k shares.'
I picked up some shares at $1.98 and held them over the weekend. I sold them for a loss at $1.89 on Monday when there was no news and the market wasn't looking so good.
Not a great start to the week with Jason Bond Picks. However, his Monday Movers service is doing much better with some HUGE wins this morning (e.g. $DGLY gave me almost 100% win!).
Next up this week was $PLAY I pretty much broke even on this, Jason made 5% though. It was pretty boring.
$HX and $TLRY
Jason sent out advance notice on Wednesday morning that mentioned $HX as a possible Fibonacci Retracement pattern. You can learn more about these Fib retracement patterns here.
Anyway, $HX had made a big move up in price then retraced down. When it bounced at a key level I was able to make 8% on a day trade.
$TLRY made me a few percent as well – this is a stock I periodically trade. I bought and sold $YCBD from his advance notice as well. I did not time it well and ended up break even on it.
Here is his advance notice for $HX and the others.
'Advance notice:
If you've taken the time to study my video lessons on fibonacci, which I've covered extensively over the last decade, then you know exactly what I'm looking at here. If you can't look at this and within 1 minute develop a trade plan, then you need to study more and that's okay, better to learn before doing, save a lot of heart ache that way.
It's not a mistake that I made money on NNDM Tuesday, having bought on Friday after issuing my Monday Movers advance notice. No, my NNDM position didn't go up Monday, but the pattern was still good so I held and Tuesday it ripped and I sold for a nice gain.
Learn this pattern, it's one of the best I know for trading momentum pockets. Do not confuse NNDM being on this list as advance notice on it, I'm using it to teach you the pattern. See how it ripped Tuesday after the rest period? That's fibonacci. Good news causes the initial rip.
Then the company raises money and it tanks. Then it rests. Then it often pops. So by looking at how I traded NNDM Friday into Tuesday and comparing it to the HX chart above, you can see more clearly what I see. I've shown this in video so many times I couldn't imagine anyone in my service didn't know this, unless you just haven't had the time to study. So please, watch the video lessons. 
Bottom line, I'm here to teach anyone who wants to learn. If you're new or haven't studied yet, go do it, you'll thank me later, I'm nearly certain of that.
YCBD same thing. Earnings winner. Rest phase. Rising trendline. In play above $1.45 for me so that's the stop loss. Goal upper $1's for profit. 
The diary of a real $ trader,

Jason Bond'
Jason Bond Unchained Review: Week 5

A bit of a slow week so far. I did buy and sell $TLRY again for another 5% profit thanks to Jason Bond's advance notice alert (below).
'Good afternoon,
No changes from this morning. 
Advance notice:
TLRY is getting some $8.50 call sweeps for this Friday. I like that chart and have been watching it. I think above $8 I'm interested, entry prolly above $8.20 or so for me, goal is 5-20% on a swing. I don't think I want those options expiring Friday, but if sweeps keep hitting the scanner it's likely to continue up. 
The diary of a real $ trader,

Jason Bond'
I took a 4% loss on $GRPN from Jason Bond's advance notice on Friday. Oh well, it was a tiny position so not bothered in the least! I should have known when Jason said he was sitting on all cash and most likely wouldn't do anything today.
Jason Bond Unchained Review: Week 6 (7/6/20)

Slower week so far. I bought and sold $PLAY on Jason's recommendation ($12.84 – $13.32) for a quick 4% win. By Thursday he had sent out 5 more trades in his watch list. I wish he would suggest a stop loss a bit more often on these trades!
Here is his email from Thursday this week.
I bought some of them and will update how they go….
'Good morning,
Small win on PZZA +$2,000 Wednesday, jumped out about 30 minutes too soon, when the stock ripped to $90 and the option was up nearly $3 / contract more or $9,000 left on the table there for me inside that one hour, bummer. After all that patience I missed a big win by minutes.
See how the wedge pinched and it burst in the direction of the trend? Good lesson there regardless of the okay, but not stellar exit. A better entry right off the EMA with an exit into the trendline breakout would have probably hit a few hundred % and that's what I want to try to do with the squeeze plays.
Remember, this is all from my continuation pattern lessons, but applied to higher priced stocks using the lower priced options. Works on a small cap momentum stocks, mid caps and large caps alike. 
Add in the loss on DKNG and finished the day down -$5,000 or so between those trades. 
TLRY is consolidating, pattern looks ok to me so I'll sit tight for now, but if it goes back to boring fade action I'll move on, I was looking for a runner. Grabbed more puts on GSX, this time the $90 put at $20. Sure is hard to believe my $25 puts were up a lot not too long ago, what an insane trade this has been. Jumped into VISL at $.58 as well, see if that wants to trend higher again. Didn't get around to picking up ZAGG but I will soon enough, around $3. 
My TGTX trade idea got away from me, that one is frustrating. 
Anyway, slow start to July for me but with the holiday I'm okay with that. I hope to get back on track today. Speaking of which, my SPY puts were up +$10,000 yesterday and once again I felt like the roll in the market was happening, let that ride and I'm back down -$4,000. That's twice I've been up a lot (+$7,000 early and +$10,000 yesterday) and sure wish I acted on those moves with my rinse and repeat, I'd have $17,000 to show for it and be looking to reload. Lesson there is I gotta pay myself of be subject to this type of chop. Not sure I'll get another opportunity, we'll see. 
Some stocks of interest i.e. advance notice. 
RUHN is up a lot already but has a history of making 1 or 2 week moves so I'll start watching if it dips to $4 and consolidates.
CMCM at $2.40 interests me. It'd need to be trading above that trendline there and that would then become my stop loss if the breakout couldn't sustain itself.
CLIR is right from my Fibonacci lessons. Small company signs a contract with big company (Exxon Mobil) and stock explodes. Then it rests, above $2.50 and $3 resistance might be tested.
I used to trade UXIN a lot and when it gets going it often carries for a few days. I like it around $1.80 for a move to the low $2's here. 
I've been at this over 10 years now (trading momentum) and one thing you'll hear me say often is that 'triple tops never are' … now of course that's just my way of saying if a double top gets tested a third time, it's likely it wants to go above that level. Nothing of course is guaranteed, but this is walking up and knocking on that breakout door again, looks to me like it wants to go. 
The diary of a real $ trader,

Jason Bond'
7/13/20 – Positions Update
I bought and sold $MVIS for breakeven within a few days. I also bought $ZAGG that Jason alerted and sold it for a tiny profit. I am holding $CLIR with a loose 10% stop loss on it since I have a small position. It hasn't been a good week or so with Jason Bond Picks for me. Jason has had a bunch of winners that I didn't buy…..of course!
7/14/20 – $PRCP nice win!
This was a great example of the power of Jason Bonds new advance notice system. Let me give you a run down of this trade. Here is the advance notice that Jason sent to subscribers.
7/17/20 Another win on $PRCP from advanced notice, also a small loss on CHWY from advance notice. Neither alerted by Jason Bond. Overall profits on the day.
'This is a momentum stock and my favorite type of action. Very strong bull flag (for now) inside the session. I'm referencing a 1-minute 1-day chart looking at $6 as my buy zone. I've traded PRCP in the past and I'm pretty familiar with the price action on it, so based on my experience I feel good about it going up tomorrow. 
I'm taking this trade idea from the live scanner that streams daily. As you can see it's #2 on the list.
Initially I'm watching $6.50's, but thinking $6 or $5.50 might get tested later today. What I think is likely to happen is it comes into the $6 or $5.50 level before 2 p.m. ET and then it consolidates. If it holds that area that'll be the indication for me to take a shot looking for it to run toward the high of day (hod) into the close or $7.20's. If all of that happens then I'll lock 1/2 or all my profit from that middle $5's entry out in the upper $6's with the option to hold part of my position for a gap tonight or tomorrow morning. 
PRCP advance notice:
Buy zone: $5.50 – $6
Goal: low $7's today, possible gap trade
Stop loss: aggressive at $4.50's, otherwise tighter to entry based on my size and risk appetite
Daily
Intraday
As with all advance notice trade ideas. Because I'm letting you know well in advance what I intend to do, if for whatever reason the trade setup changes and / or the overall market, it's possible I won't take action. However, if / when I do, an email alert will be sent in real time. 
The APP is nearly ready as well, I have an update for you this week about that. Stay tuned.
The diary of a real $ trader,

Jason Bond'
So the advance notice came out as shown on the chart below. You can see exactly how I played it and how Jason played it.
I liked how Jason outlined his plan and I patiently waited for the price to fall into his lower buy zone guidelines. As usual I sold too early for a 5% gain while Jason was able to capture a 21% gain. Typical!
Anyway it was a welcome win for me.
I also closed out a position that I took last week from Jason Bond's watch list, $CLIR. Jason never bought it but I did and ended up taking a 9.5% loss.
Jason Bond Unchained Review: Week 7 (8/6/20)
I haven't updated this review for a while as I haven't been trading Jason's alerts. I have been focusing on other RagingBull services and having a ton of success!
Anyway, this week Jason Bond Rooster Report launched and I love it! Check out the Rooster Report review for more info.
The only trade I did with Jason Bond Picks this week was a day trade on $KNDI. I lost 0.6% on it so no big deal.
Jason Bond Unchained Review: Week 8&9 (8/11/20)
I haven't been doing a lot of trades these last couple of weeks in the Jason Bond Picks service. I have so many services and little time!
However, I did take a couple of trades on Thursday last week from the service advance notice – $GRPN and $KNDI. I got out of $GRPN for a tiny loss and made 8% over the weekend on $KNDI.
I did better than Jason Bond on both of these. Here is the $KNDI chart. Jason bought at $8.68.
We both sold too early!
But Doesn't Jason Bond Just Front-Run His Subscribers?
If you have read this review, you will see that this is extremely unlikely given the charts and advance notice alerts. However, I also put together a quick rebuttal video regarding this.
Jason Bond Unchained Review: Conclusions
In this Jason Bond Unchained review, I have tried to give you a trade-by-trade account of my experience with the service.
I think that there is a lot you can learn from Jason and the alerts can be quite lucrative. However, Jason's risk tolerance is quite high. I would highly recommend that you manage your own trades and mostly disregard his alerts – buy his watch list ideas and manage your own money.
Don't miss Jason's FREE WEBINAR where he teaches you his three patterns to making millions of dollars trading stocks!
I will do my best to continue to keep this trading diary updated with every alert etc. I feel that most Jason Bond Picks reviews are not written by real subscribers.
I am adamant that this Jason Bond review will be the most revealing, transparent and honest account of his trading services.
Good Luck!
Russell
Related Articles
How Kyle Dennis Finds His Stocks
Kyle Dennis's Tips And Tricks To Profits
Is Dan Parker TrueTrader Legit?
I really hope that you found this Jason Bond Unchained Review helpful. Feel free to contact me if you have any more questions.