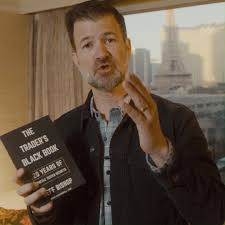 Jeff Bishop's High Octane Options system is built around the ONE high conviction pattern Jeff has been using for the last 22 years to take down some of the biggest trades you've ever seen. Welcome to my Jeff Bishop High Octane Options review!
I am a REAL SUBSCRIBER to Jeff Bishop High Octane Options service. I love his trading style and want to share my experience with his service with you.
Let's get started!
Disclosure: There are some affiliate links below, but these are all products I highly recommend. I won't put anything on this page that I haven't verified and/or personally used. I may get paid a commission if you buy anything through these links, at no extra cost to you.
High Octane is a DIRECTIONAL Options Trading Service
The High Octane options service focuses on JUST the directional trades that Jeff makes. Directional means that you are just betting on the price direction of a stock – so buying a call options that bets the price will go up over the next few days.
There are no complex trading techniques here, just buying call options contracts and buying put options contracts, no convoluted or fancy trading strategies. In fact, buying calls or puts are the simplest form of options trades that traders can make!
Whenever Jeff Bishop see's this ONE stock chart pattern rear its head, he knows it's time to swing for the fences! I will explain what this simple pattern is later on in this article.
Jeff Bishop's new Octane Scanner finds the best opportunities in the market, and compiles them into a neat list with the click of a button.
But how does this effect you?
You can watch along in real-time how Jeff is trading these directional trades.
Opportunity has never been easier to spot; and with Jeff Bishop's High Octane System, it's never been easier to execute.
*****************************
Side Note: If you want a lower cost but REALLY EFFECTIVE service try one of my favorites by Jeff Bishop called BULLSEYE TRADES.
Bullseye Trades has the best polling record of all the stock alerts services that I have asked my Facebook group about! I asked people in the group to vote if they have been profitable with a service or not…..100% of people that responded to my Bullseye Trades poll said YES they have been profitable with it!
******************************
RagingBull has been receiving member feedback over the last 8 years or so since RagingBull's inception, and Jeff seemed to realize something.
The biggest thing traders struggle with?
It's not stock selection, it's not limited funds… it's TIMING!
No matter how many other things you do right, if you can't time your trades, you will fail. Plain and simple.
It is the most important focus any trader – new or experienced – can have.
So, Jeff has built a tool that's going to help people do exactly that – his Octane option scanner.
Side Note: Check out the video below about Nathan Bear (Jeff's student turned guru!) and his new service called Double Down.
Who Is Jeff Bishop?
Jeff Bishop is a veteran stock and options trader that has been in markets for more than 20 years. He is the co-founder of RagingBull.com.
While Jeff is now a world-renowned options trader and educator, Jeff's early  days were littered with failed ventures and financial hardship.
To this day, Jeff attributes much  of his drive and persistence to the character that was formed in those years of struggling to  find success.
As a trained economist and a widely followed Wall Street veteran, Jeff often shares his insights  on the stock market with different media networks and financial news outlets.
But Jeff's  primary forum for educating developing traders is through his online training programs.  It was Jeff's passion for educating people about the opportunities in the stock market that  ultimately led him to establish RagingBull.com.
Jeff's success in the stock market, combined  with his academic background in economics and his status as a MENSA verified genius have  afforded him the credibility to educate thousands of traders all over the world.
Jeff Bishop's Education and Alerts Services on RagingBull
Jeff has multiple services that focus on trading options. Here are his two most popular ones:
1. Jeff Bishop's Bullseye Trades. This is one single high conviction options trade sent to you on a Monday morning. The goal is 100% profits in less than a single week. I am a subscriber to this Bullseye trades service.
Here is a FREE webinar where Jeff explains the Bullseye Trades program.
A common complaint so far in this service is managing to get into the trade quickly enough. This is a common issue with most stock and options alerts services. You can also learn his strategy and then find the options before he does!
2. Jeff Bishop Total Alpha Trading. This is Jeff's premium option trading service. Multiple alerts a week and a ton of educational resources. He teaches all of his strategies and everyone can see all of the trades that he is in.
What Do You Get With Jeff Bishop High Octane Options?
First, let me introduce the key pattern that Jeff uses to predict a stocks price direction. You learn all about it in High Octane and it is the foundation at the heart of the service.
Jeff Bishop's Money Pattern
For Jeff's "money pattern," he uses the 13-hour and 30-hour simple moving averages. He's found that analyzing these short-term trendlines on an hourly chart allow for well-timed signals to the types of stock moves he's looking to capture.
To set up his hourly charts, Jeff uses StockCharts.com, and adjusts the time period to 1 hour, which gives him one-hour bars (he uses candles, but feel free to use whatever works for you).
Here's how it looks on the chart. See how the 13-hour moving average crossed over the 30-hour moving average from below for the first time in a while (yellow circle). That would signal to Jeff that price action is gaining bullish (or, positive) momentum.
Now, this might sound too simple to be useful – but I promise you that it works well!
Jeff Bishop High Octane Scanner
You get access to Jeff's High Octane scanner if you subscribe to the service.
This scanner alerts when the "money pattern" crossover occurs on a stock. It streams every day during market hours next to Jeff's live portfolio.
Check out the screenshot example of the scanner below. You'll see the stock's ticker symbol in column 1, the last price the stock traded when the scanner picked up the signal in column 2, and the time the stock was alerted to the scanner that day in column 3.
The stocks that are in red are those flashing a potential short signal, meaning the 13-hour moving average crossed below the 30-hour from above. The stocks that are in green are those flashing a possible long signal, meaning the 13-hour crossed over the 30-hour from below.
One of the goals of the scanner is for High Octane Options subscribers to use what they've learned from how Jeff trades his strategy, and hunt down opportunities based on their own analysis and trade plans.
High Octane Strategy
So, once Jeff has found a stock that fits his cross over pattern…..what next?
He ensures that he only picks trending stocks that ebb and flow.
The reason for that is because this pattern works best when there is at least a few days to a week of separation between each crossover.
This pattern does not work in predicting the price action of stocks that are volatile and trading all over the place.
The stock pick must also meet his three High Octane Trade Criteria:
Jeff's Education Suite
When you get access to the service, you will be able to check out the 20 or so educational videos Jeff has on trading options and his strategies. He goes over everything options related with real examples of trades he has taken. Some of the videos are 1hr or more. Some are as short as 5 minutes.
He also has a section of 'exclusive content' where he reviews trade alerts in great detail. He explains which ones worked (and didn't work!) and WHY. Very useful information if you are dedicated to learning.
High Octane Options Alerts
Finally, the best for last! Jeff issues his buy/sell alerts daily for this service. He sends them out via the RagingBull app and email. The alerts are simple and to the point:
'Good morning trader, Per this morning's email, I bought to open IQ 10/30 $22 Calls for $1.00.'
You can either choose to buy the trade or wait to see if it pulls back before entering. Often you can get a better price than Jeff just by being patient.
You get a 'advance notice' of the trade that Jeff is eyeing for the day, so you can even get in before he does! Here is what he sent out recently regarding the $IQ alert quoted above. He sent it BEFORE he placed the trade.
'Trade idea of the day – IQ (IQ)
Today's trade idea comes from the Chinese market.
While many U.S. stocks chop back and forth, the Chinese equities stood up pretty well.
And I really like this setup for a potential long trade.
Take a look.
IQ Hourly Charts
I'm jumping ahead of the moving average crossover. But, I like how it's setting up right on top of the 200-period moving average.
My suspicion is once this gaps over, it should quickly get to $23.50 and then head towards $24.00-$24.50.
Those would be my targets.
My stop would be a close below the recent lows at $22.
Options aren't super expensive so there's a lot of flexibility in how to play this trade. The focus should be on getting a choice entry and exit.
Contracts I'm looking at:
Medium: IQ Oct. 30th $22 calls for $1.00 – $1.30
Medium: IQ Nov. 6th $24 calls for $0.60 – $0.75
Note: Earnings are on November 4th. I want to be out before then. But, the November calls will benefit from any increase in implied volatility leading into this event.'
Jeff Bishop High Octane Options Review: Conclusions
I am always a bit skeptical when RagingBull spins off another service. However, recently when they have done this it has resulted in a lower cost option for people to try out.
Good examples of this include Kyle Dennis's Fast5 alerts and Jason Bond's Monday Movers.
Both of these stock alerts services are insanely low-cost and offer exceptional value. I suspect that Jeff Bishop's High Octane Options service that focuses on directional options trades will also be very valuable to subscribers.
I would say that Jeff's High Octane service doesn't deliver trades that are as high conviction as his Bullseye Trades service.
However, the trades are reliable. High Octane delivers a trade every day, while Bullseye Trades is just one trade a week.
The only thing that bothers be about High Octane is that Jeff is managing an entire portfolio – he seems willing to take bigger losses than he would on Bullseye Trades.
Good Luck!
Russell
Jeff Bishop High Octane Options Review: Related Articles
Oxford Club Viper Alerts Review
Oxford Club Insider Alerts Review
Oxford Club Swing Trader Review
Jeff Williams Stock Profit Pro Review
JC Paret RagingBull Data Driver Review
Jeff Bishop's High Octane Options system is built around the ONE high conviction pattern Jeff has been using for the last 22 years to take down some of the biggest trades you've ever seen. I hope that you found this Jeff Bishop High Octane Options review to be useful!