Markus Heitkoetter Review
Disclaimer: There are affiliate links on this page. This means that if you click through and purchase anything, I might earn a commission for the introduction with no extra cost to you.
I've written a lot about Markus and Rockwell Trading. I am a real user of his programs.
Here are some of my other blog posts….
Rockwell Trading Options 101 Review
Who is Markus Heitkoetter of Rockwell Trading?
Rockwell Trading PowerX Optimizer Review
Here are some of my YouTube videos about Markus Heitkoetter….
Markus Heitkoetter knows what it's like to fail in options trading, so if you're looking for quality resources without disinformation, look no further.
He had to work hard and teach himself, but there were also times when he needed to reflect on what areas he could improve.
Twenty years later, he achieved not only success but also international fame with his bestselling books and market-proven trading software.
Rockwell Trading Options 101 is easy to follow and concise, giving you all the information needed without any fluff.
What is the Rockwell Trading Options 101 Course?
Rockwell Trading Options 101 is a course designed to give you a solid foundation in options trading. The course is led by expert trader and author, Markus Heitkoetter. It's easy to follow and concise, giving you all the information needed without any fluff.
The course is divided into four modules, each covering a different aspect of options trading.
Module 1: Introduction to Options
In the first module, you'll learn the basics of options trading. This includes what options are, how they work, and the different types of options contracts.
Module 2: Options Pricing and Greeks
The second module is all about options pricing and the greeks. You'll learn how to use the different option pricing models, and how to interpret the greeks.
Module 3: Options Strategies
In the third module, you'll learn about the different options trading strategies. This includes both long and short straddle strategies, as well as debit and credit spreads.
Module 4: Options Trading Psychology
The fourth and final module is all about the psychology of trading. You'll learn about the different cognitive biases that can impact your trading, and how to overcome them.
Who is Markus Heitkoetter?
Markus Heitkoetter is the founder and CEO of Rockwell Trading. He's a renowned author and speaker on the subject of trading, and he's also the creator of the market-proven Rockwell Automated Trading Software.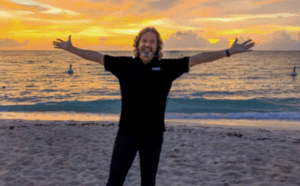 Heitkoetter has over 20 years of experience in trading, and he's seen it all – the good, the bad, and the ugly. He's been through the school of hard knocks and he's come out the other side a better trader for it.
Now, he wants to share his knowledge with others so that they can avoid the mistakes he made, and achieve the success that he has.
Markus Heitkoetter is a professional investor, writer, and lecturer. In 2005, he founded Rockwell Trading–a company specializing in stock shares and options. Markus also invests in real estate.
Born in Germany, the self-made millionaire relocated to the United States 20 years ago with $30,000. What started out as a mission to share what he has learned with families and friends has quickly blossomed into a platform that supports more than 300,00 merchants across a dozen countries.
For years, he traded and made a fortune off the markets. Since becoming an author, he has written three best-selling books on trading and investing that have been translated into many languages.
Markus' YouTube channel is one of the top sources for learning about his strategies, with over 4 million views. Today, he lives in Austin TX with his family!
>>To learn more about Markus you can check out his free eBook here<<
Why Take the Rockwell Trading Options 101 Course?
If you're new to options trading, or if you're looking to brush up on the basics, then this course is for you. It's easy to follow and concise, giving you all the information you need without any fluff.
Thanks to the in-depth video course, individuals can expect to gain a solid understanding of two of his trading strategies – the Wheel and PowerX.
What is included in the Rockwell Trading Options 101 Course?
The Rockwell Trading Options 101 video course is just the beginning. These additional resources will also be available to everyone who signs up:
The Complete Guide to Day Trading by Markus Heitkoetter
"The Complete Guide to Day Trading" is a no-nonsense guide that will teach you the fundamentals of day trading and help set you on the path to financial success.
You can download it for free here.
Markus' book will teach readers:
Many people think that day trading is only about finding the right strategy, but the truth is that having the right mindset is just as important.
How day trading can help you earn income without a boss and be free.
This checklist is equipped with essential tools to help you develop a day trading strategy with confidence. The Step-by-Step guide will show you how to create a checklist tailored to your needs.
The 10 "power principles" for effectively executing day–trading strategies.
Seven frequent errors traders make and how to avoid them.
A Free Consultation Tour
After people finish watching the video course, they can book a complimentary tour to learn more about how to trade through any market condition.
This 45-minute session will focus on the PowerX Optimizer software in more depth.
Below are key points to mention about PowerX:
Every 2 minutes, it checks hundreds of stocks and does thousands of calculations to find the best trades.
The software provides you with an overview of the trade including the strike price, premium potential, duration, and buying power.
This system has filters that can be personalized to the level of experience an individual trader has.
With this feature, you'll be able to see a trade's progress visually so that you can make quick and informed decisions.
This platform is truly web-based and has an easy-to-use interface that works on any computer.
This investment strategy is designed to give you the best return on your investment while minimizing your losses.
The program provides data on how each stock has fared in the past.
With this tour, you will be accompanied by a Rockwell Trading expert who can tell show how the software has helped countless traders make a living outside of working 9-to-5 jobs.
How much does the Rockwell Trading Options 101 Course cost?
It's 100% free. Get it here.
Markus Heitkoetter Review: Conclusions
To summarize this Markus Heitkoetter review…..
Markus is giving away some of his options trading resources to help users establish a firm foundation.
Once the essential techniques are learned, he will spend time teaching the strategies he has created since then.
Hundreds of thousands people have tested these methods and agree that they not only improve skills but also boost earnings.
Anyone who books a consult or joins a live webinar with Rockwell's team, will receive a preliminary review of the system for a limited time only.
This is an amazing opportunity to take advantage of, especially because Markus is a very successful trader who has become wealthy through this method.
Russell
Related Articles
Jeff Bishop Bullseye Unlimited Review
Benzinga Options Reviewed (90% Win Rate?)
Kiana Danial Reviews of Invest Diva
Jeff Williams Ape Hunter Review
Markus Heitkoetter Review