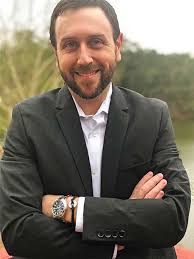 Welcome to my Nathan Bear review where we discuss  Nathan Bear's Strategy and address the question 'is Nathan Bear a scam artist?'
Let me introduce you to the star of my Nathan Bear review……Nathan himself!
This is Nathan Bear options trader extraordinaire!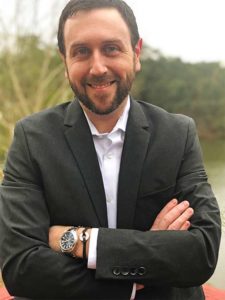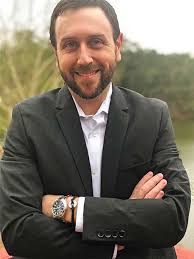 Disclosure: Please note that some of the links on this page are affiliate links. This means that we may earn a commission, at no cost to you, if you decide to make a purchase after clicking through the link.
Check out this FREE MASTERCLASS from Nathan Bear's option trading mentor, Jeff Bishop! Jeff is a LEGENDARY options trader that founded Weekly Money Multiplier.
All About Nathan Bear and His Amazing Trading Career
Nathan Bear is a husband and dad to four kids. Nathan has become a successful trader, but it wasn't always easy for him.
Nathan spend SEVEN years losing money trading and struggling to make ends meet. This is a true rags-to-riches story!
It was really just Nathans persistence that helped him to succeed.
As a kid, Nathan grew up in a middle class background. His mom was a flight attendant for DELTA and his dad was a pharmacist.
He grew up with a conservative mindset towards money.
Nathan wanted to be an architect – but he hated it! Now he has a degree in building engineering.
He started his own permitting company – his first step into entrepreneurship! He ran the business from his basement and still owns it to this day.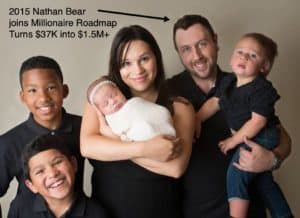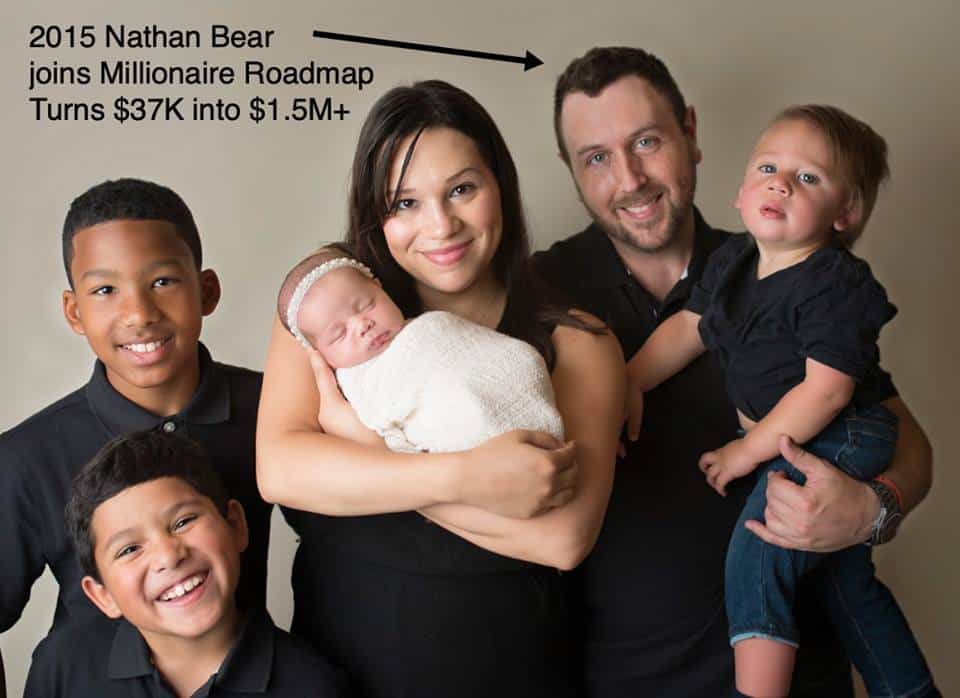 Nathan started trading stocks when he met his wife Emily. However, he didn't tell her that he had already lost three trading accounts before they met. He had no idea what he was doing – essentially gambling.
One trade where he lost his entire account was an options trade of Apple's stock. He lost it ALL! It was a $10,000 loss for him when Apple missed its expected earnings. Ouch!
Nathan found a guy called Jason Bond. He started copying Jason's trades using a $10,000 account and he actually started to make a little bit of money trading!
Even after joining Jason Bond's stock alerts service, Nathan struggled to gain traction.
He would slowly make some money then lose it then slowly regain it in some kind of never ending cycle. It took him over a year of learning from Jason Bond to actually become consistently profitable.
Jason Bond also runs a fantastic option trading alerts service called Weekly Windfalls. You can check it out by clicking the banner below – the FREE WEBINAR is really good!
Nathan Bear's Options Trading Breakthrough
The mindset shift was subtle but VERY effective. For Nathan the breakthrough was really realizing that he was not focusing on the best ideas. He was over trading out of desperation and wanting to 'do work'.
He went on a vacation where the internet wasn't consistent. He was only able to place a few trades instead of 50+. After two weeks of not over trading he had made $10,000 from his $30,000 account!
He realized that he was not a day trader. He was a swing trader!
In the next 6 months he made over $200,000 swing trading. Wow! The next year he made $600,000 trading stocks online.
I actually had a similar journey as Nathan. I started of by day trading stocks and just losing money. When I switched to a swing trading strategy, everything started to work for me.
I do occasionally do execute a quick intra-day trade. Usually this is just if I manage to get in to a trade before the rest of an alerts chatroom.
I let the alert push up the price, quickly exit for a profit and then buy back in for a swing trade when the price comes crashing back down (which it nearly always does).
Check out this FREE MASTERCLASS from Nathan Bear's option trading mentor, Jeff Bishop! Jeff is a LEGENDARY options trader that founded Weekly Money Multiplier.
Nathan Bear's Options Trading Track Record
Nathan has consistently remained profitable. He has made about $1.8MM in profits from his trading to date.
Of course, it is impossible to verify if this is true. I think that it is though from what I have seen.
He now teaches other people his successful options trading strategy in the Nathan Bear Weekly Money Multiplier service.
He was mentored by Jeff Bishop and took over running the Weekly Money Multiplier service in 2019.
If you are new to options trading, be sure to check out Jeff Bishop's awesome eBook that teaches you the basics all the way through to his secret 'Money Pattern' that has helped Nathan and Jeff make millions of dollars.
Nathan Bear Options Trades
Nathan loves to trade options. He is very good at it! Nathan Bear's strategy relies on accurately predicting the price direction of the underlying stocks.
I have always found Nathan to be very disciplined and I suspect that is the habit that turned his trading around.
Here is an overview of Nathan Bears options strategy and how he uses three key components to achieve a very high success rate.
The first step in the process is to actually find stocks that he thinks will, with a high probability, move up in price in a predictable time frame. Preferably rapid price movement.
Nathan Bear Weekly Money Multiplier Example Trades
As I write this, Nathan literally just made 100% on a trade this morning!
Just like that, $SHOP delivers a huge return for Nathan and his members!
He Alerted and bought $SHOP on Friday and today he made 115% like clockwork!
 This is just one of many, many great winning trades Nathan makes every week.

Check out this FREE MASTERCLASS from Nathan Bear's option trading mentor, Jeff Bishop! Jeff is a LEGENDARY options trader that founded Weekly Money Multiplier.
Nathan Bear Weekly Money Multiplier Testimonials
There are so many glowing Nathan Bear Weekly Money Multiplier testimonials. Here are just a few that I came across after a few minutes of looking. You can find them on social media, usually Twitter.
"Made $5000 overnight on a $10,000 account today thanks to Nathan"
That's 50% on his ENTIRE account in one overnight trade. Yes, he was sleeping and woke up to this!
Or how about this guy, Pedro: "pedro pra: I am up 9K this week"
What would $9,000 in one week do for you? I know its a nice chunk of change for me.
Here is another one that I found: "michael har: You are the man up 31 k so far this week"
And another: Torrey wel: Thanks @nate off QRVO +125% overnight!
And another one: hakim mal: I'm up 220% on the Netflix butterfly you showed us yesterday. Thanks bro!
torrey wel: Thanks @Nate! Out SKWS +95%
keith row: up $23k on closed trades and another $6k unrealized that are still open
anant dev: Thanks a lot Nate for your time teaching and changing my trading around. Up 100% on AZO.
So, it is clear that making 100% on options trades is a common occurrence in the Nathan Bear Weekly Money Multiplier program.
Check out this FREE MASTERCLASS from Nathan Bear's option trading mentor, Jeff Bishop! Jeff is a LEGENDARY options trader that founded Weekly Money Multiplier.
A few naysayers online claims that Jason Bond, Jeff Bishop and Nathan Bear are all scam artists. I don't think that there is any kind of Nathan Bear scam or con.
From what I have seen, Nathan Bear is legit, genuine, honest and very transparent. There are ZERO warning signs in his trading that would make me think that he is in any way dishonest.
The problem with many people is they seen hyped up advertising (which RagingBull is probably guilt of!) and assume it's a 'scam'.
If you have experience trading, you can tell that the Nathan Bear strategies are legitimate, clever and meticulous. He isn't pulling these techniques out of his bum!
How Nathan Finds His Stocks
Options trading is considered to be risky, but Nathan's approach is very conservative. At the heart of Nathan Bear's option trading strategy is something called trend trading.
He buys call options (betting the price will increase) on stocks showing bullish momentum. In a strong market (like this one) there are so many stocks going up in price.
How does Nathan select the best ones?
He uses the same site that I do. It is called Finviz and it is a free screening tool.
Here is his process.
Step 1: Nathan gets rid of stocks that just don't have a clear upwards trend. He uses Finviz to screen for stocks that are close to their 52 week price high. It is a simple setting in the free Finviz screener. See the pic below.
When Nathan selects this tab, the site filters out all the stocks that are not trending upwards with momentum.
Step 2: Screen out all the stocks that don't have any available options contracts. Nathan Bear's option strategy obviously requires that there are options contracts to trade! Finviz has a screener for this as well! Check out the pic below.
Step 3: Eliminates low priced stocks. Nathan Bear's strategy works well for expensive stocks. This is because higher priced stocks have better volume, liquidity and better premiums. He usually prefers to select stocks that are priced above about $20 per share. There is a tab in the screener for that as well.
Step 4:  Nathan Bears Weekly Money Multiplier strategy relies on picking stocks that have a good trading volume. A good rule of thumb seems to be to pick stocks that have at least 100,000 shares traded on a daily basis. Again, it is pretty simple to select for average daily volume in Finviz.
Step 5: Short squeeze potential. This can be thought of as the potential fuel for a big move up in stock price. A short squeeze happens when a lot of short positions are forced to cover (e.g. buy the stock) in a short period of time.
The stock can quickly rocket in price during a short squeeze as buyers are attracted to the momentum and more shorts panic as the price of the shares rapidly increase. Like a positive feedback loop!
Finviz allows Nathan to filter for stocks that have a large portion of the float short. The higher the better! Usually anything over about 20% is required for Nathan Bear's options strategy.
When Nathan goes through this simple 5-step process, he is left with only a small number of potential stocks to look at.
But Nathan doesn't stop there. Nope. There are several more layers that a stock must pass before he will buy options on it.
Nathan loves the Bull Flag chart pattern. If he spots that pattern formation in the price chart, that stock will certainly be a priority.
Finally, he has to be able to find really good stock options contracts. This is a whole new level on top of his stock screening!
Honestly, Nathan Bear's options strategy is rigorous, and the results demonstrate the effectiveness of the whole process.
What Does Nathan Bear's Weekly Money Multiplier Offer?
Check out this FREE MASTERCLASS from Nathan Bear's option trading mentor, Jeff Bishop! Jeff is a LEGENDARY options trader that founded Weekly Money Multiplier. The masterclass covers a lot of the strategy used in the WMM alerts service.
Hopefully, I have convinced you that the Nathan Bear Weekly Money Multiplier is not some kind of Nathan Bear scam or con.
Weekly Money Multiplier allows you to copy Nathan Bear trading options! You can literally mirror Nathan's trades and learn his full strategy.
Here are some of the features of the Weekly Money Multiplier:
Trade Alerts sent directly to you in real-time. You can buy the same options contracts that Nathan buys. Full due diligence is included with the trade alerts.
Detailed daily watch list send to subscribers. Nathan does the entire screening process discussed above for you. He teaches you some of the details that I skipped over above.
An extensive video library full or educational webinars and video lessons.
Nathan streams his portfolio live in real-time so that you can see what he is buying, holding and selling all in real-time. That is transparency for you! Being able to watch Nathan Bear trading options is extremely valuable.
Nathan Bear's Weekly Money Multiplier is great for busy professionals that don't have time to watch the markets non-stop.
Try not to pay attention to all the hyped up advertising like 'How to DOUBLE or TRIPLE your account in a WEEK!'. While this is theoretically possible, it is unlikely that you will manage to do this in your first week….
Actually, Nathan encourages new traders and subscribers to paper trade (simulated trading) his alerts and strategy for months before risking any real money! Just watch Nathan Bear trading options and learn everything you can if you are new.
Conclusions: Nathan Bear Weekly Money Multiplier Review
Nathan Bear has been able to beat the odds, despite spending 5 – 10 years losing money trading!
You don't need to repeat his mistakes if you sign up and learn from the Nathan Bear Weekly Money Multiplier service.
Nathan Bear's strategy is one of the best around and it could potentially revolutionize your trading. Nathan Bear trading options contracts can be perfect for busy people to make huge wins.
I hope that you have found my Nathan Bear review helpful. If you have any more questions just let me know in the comments below!
Good Luck!
Russell
Related Articles – Nathan Bear review

Weekly Money Multiplier Options Review
Jason Bonds Simple Patterns That WORK!
Options Profit Accelerator Review (FREE Download!)
There is no Nathan Bear scam. I think that I have outlined Nathan Bear's strategy and it is pretty clear that the Nathan Bear Weekly Money Multiplier service is legit. Watching Nathan Bear trading options is a great opportunity! Nathan Bear LottoX trade, Nathan Bear LottoX Indicator coming soon!