Welcome to The Palm Beach Letter review!
We have another real subscriber review for you guys. This time it's The Palm Beach Letter Review by Mark (a regular author on this blog).
Before we get started, be sure to check out these awesome resources for more information on stock alerts and investment services.
Stock Alerts Reviewed YouTube Channel.
Stock Alerts Reviewed Facebook Group.
FB Group and Free eBooks
Check out my Facebook Group for a community of traders that are interested in stock alerts services.
If you are interested in learning an options trading strategy with a 95% win rate……check out my store of free eBooks!
Other Services to Consider – SideKickTrades, ThetaTraderz and EagleTrades
If you are looking for similar services…..here are three that I recommend.
1.EagleTrades is a service that does a lot of cash secure puts for passive income that work 90% of the time. They also do morning scalps on a live stream audio. Powerful daily watchlists you can use to make your own trades with breakout levels.
2.ThetaTraderz is similar options selling service that caters to smaller account sizes – a huge plus if you want to sell options but don't have a lot of money in your account to use.
3. SideKickTraders is an awesome community of stock and options traders that offers the best bang for your buck – something for everyone and all the alerts are top notch!
Why I Review Stock Newsletters – Mark

I am new to stock investing. I started with $18,000 one of my relatives gave me to invest for them.
I promptly lost $2,000 through mistakes — which is why I started researching investment newsletters!
I try to buy as many newsletter subscriptions as possible so I can learn from seasoned investors.
After reading a dozen or so of these newsletters, I thought other investors might benefit from what I learned.
My goal is to give honest, unbiased reviews of each newsletter. I am not paid by these companies, and I invest my own money to purchase subscriptions.
***Trade Ideas Subscription Coupon Code***
For a limited time, our readers get 15% off any Trade Ideas subscription using the coupon code STP15. Just go here and use the coupon code at checkout.
Similar Investment Services
Here is another service is very similar….Near Future Report review.
There are so many similar investment news letter services out there….like this one…
Fast Facts: The Palm Beach Letter
The Palm Beach Letter is a monthly investment newsletter published by the Palm Beach Research Group (PBRG), one of the most successful financial research groups in America.
PBRG was founded in 2011 by Tom Dyson and Mark Ford.  It is based in Palm Beach, Florida in the heart of one of America's "Millionaire Capitals."
They also offer these services:
The Palm Beach Letter $199 per year.
Palm Beach Confidential $5,000 per year.
Palm Beach Trader $3,000 per year.
Palm Beach Crypto Income Quarterly $3,500 per year.
Teeka Tiwari's Alpha Edge $3,000 per year.
Palm Beach Venture $3,500 per year.
C.A.P. Cash Flow $3,000 per year.
PBRG studies the secrets the wealthy use to amass their fortunes and they pass those ideas along to readers (which includes stocks, bonds, options, real estate, private equity, gold and cryptocurrencies).

The Palm Beach Letter is one of nine investment services owned by Palm Beach Research Group.
Author — Teeka Tiwari, Editor
Cost — $49 with a 60-day 100% money back guarantee
Contact Info — call 888-501-2598 to order, OR use the order link here
Pros of The Palm Beach Letter
Newsletter is handy, accessible, and provocative
Website is a treasure trove of financial resources
Special reports are endless (73 of them!)
The Asset Allocation Guide is a comprehensive investment diversification tool
6-session Crypto Master Course video class is a nice surprise bonus
Cons of The Palm Beach Letter
Financial opinions are direct, even dogmatic at times
Portfolio is a stew of 34 stocks categorized into 9 asset classes (and can be confusing)
Some negative publicity surrounds the Palm Beach Research Group
What You Get
12 monthly issues of The Palm Beach Letter published the first Thursday of each month. Issues focus on blockchain, cryptocurrency, precious metals, and other alternative investments.
Special Reports — large library (did I say 73?!) of intensively researched bonus guides
Updates — periodic timely bulletins on positions held in the Portfolio
The Palm Beach Letter Asset Allocation Guide — a special report describing how to diversify your personal portfolio
Crypto Master Course — 6-session video class loaded with practical lessons for investing in digital currencies
The Palm Beach Letter Review: Real Subscriber

Below is my experience with, and evaluation of, The Palm Beach Letter as a paid subscriber.
Why subscribe to The Palm Beach Letter?
Because The Palm Beach Letter will boost your understanding of investing. It isn't perfect, but it is useful and informative. Palm Beach Research Group is well known for a reason.
Search the internet and you'll discover that Tom Dyson, Mark Ford, and Teeka Tiwari are not respected by some people, but they do seem to understand investing and wealth creation, which might just help you become a better investor.
The Palm Beach Letter is a big-time player in investment circles. Since 2011 they've made a splash with their market analysis.
You may not appreciate everything they do, but you probably owe it to yourself to at least consider their 60-day trial offer.
Who is Teeka Tiwari?
Teeka Tiwari is the editor of The Palm Beach Letter. Teeka grew up in the foster care system in the United Kingdom but came to the United States at age 16 with just $150 in his pocket and the clothes on his back.
By age 18 he became the youngest employee at Lehman Brothers.
Two years later, he became the youngest Vice President in the history of Shearson Lehman.
In 1998, he made a small fortune going short during the Asian crisis.
Unfortunately, he "got greedy" (in his own words) and hung on for too long.
Within a three-week time span, he lost all he made—and everything else he owned. He filed for personal bankruptcy.
Two years after losing everything, Teeka rebuilt his wealth via the stock market and went on to launch a successful hedge fund.
Now a retired hedge fund manager, Teeka's personal mission is to help teach individual investors how to grow their money safely.
He has been a regular contributor to the FOX Business Network and has appeared on FOX News Channel, CNBC, ABC's Nightline, The Daily Show with Jon Stewart, and international television networks.
What is the financial philosophy of The Palm Beach Letter?
The Palm Beach Letter uses an investment strategy, or asset allocation model, called the "Yale Model" (popularized by David Swensen, who was Chief Investment Officer for the Yale University endowment fund in the mid-1980s).
Asset allocation is used to determine the risk and reward characteristics of a financial portfolio. Studies show that more than 90% of a portfolio's long-term returns are driven by asset allocation.
Yale Model
The "Yale Model" divides a portfolio into multiple asset classes and invests in each one. But the investments include more than traditional asset allocations like cash, bonds, and stocks.
At Yale, Swensen pioneered the use of "alternative investments".
Instead of plain vanilla stocks and bonds, he opened up new categories like absolute return funds, foreign equities, natural resources, real estate, and venture capital.
When Swensen started in 1985, alternatives made up 12% of Yale's portfolio; today, it has flip-flopped — alternatives account for 90% of Yale's portfolio.
As you can see in the chart below, the result is a broadly diversified portfolio.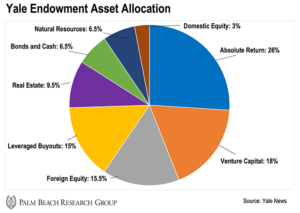 The Palm Beach Letter also recommends giving careful thought to "position size," the percentage of an overall portfolio committed to a single investment.
In each of their multiple asset classes, The Palm Beach Letter suggests an allocation size.
For instance, the Reliable Fixed Income allocation is suggested at up to 20%.
But if you only have one idea classified as Reliable Fixed Income, does it mean you should put 20% of our investable assets in that one idea? This is where position-sizing comes into play.
Palm Beach Letter Rule of Thumb
The Palm Beach Letter's rule of thumb is this — if an investment gets stopped out of your portfolio, your maximum loss should be no more than 2.5% to 5% of your portfolio value. Here's how that works…
Reliable Fixed Income Example
Let's say you have $20,000 earmarked for Reliable Fixed Income.
And let's assume you buy a Reliable Fixed Income recommendation at $20 per share, and it has a 20% stop loss.
How much can you buy? You must first calculate how much you're willing to risk. Let's assume it's 5% — 5% of $20,000 is $1,000.
That means if you get stopped out of the idea, you can afford to lose no more than $1,000. If you are buying the investment at $20 with a 20% stop, that means your stop price is $16.
Your stop-loss size is $4 (the difference between $16 and $20). This means you can buy 250 shares ($1,000 divided by the size of the stop loss ($4) = 250 shares).
Generally, The Palm Beach Letter suggests attaching a stop loss to each recommendation. If they don't recommend one, then simply position-size for a maximum loss of 2.5% to 5%.
Position-sizing is critical to success in the markets. By using a simple position-sizing technique, you hedge against a bad investment.
What stocks is The Palm Beach Letter holding and how are they performing?
The full portfolio of The Palm Beach Letter is accessible to subscribers only, but the current asset classes recommended are reviewed below.
The Palm Beach Letter portfolio is complex because of their asset allocation strategy.
Equities – Core — currently holding ten bank, ETF, precious metals, semiconductor, and mining stocks. As of mid-September 2020, nine of ten stocks in this portfolio have positive gains with a high of +113.6%. One of the stocks is currently red at -7.7%.
Fixed Income — includes investments in government and corporate bonds, CDs and money market funds. Portfolio currently includes one bond fund, and one BlockFi. Rate of returns were not calculated in the September 2020 Palm Beach Letter chart.
Real Estate — currently investing in two companies with no rate of return listed.
Private Markets — currently holding one stock not traded on a public exchange. As of mid-September 2020, it had a positive return of 10.4%.
Cryptos — currently holding ten digital currency stocks. As of mid-September 2020, six of ten stocks in this portfolio have positive gains (one with a massive return of +4229.1% and another with a return of +2812.2%). Of course, we know shares of Bitcoin and Ethereum have done well. But, four of the ten stocks are currently red (with three of them being -277.90%).
Precious Metals — currently holding four gold and silver trusts. As of mid-September 2020, three of four holdings had positive gains with a combined return of +94.4%. One of the stocks is currently red at -19.8%.
Collectibles — items that are worth far more than their original sale price and are considered alternative investments (such as cars, art, coins, baseball cards, etc.). Currently The Palm Beach Letter invests in a trading platform to buy and sell fractional shares of classic cars. No rate of return is listed.
Cash — The Palm Beach Letter periodically invests in a handful of publicly traded companies that act more like private companies because they are owned mostly by insiders and have a "small float." Float refers to the total number of shares available for trading. Besides the small number of shares available for trade, the company's founding family typically controls the rest of the stock. In other words, the company has very high insider ownership. Currently the portfolio includes one small float company which had positive returns of +13.1% at the time of this writing.
Equities – Speculative — a "speculative stock" is a stock that is characterized by extreme risk with the possibility of extreme returns in compensation for that risk. The Palm Beach Letter is currently paying a steep price for their risk! All three speculative stocks they hold are down significantly. This category has the worst rate of return of all their holdings at a cumulative loss of -256.8% at the time of this writing.
The Palm Beach Letter portfolio is difficult to judge.
Six of nine investment sectors are doing poorly. Three cannot be evaluated because no rate of return is provided. One is an unmitigated disaster.
Another two have only modest positive returns of +13.1% and +10.4%.
To be fair, two of the sectors (Crypto and Equities-Core) are achieving very positive, large returns.
If you invested in one of their Crypto or Core Equity stocks you would likely be a happy investor.
The overall Palm Beach Letter strategy is designed to minimize risk, and maximize returns using their special asset allocation model. Is it a success or a failure?
Is The Palm Beach Letter worth the $49 annual subscription fee?
Evaluating The Palm Beach Letter is challenging. On one hand, there is plenty to like about the newsletter. The writing is accessible and provocative.
The website is a treasure trove of gold nuggets. The special reports library is deep and wide. The Asset Allocation Guide is a helpful tool to diversify your investments.
And the 6-session Crypto Master Course video class is a nice surprise bonus. All of this adds up to tremendous value at $49/year.
On the other hand, the writing could rub some readers the wrong way with his bold, dogmatic opinions. The Portfolio is a mixed bag of victory and defeat.
You must choose your recommendations carefully to avoid financial mistakes.
The Palm Beach Letter Review: Conclusions
I'm uncertain if I will renew my subscription to The Palm Beach Letter.
I hope that you have found The Palm Beach Letter review helpful for understanding why.
I realize $49 is a small price to pay for quality research, and engaging writing. But, at the end of the day, the proof is in the portfolio — one that I'm currently skeptical about.
Final Grade — B-
For some investors, $49 is a bargain for a vault of financial opinions.
If you are discerning, can do your own due diligence, and aren't afraid to take some risks, then The Palm Beach Letter will certainly provide you with $49 worth of value.
However, if you are a new investor who lacks the experience to know when and how to invest, then you might consider looking elsewhere.
The Palm Beach Letter review was written by Mark.
Related Articles
Near Future Report Review (REAL SUBSCRIBER)
Future Wealth Newsletter Review (REAL SUBSCRIBER)
Jimmy Mengel The Crow's Nest Review
I hope that you found The Palm Beach Letter review helpful!