Welcome to my Tom Gentile Money Map Press review. Can it help you make money?
Money Map Press is one of the many companies that offers subscribers newsletters that can guide them in making the best stock picks.
Like most of these financial companies, the advertising claims that you will be able to make great returns on their stock picks.
However, I usually take these claims with a huge pinch of salt. I make a lot of money every month trading these stock alerts and investment services, but it is never as easy as they make it sound!
Tom Gentile runs a newsletter called Fast Fortune Club and I did some research on the service to see if it would be worth buying or not.
FB Group and Free eBooks
Check out my Facebook Group for a community of traders that are interested in stock alerts services.
If you are interested in learning an options trading strategy with a 95% win rate……check out my store of free eBooks!
Disclosure: Please note that some of the links on this page are affiliate links. This means that we may earn a commission, at no cost to you, if you decide to make a purchase after clicking through the link. Please understand that we have experience with these companies, and we recommend them because they are helpful and useful, not because of the small commissions that we may receive if you decide to buy something through our links. Please do not spend any money on these products unless you feel you need them or that they will help you achieve your goals.
The Complete Guide to Day Trading FREE EBOOK!
For a limited time, Markus Heitkoetter is giving away the electronic version of his bestselling book "The Complete Guide To Day Trading"
It's 296 pages and full of tips, tricks and practical information that you can use right away in your trading.
Click here to download the eBook now.
Other Services to Consider – SideKickTrades, ThetaTraderz and EagleTrades
If you are looking for similar services…..here are three that I recommend.
1.EagleTrades is a service that does a lot of cash secure puts for passive income that work 90% of the time. They also do morning scalps on a live stream audio. Powerful daily watchlists you can use to make your own trades with breakout levels.
2.ThetaTraderz is similar options selling service that caters to smaller account sizes – a huge plus if you want to sell options but don't have a lot of money in your account to use.
3. SideKickTraders is an awesome community of stock and options traders that offers the best bang for your buck – something for everyone and all the alerts are top notch!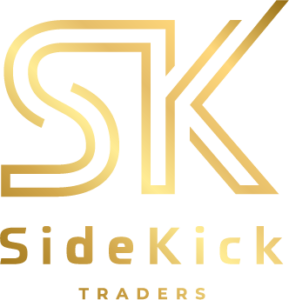 Money Map Press by Agora Financial



The newsletters that Tom runs are through a company called Money Map Press. They currently have 8 experts that each run multiple subscription services for investment and stock trading alerts.
Money Map Press is a well respected company that has helped a lot of people make investments over the years.
As with all of these financial newsletters, the marketing hype is crazy. I think that this can lead to people buying products that they think will make them rich but don't realize exactly what they are buying.
Money Map Press has 32 different subscription services, the provide information, tips, and recommendations in trading and investing. That is a lot!
The majority of the services cost between $500 and $5000 a year. They only offer annual subscriptions to the newsletters.
Who Is Tom Gentile?
People always want to know more about these experts before following them into investments or trades. Is Tom Gentile a scam?
Well, I couldn't find anything about him that suggests he is some kind of con artist. He is a professional trader that has been profitable for a long time (decades).
Tom Gentile started a company in the 90's (along with a few other people) that was eventually sold to Charles Schwab. The company focused on trading education products. This gives him some credibility in my eyes.
The options trading education company is called Optionetics and has over 400,000 students! That is huge.
Tom has been featured on all the major financial TV channels and has written several books on trading.
Tom has a decent YouTube channel where you can learn a fair bit about his strategies etc. Here is one of those videos….
Tom Gentile Fast Fortune Club Review
While researching this article, I found a lot of very negative Fast Fortune Club review. Many people claiming that it is a scam.
It costs $599 a year which seems fairly reasonable. You get a combination of alerts subscription service and investment newsletter. They send you information on stocks that look exciting and lots of educational material.
Here is exactly what you get when you subscriber to Fast Fortune Club.
The Fast Fortune Personal Money Calendar: Tom Gentile's invention! This is a  pattern trade recognition protocol that Tom devised so that you can find the best options trades. This is a very cool tool that you can use to make some nice profits with.
The First Fortune Payday Appointments and Alerts: You use these with the Money Calender. These are reports that give the stock ideas and research you need.
The Fast Fortune Million Dollar Masterclass: Once a month Tom sends subscribers a masterclass in a specific trading strategy. This is one of the best parts in my opinion. Education is everything!
The Fast Fortune Club Quick Start Cash Course: This is a video course that will help you learn a lot about trading options, stocks and ETF's.
The Fast Fortune Text Message Notifications:  Highly recommended, because in today's do-all society, you're bound to have your cell with you, even if you can't get to your computer. The SMS notifications will let you know when Tom has emailed you about a trade.
The Fast Fortune Network: Here you can communicate with other like-minded members, all who have the same thing in common.  Here you can create and join chat groups, share Payday Appointments, compare strategies…
The Fast Fortune Progress Reports: Each week you'll receive a progress report that assesses how all the recommendations are doing.  And more excitingly, how much money you're making (hopefully!).
The Fast Fortune Podcast: You'll receive this every Friday, recorded by Tom Gentile (the mastermind behind The Fast Fortune Club), that plans the mission for the upcoming week.
The Fast Fortune Roundtable: This is truly awesome.  It's a live online discussion where you can submit real time questions to Tom Gentile himself, and he can answer the most frequently asked ones.  No pre-positioning – just live Q&As that he'll answer directly to everyone in the discussion.
The Fast Fortune Annual Summit: Once a year, where you get the chance to meet everyone else in the 'club' face to face, as well as the gurus behind the subscription.  There are live training sessions, as well as plenty of time to relax!
Conclusions
I think that these services are good for more experienced investors/traders. They are a bit expensive and the information they provide is quite advanced.
The performance of their alerts services don't actually have a better track record than other much lower cost services.
I do think that the Tom Gentile services are overpriced. There are so many bad reviews online about him and the company that I doubt I will purchase any of his material.
I really don't like the unrealistic claims regarding the amount of money subscribers can make after joining the service.
Good Luck!
Russell
Related Articles
David Jaffee Beststockstrategy Review
Roger Scott Wealth Press Review
Trick Trades BOSS ASSASSIN DVD Review
I hope you found my Tom Gentile Money Map Press review helpful!