Jeff Bishop Bullseye Unlimited Review
Disclaimer: There are affiliate links on this page. This means that if you click through and purchase anything, I might earn a commission for the introduction with no extra cost to you.
LEARN HOW TO WIN 90% OF YOU TRADES IN 90 SECONDS!
 >> CLICK HERE TO LEARN MORE! <<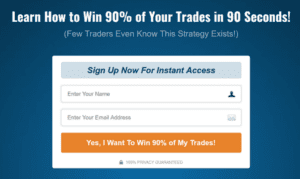 Jeff Bishop Bullseye Unlimited Review: What is it?
This is a relatively new service from Jeff Bishop. It is like his original lower cost service called Bullseye Trades. You can read my full review of this amazing service here.
While the original Bullseye Trades service only dishes up a single high quality swing trade idea a week, Bullseye Unlimited gives you multiple of these top trade ideas a day!
If you haven't tried the original Bullseye Trades – I highly suggest you try it out for a week trial here.
Jeff Bishop has been trading for over 20 years and is the co-founder of Ragingbull.com. I've been a member of many of his services over the years and have found Bullseye Trades to be one of the best.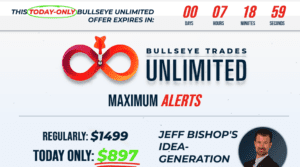 Free Trial on Bullseye Trades
If you haven't tried the original Bullseye Trades – I highly suggest you try it out for a week trial here.
Bullseye Trades Interview with Jeff and Russell
How Bullseye Unlimited Trades Works
When you join you Bullseye Unlimited, you get access to some of the best resources including:
Weekly Bullseyes: Where you'll find the weekly Monday Bullseye trade details, including from previously alerted trades.
The Shooting Gallery: The live trading chat room available exclusively to Bullseye Unlimited Members, and open whenever Jeff is setting up a live-alerted trade or walking through the weekly Bullseye Trade idea.
The High Octane Scanner: This idea-generation powerhouse needs no introduction.  This interactive scanner sniffs out every stock in the market that is exhibiting Jeff's favorite technical pattern, bullish or bearish, whenever the market is open.
Top Targets: Another "Unlimited" exclusive, this is where Jeff Bishop we be sharing his favorite trade ideas every day, shortly after the market opens and the scanner has had a chance to analyze the early price action.
Stock Options Explained: Jeff Bishop will be trading many types of trades, including options. If anything about options trading is unfamiliar please refer to this comprehensive course on options trading.
The Launchpad: Perspectives on trades and trading from Jeff Bishop and other RagingBull expert trading educators
Each morning, Jeff bishop emails you a breakdown of the latest trading ideas that he is pulling from the High Octane Scanner (or any other trades that he is eyeing for the coming day). Jeff Bishop is also upgrading this scanner to improve upon the ideas that it finds.
Live Trading: The new "Shooting Gallery" room is where Jeff Bishop will be alerting you to join him whenever he is gearing up to take a live trade.  Can't make it in time?  No problem, the trade details will be waiting for you in the Trading Feed whenever you drop into the room.
Alerts: Bullseye Unlimited will include more real-time alerts than his previous service (Total Alpha) has ever offered.  Even if Jeff is not able to set up a live trade, he alerts you whenever he sees something on the High Octane Scanner (or elsewhere in the market) that he thinks is worth a second glance!
If you haven't tried the original Bullseye Trades – I highly suggest you try it out for a week trial here.
Bullseye Unlimited Review: Options Course
This is a complete video course that is included with Bullseye Unlimited. It covers everything from the basic of options trading to advanced strategies like straddles and spreads.
Here are the titles of the video lessons included. Typically these are high quality videos and text clearly explaining the concepts.
Lesson 1: An Introduction to Options Trading
Lesson 2: Options Terminology
Lesson 3: Mechanics of Options
Lesson 4: How to Use Basic Option Strategies in a Portfolio
Lesson 5: Extrinsic Value vs. Intrinsic Value
Lesson 6: What You Need to Know About Volatility
Lesson 7: Understanding Greeks and How Parameters Affect an Option's Price
Lesson 8: Understanding How Options Are Priced
Lesson 9: Technical Trading and Options
Lesson 10: Examples of Options Trading Based on Technicals
Lesson 11: Basic Options Trading Strategies
Lesson 12: Options Trading Strategies – Long Call Spread and Short Put Spread
Lesson 13: An Introduction to Bearish Options Strategies
Lesson 14: Calendar Spreads
Lesson 15: Straddles
Lesson 16: Strangles
Lesson 17: Straddle-Strangle Swap
Lesson 18: Butterfly and Broken-Wing Butterfly Spreads
Lesson 19: Condors
Lesson 20: Iron Condors
Lesson 21: Trader Mindset and How to Find Trades
Putting It All Together and How to Mitigate Risk
Jeff Bishop Bullseye Unlimited Review: Conclusions
I hope you found this Jeff Bishop Bullseye Unlimited review helpful. This is a relatively new service for Raging Bull and builds on his most popular service: Bullseye Trades.
While this service costs significantly more compared to just the weekly Bullseye Trades ($997 as opposed to $97 per quarter for regular Bullseye), the frequency of the alerts, scanner and chat room make it great value for money in my opinion.
If you haven't tried the original Bullseye Trades – I highly suggest you try it out for a week trial here.
Russell
Related Articles
Kiana Danial Reviews of Invest Diva
Jason Bond Wall St Bookie Review
Jeff Bishop Bullseye Unlimited Review