This Memorial Day special offer could change your life…buy one get one FREE!
I know you have a busy weekend, so this won't take long (be sure to read to the end to check out our special Memorial Day discount offer).
Over the last year Lance and I's options income generating service (ThetaTraderz.com) has exploded in popularity.
People are flocking to the ThetaTraderz service for good reason…
The extraordinary value in the form of consistent income-generating alerts, variety of investing styles and risk management education all at an industry beating low price.
People are learning income generating strategies that will last them a lifetime.
Seriously…..most people are charging $1497 or higher for just ONE of the strategies inside ThetaTraderz.com and often those services are inferior, lack any kind of individual mentoring or worse are complete scams.
Since the start of 2022, Lance's proprietary strategy (my favorite one) has given subscribers the chance to win 50-of-50 trades in an average of just 30 days. 
Imagine the confidence you'd have if you could potentially start trading with up to 100% accuracy… Without ever worrying about what the shaky markets could do next week
The focus in ThetaTraderz is on risk management, passive income, and teaching subscribers the secrets to these under-used options trading techniques.
I'm slowly transferring more capital to my dedicated brokerage for these strategies. My main goal this year is to transition fully to this style of trading.
My results in the last week have been great.
Check out the screenshot below….just a few thousand dollars and almost no effort…you can see why I'm excited to transfer more capital to these strategies.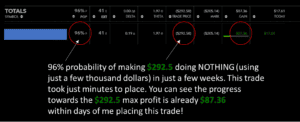 This strategy can scale and many people with larger amounts of capital are benefiting massively from these passive high probability strategies.
Starting next month, we are spinning off this one particularly successful strategy and offering it as a standalone service for new subscribers (current members will of course still have access).
The price of this new service will be much more consistent with the industry standard (e.g. much, much higher than we are currently offering the entire suite of strategies at ThetaTraderz.com).
Memorial Day Offer and Bonus
This Memorial Day weekend we wanted to give you guys one final chance to join ThetaTraderz at the lowest rate.
As an additional Memorial Day bonus, we are also offering the people that join the yearly or Inner Circle ThetaTraderz subscriptions the chance to also join my original discord alerts service called SideKickTraders (SKT) at NO ADDITIONAL COST!
This is a service where Lance, myself and one other expert scalp trader send out daily day trade alerts on SPY, SPX and MES.
My own current win-rate is around 75% on these alerts and the other guys have similar win-rates.
>>Join INNER CIRCLE ThetaTraderz for 25% OFF and get SKT for Lifetime at NO COST<<
>>Join YEARLY ThetaTraderz for 25% OFF and get SKT for a YEAR at NO COST<<
Russell
Related Articles
LuxAlgo Oscillators Review [Real Subscriber]
LuxAlgo Oscillators Review [Real Subscriber]