Welcome to my Charles Moon's Money Trades review! This guy is all over Facebook ads so I just HAD to check him out. Read on to learn what I found about Charlie Moon and his Money Trades stock alerts service.
Disclosure: There are some affiliate links on this page, but these are all products I highly recommend. I won't put anything on this page that I haven't verified and/or personally used. I may receive a commission if you click through a link and purchase a product or service.
Facebook Group
I run a thriving Facebook group called How To Make Money Trading Stock Alerts that brings together people that use stock alerts services. It's a great place to share what works and what doesn't! We welcome anyone (with a positive attitude!) and it is FREE to join.
The Complete Guide to Day Trading FREE EBOOK!
For a limited time, Markus Heitkoetter is giving away the electronic version of his bestselling book "The Complete Guide To Day Trading"
It's 296 pages and full of tips, tricks and practical information that you can use right away in your trading.
Click here to download the eBook now.
If you are interested in learning an options trading strategy with a 95% win rate……check out my store of free eBooks!
Other Services to Consider – SideKickTrades, ThetaTraderz and EagleTrades
If you are looking for similar services…..here are three that I recommend.
1.EagleTrades is a service that does a lot of cash secure puts for passive income that work 90% of the time. They also do morning scalps on a live stream audio. Powerful daily watchlists you can use to make your own trades with breakout levels.
2.ThetaTraderz is similar options selling service that caters to smaller account sizes – a huge plus if you want to sell options but don't have a lot of money in your account to use.
3. SideKickTraders is an awesome community of stock and options traders that offers the best bang for your buck – something for everyone and all the alerts are top notch!
Charles Moon's Money Trades Review
I had never heard of Charlie Moon until his ads started to populate my Facebook feed. So, I signed up for his free webinar and learned everything I could about the man and his stock trading strategy strategy.
Let's get started. Here is Charlie giving some stock advice in an interview. He seems like a genuine and knowledgeable guy.
Who Is Charles Moon?
Charlie Moon is a former poker player that discovered stock trading through a friend. His life has never been the same!
His upbringing sounds like it was extremely difficult as he talks about his mom having to work several jobs to support the family.
When he was old enough he went to work for his uncle at a dry cleaners.He didn't go to college.
However, he was only paid $400 a week in this job. He was a very hard worker though and was able to make some extra money working as a poker player at nights.
He would literally work 12 hour shifts at the dry cleaners and then spend all his spare time making money with online poker.
Apparently he started with $100 and managed to win $180,000 playing poker online! That is pretty amazing and I bet it changed his life forever.
He started trading, worked as an equity trader at Great Point Capital and was mentored by Scott Bauer at the Prosper Trading Academy.
Charles Moon has appeared on lots of TV shows that are highly respected. Overall, his credibility seems to be solid and I couldn't find anything shady about him.
His story is actually quite inspiring – the son of an immigrant single mother growing up without electricity at times.
He now teaches thousands of students to make money trading online.
Charles Moon's Money Trades Review: How Does It Work?
The moon trading strategy should not be confused with an actual moon trading strategy? Confused? Well, there are people who believe that you can actually use the phases of the moon to trade stocks……I will just leave the video I found about this below.
Apparently all you have to do is buy stocks on the new moon and then sell them on the next full moon. Uhuh…
Charles Moon Trading Strategy
Moving on to Charlie Moon's actual trading strategy.
Moon uses three simple patterns to make money. His patterns remind me of Jason Bond's patterns and I have to wonder if either party was 'inspired' by the other, at least in terms of marketing.
The Complete Guide to Day Trading FREE EBOOK!
For a limited time, Markus Heitkoetter is giving away the electronic version of his bestselling book "The Complete Guide To Day Trading"
It's 296 pages and full of tips, tricks and practical information that you can use right away in your trading.
Click here to download the eBook now.
Brief Overview of Moon Trading Patterns
Moon has three patterns that he uses to make money in the market. Here are the three patterns in a little bit more detail. Charlie has named these three patterns, but they are legit and well-known technical price patterns that are known to be highly reliable predictors of future price direction.
1. X Marks the Spot
This is a simple moving average crossover. It is nothing special in my opinion and it one of the most basic technical signals that you can possibly trade. Many traders use some kind of moving average cross over to predict the future trend of a stock.
2. River Channel
Imagine a river with the water bouncing between two river banks. Then one of the banks bursts and the huge flood begins as the water pours uncontrollably out. This can happen with the price of a stock! It can be trapped into a channel pattern, but when it does burst through its confining price levels – a huge move often ensues.
This is the classic breakout pattern and again it is nothing new or proprietary.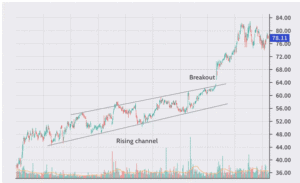 3. Staircase
This is just a typical ascending triangle pattern where the stock makes higher highs and higher lows. A very simple pattern.
Charlie trades stocks using these pattern and he also uses options contracts to leverage his gains.
Despite his patterns being very simple, the service that moon offers value to subscribers. Just because a pattern is simple, it is often not easy to actually trade them successfully as a beginner.
Here is what you get when you sign up to Moon's Money Trades.
Swing/momentum trade alerts in real time. He sends these out via SMS and email.




Full daily watch list of the stocks that Charlie Moon is looking at trading.




Online education campus to teach you everything you need to know about trading his strategy and stock trading in general.

Monthly live strategy sessions.
From what I have read, the stock alerts usually work out quite well for subscribers. Moon doesn't seem to use a huge account from the trades that he shows in his webinars.
As with most stock alerts services, often the price will have increased from the actual alert price. Sometimes this is because the stock has momentum and is on the move when the expert buys it.
Usually you can just wait and let the price come back down to get a better entry price.
Charles Moon's Money Trades Review: Conclusions

There are so many stock alerts services out there, but Charles Moon's Money Trades seems like a particularly good one.
It costs $297 per quarter, so roughly $100 a month. This is pretty reasonable given the quality of the service and the credibility of Moon.
There are lots of great Charles Moon's Money Trades reviews online. The parent company, Prosper Trading, is also a highly respected company. Just look them up on Trustpilot.
There are a ton of Prosper Trading Academy reviews that are extremely positive.
They also have a great reputation for customer service. Overall, I am convinced they would be a great stock alerts and education service to try. I will most likely sign-up and continue to update this Charles Moons Money Trades review.
Good Luck!
Russell
Related Articles
David Jaffee of Best Stock Strategy Reviewed
I hope that my Charles Moon's Money Trades review has been helpful!