InTheMoneyStocks Verified Investing Alerts Review
Disclaimer: There are affiliate links on this page. This means that if you click through and purchase anything, I might earn a commission for the introduction with no extra cost to you. In no event will we be liable for any loss or damage including without limitation, indirect or consequential loss or damage, or any loss or damage whatsoever arising from loss of data or profits arising out of, or in connection with, the use of this website.
Through this website you are able to link to other websites which are not under the control of stockalertsreviewed.com. We have no control over the nature, content and availability of those sites. The inclusion of any links does not necessarily imply a recommendation or endorse the views expressed within them.
Side Note: Come and join our stock trading alerts Facebook group (How To Make Money With Stock Alerts Services)! We also have a Stock Alerts Reviewed YouTube channel which we hope are helpful.
As a new trader it's helpful to be part of a community of traders so you don't feel you are battling the market alone!
Bullseye Trades: My Favorite Swing Trading Service
Don't miss Bullseye Trades – one of the best options alerts services I've ever been subscribed to! Full review and track record here.
LEARN HOW TO WIN 90% OF YOU TRADES IN 90 SECONDS!
 >> CLICK HERE TO LEARN MORE! <<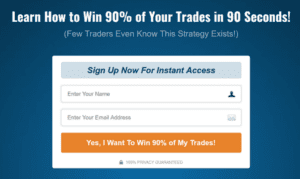 InTheMoneyStocks is a financial research and analysis firm that provides its members with stock alerts, market news and commentary, as well as access to proprietary tools and services.
In 2007, InTheMoneyStocks.com was created with the intention of assisting regular investors compete and outpace Wall Street professionals.
The PPT Methodology is a concise method to scrutinize charts and locate the next directional move Gareth Soloway and Nicholas Santiago, the inventors, spent extended time perfecting this technique before release.
With an 82% success rate (94% for day trading), the PPT Methodology has consistently outperformed traditional methods.
With a member base in the 5-figures since their 2007 launch, and many renowned hedge fund clients, InTheMoneyStocks.com has become a name known by investors and traders worldwide.
One of the oldest proprietary trade alert firms on the internet, InTheMoneyStocks has shown a long-term beneficial and successful influence on their members' lives.
Or so they claim!
They take pride in being transparent, and the openness allows members to see live trades as well as learn how to chart analysis and find the next market cycle via the PPT Methodology.
But is it legit? Read this review to find out!
LEARN HOW TO WIN 90% OF YOU TRADES IN 90 SECONDS!
 >> CLICK HERE TO LEARN MORE! <<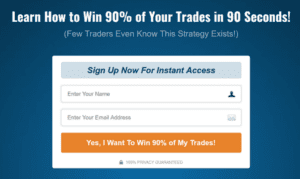 About Gareth Soloway
InTheMoneyStocks has multiple services and I signed up for the Verified Investing Alerts service run by Gareth Soloway.
Gareth is a seasoned Pro Trader with over 20 years of expertise. He focused his studies on technical charts in his early career.
He created unique strategies like the Confirmation Signal, Three Tail Theory, River Theory, cycle analysis, and an acute understanding of market sentiment and timing while trading his own money.
In 2007, Gareth launched InTheMoneyStocks using his Proprietary PPT Methodology. His goal was to help average investors compete with the best hedge funds and traders on Wall Street.
Gareth has had an over 80% success rate on swing trade signals given to members in Verified Investing Alerts since 2007, and a 94% success rate on day trade signals in the Live Day Trading Room.
He launched Verified Investing Crypto in 2021, and he started Soloway Advantage Capital in 2022.
Gareth seems to be a legitimate trader from what I can tell.
Bullseye Trades: Best Alerts Service

Every Monday at the market open, Jeff sends you his weekly Bullseye Trade.
2022 has been AMAZING for these Bullseye Trades!
(+50% to 300% per week in my experience)
InTheMoneyStocks Verified Investing Alerts Review: What Do You Get?
On the face of it – this seems like the perfect alerts service. It only costs $99 a month. The track record is fantastic and the trades easy to replicate as they are swing trades.
With real-time time-stamped swing trade alerts (verified), you'll get precise entry and exit prices. Portfolio allocation, targets, and stops are also mentioned.
The issue I have is the use of the word 'verified' implies some third-party auditing which is not the case here. Sure, you can go and look at past trade alerts and look at how they worked out (which is great!) but hardly what I'd call 'verified'.
Gareth discusses the stock market, individual equities, commodities, and cryptocurrencies in this daily analysis video.
The power of the mind is one of the most important components in finance. It examines mental psychology, discipline, and willpower to assist you on your path to financial independence.
Gareth covers these topics in his daily videos as well as stock and market analysis. His experience shows and he clearly knows the markets and underlying economics well.
Track Record
When I joined the service the recorded track record was 5 losses and 162 wins. That is a whopping 97% success rate on swing trades.
UPDATE: CAREFUL ANALYSIS SHOWS THERE ARE MANY MISTAKES IN ENTRY PRICES! EITHER MISTYPED OR DELIBERATE ERRORS THAT SKEW THE DATA. SOME PRICES THEY CLAIM TO HAVE ENTERED WERE NOT POSSIBLE ON THOSE DAYS!
The typical winning trade is around 15% and the typical losing trade is about 5%. Most of the trades are overnight holds up to about 1 week or so. HOWEVER, there is a problem (discussed in the final section of this review and in the video below) with taking these results at face value.
This is ridiculously good. However it might not be easy to replicate this (again check the amended final section in this review). I've also spotted many mistakes.
Here is a snapshot of the recent track record…..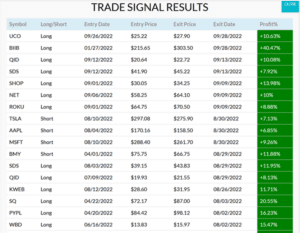 The trades in the recorded track record are all on respectable high liquidity stocks – AAPL, ROKU, MSFT, SHOP, TSLA etc.
One thing that I noticed that is interesting is that they recommend using a very small % of your portfolio for these trades. Typically, just a few %.
Morning Market Analysis
Gareth gives a really in-depth market analysis in the morning daily video's. These come out pre-market.
I joined a live session where people can ask questions about the market and individual stocks etc. This is pretty useful.
Gareth gives some amazing commentary on the fed, inflation, interest rates and where the market is likely to go both in the short term and the longer term.
You can tell Gareth has experience and skill with technical analysis and his videos are full of great nuggets of knowledge.
InTheMoneyStocks App
You can download the app they have to get notified of alerts and videos etc. It's a nice touch!
InTheMoneyStocks.com TrustPilot Reviews
They have a great rating on TrustPilot that reflects my thoughts on the company and services accurately.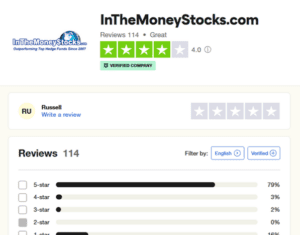 InTheMoneyStocks.com Education
There is very limited formal video lessons. I think about 6 on obscure topics in the archive. However, listening to the live calls are very educational!
LEARN HOW TO WIN 90% OF YOU TRADES IN 90 SECONDS!
 >> CLICK HERE TO LEARN MORE! <<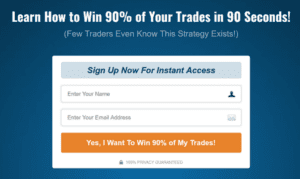 Issues With Actually Replicating InTheMoneyStocks.com Reported Track Record
Some of the trades are fairly quick from 1 -14 days. Out of the sample 50 trades I found almost half of the trades lasted under 10 days.
However 20% were multiple months (up to about 5 months).
You have no idea when entering which one you'll be stuck in.
The longer trades are often at a large loss during those multi-month trades while waiting for it to rebound and make a small profit.
And there's no way to predict how much margin you have to keep free to be able to trade this way, or you'll find yourself screwed.
Gareth often averages in to the longer trades as well – but that means they are more heavily weighted than the shorter term trades.
So, if these longer holds are losers they are much bigger losers than the winners. Despite the reported percentage looking small.
Then, worse….you have entire trade entry listing errors.
For example the NFLX trade recorded 04-20-2022 at $189.06…the price was NEVER within $20 of that the entire day, so it's either fake, or mis-listed. I found several mistakes that are similar. Each mistake seems to always make the trade seem more profitable than it would otherwise have been.
Bullseye Trades: Best Alerts Service

Every Monday at the market open, Jeff sends you his weekly Bullseye Trade.
2022 has been AMAZING for these Bullseye Trades!
(+50% to 300% per week in my experience)
InTheMoneyStocks Verified Investing Alerts Review: Conclusions
It's clear that InTheMoneyStocks is a legitimate research and analysis firm with a great track record. Gareth Soloway is a professional trader with over 20 years of experience.
The Verified Investing Alerts service seems to be exactly what it claims to be – a service that provides you with clear and concise swing trade alerts with a great success rate.
However, the concerns raised in the previous section make this a difficult service to recommend to people.
I would recommend Jeff Bishops Bullseye Trades instead if you are looking for simple alerts that offer amazing value (in my opinion).
Russell
Related Articles
Jeff Bishop Bullseye Unlimited Review
Kiana Danial Reviews of Invest Diva
Jason Bond Penny Stock Trading Review
InTheMoneyStocks Verified Investing Alerts Reviewed