Lux Algo Premium Review
Please note that some of the links on this website are affiliate links. This means that, at no additional cost to you, we may earn a commission if you click through and make a purchase. We only promote products or services that we believe will be helpful to our readers. 
Welcome to my LuxAlgo Review! I love this program and it has made me significant money scalping $SPY options. Read for all the details!
Free Resources
I test and review alerts services full-time and you can keep updated on what I'm on my social media…
My Facebook group where we discuss alerts services.
I hope that these will help you!
If you are looking for my top 5 trade alerts services click here!
Bullseye Trades: Best Alerts Service

Every Monday at the market open, Jeff sends you his weekly Bullseye Trade.
2022 has been AMAZING for these Bullseye Trades!
(+50% to 300% per week in my experience)
LEARN HOW TO WIN 90% OF YOU TRADES IN 90 SECONDS!
 >> CLICK HERE TO LEARN MORE! <<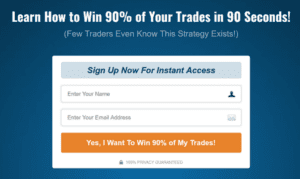 LuxAlgo Review
The LuxAlgo Signals & Overlays indicator is a comprehensive toolkit designed for traders seeking technical analysis insights. It comprises over 20 features that primarily generate useful signals and overlays to fulfill any trader's needs with relevant data.
In this review I will discuss the features and give you my take on how I use Lux Algo in my own trading.
**Get LUXALGO Indicators at the lowest cost HERE: Click HERE ASAP!**
***LUXALGO FREE GUIDE: Get my full profitable strategy using LuxAlgo HERE in my eGuide! Includes an ongoing log of my LuxAlgo trades on $SPY!***
Lux Algo Premium Review: Who Created It?
Sean Mack, the Founder & CEO of LuxAlgo, is a passionate entrepreneur who enjoys sharing unique perspectives with the world. In 2017, Sean began using various tools to forecast Bitcoin and discovered the power of visual arts and customized technical indicators through Pine Script. He decided to experiment with scripts and bring his innovative ideas to life on TradingView charts.
**Get LUXALGO Indicators at the lowest cost HERE: Click HERE ASAP!**
Sean's goal was to empower individuals to see new perspectives and simplify their analysis through technical indicators, while also incorporating community feedback to provide new features over time.
As an entrepreneur, he recognized the untapped potential of the paid technical indicators industry, which was still in its infancy.
On April 13th, 2020, Sean Mack and former team member Alexander Friend launched LuxAlgo, quickly becoming the go-to brand for technical indicators.
Through TradingView, Sean was introduced to Alex Pierrefeu, also known as AlexGrover, a highly talented script developer and mathematician.
Created from scratch by alexgrover using the TradingView Pine Script Wizard, this indicator is the first of its kind to provide an all-in-one solution for traders.
Lux Algo Premium Review: Why Use It?
Lux Algo can be used in conjunction with other forms of technical analysis, but it is also designed to be a stand-alone toolkit suitable for any trading style.
The indicator considers that not all technical indicators fit every market condition, and therefore, every feature included is designed to cater to different market conditions.
To use this indicator effectively, traders should explore all the features over time, select 2-3 that best suit their trading style, and use those to create their unique use cases.
***LUXALGO FREE GUIDE: Get my full profitable strategy using LuxAlgo HERE in my eGuide! Includes an ongoing log of my LuxAlgo trades on $SPY!***
The LuxAlgo Signals & Overlays indicator provides endless possibilities catering to all trading styles.
The indicator works in any market for discretionary analysis and includes beginner-friendly presets to enable multiple features at once with one click, confirmation signals to help traders confirm trends, contrarian signals to spot reversals, and exit signals to suggest potential take-profit areas.
It also includes signal optimization methods, such as sensitivity/agility, optimal sensitivity parameters displayed on the dashboard, and autopilot (dynamic setting).
The candle coloring feature visualizes trends developing between 'normal' and 'strong', and the six+ indicator overlays help traders visualize trends, find reversal points, and get dynamic areas of support and resistance.
Traders can use filters within "Presets/Filters" to filter confirmation signals with indicator overlays and other metrics within LuxAlgo Premium.
The indicator also comes with a complete dashboard that displays highly actionable metrics such as trend strength, current volatility, volume analysis, and more.
**Get LUXALGO Indicators at the lowest cost HERE: Click HERE ASAP!**
Advanced Settings
Advanced settings enable traders to display customizable TP/SL points, enhance signal optimizations, and customize dashboard size and location.
The full any Alert() function call conditions are included, and there is a highly useful filtered alert creator section to generate custom filtered signal alerts with indicator overlays and other metrics.
Overall, the LuxAlgo Signals & Overlays indicator is a powerful tool that traders can use to improve their technical analysis and make informed trading decisions.
Lux Algo Premium Review: How I Use It
My initial impression of LuxAlgo is good – but a little overwhelming. This might be partly due to my lack of experience with TradingView (the platform it runs on).
I have found that the signals seem to work more consistently on longer time-frames.
***LUXALGO FREE GUIDE: Get my full profitable strategy using LuxAlgo HERE in my eGuide! Includes an ongoing log of my LuxAlgo trades on $SPY!***
For example, the daily chart on SPY over a year shows excellent results for people buying on the green signals and selling on the red signals. This is just the core premium indicator…..and I added the reversal red and green clouds as well.
You can see that these act as areas where the price often changes direction – potentially useful for taking profits. In this SPY daily chart example, you can also see little blue crosses. That is the programs suggested 'take some profits' signal.
Simplicity helps me to trust in indicators more. In the case above, i'd feel confident in placing a trade based on the next signal that comes up on this SPY daily chart.
LuxAlgo Review: My Recent Results
Here are some of my recent trading results with LuxAlgo. I've had a 77% win-rate over 44 trades.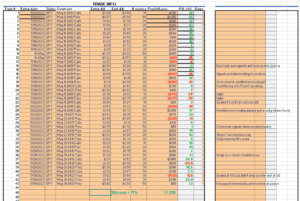 All the trades above were done on the 1-minute charts with 0-dte options on $SPY. One of my favorite trading styles.
On the daily charts, it is pretty clear that you are likely to be profitable. I looked at most of the other big names in the market with these settings and they all performed well. Winners generally outperformed losing trades.
On this swing trading setting you can expect to get half a dozen trades a year with an average hold time of somewhere between 20 – 30 days.
LuxAlgo Review: Cost
Compared to many other indicator systems out there, I'd say that LuxAlgo is fairly priced. I especially like how you can buy a monthly subscription to test it out.
The screenshot below shows the current prices. Be sure to use my link here and coupon code (STA30) to get 30% off if you want to purchase!
LuxAlgo Review: Intra-day Results
I initially thought that LuxAlgo would only be useful for swing trading – I was wrong. It works great on the 1 min time-frame and almost all the timeframes that I have tested the signals on!
I mainly use 1 min and 5 min signals in my day trading.
LuxAlgo Review: Small Cap Stocks?
***LUXALGO FREE GUIDE: Get my full profitable strategy using LuxAlgo HERE in my eGuide! Includes an ongoing log of my LuxAlgo trades on $SPY!***
Lux Algo does a good job on small cap stocks as well as large cap, Futures and Crypto.
Here is a brief video I made showing some examples.
LuxAlgo Review: Forex Trading
LuxAlgo works well for Forex trading as well! This opens up some possibilities of using the LuxAlgo program to trade funded forex accounts.
LuxAlgo Review: Crypto Trading
LuxAlgo also works for crypto trading! Here is a video I did that shows some examples of crypto trading using LuxAlgo.
LuxAlgo Review: Oscillators
There is a whole package included with the premium LuxAlgo dedicated to oscillators. I've started a new article dedicated to just reviewing LuxAlgo oscillators.
Lux Algo Premium Review: More Review Videos
I prefer making videos about my experience with services. In this section of the LuxAlgo review I will include as many of my video reviews as I can. If you want to follow them as they are published, you can subscribe to my YouTube channel here.
LuxAlgo Review: Conclusions
So far, my experience with LuxAlgo's indicators for scalping, intra-day and swing trading has been extremely positive. The indicators provided by LuxAlgo have proven to be very effective in identifying potential trading opportunities and guiding my decision-making process.
Specifically, I have found the 1-minute signals to be particularly reliable and robust. This is important to me because it's one my favorite trading timeframes.
What sets LuxAlgo apart is not only the accuracy of its signals but also the timeliness and customization options it offers. The signals provided by LuxAlgo are remarkably accurate, enabling me to make well-informed trading decisions.
***LUXALGO FREE GUIDE: Get my full profitable strategy using LuxAlgo HERE in my eGuide! Includes an ongoing log of my LuxAlgo trades on $SPY!***
Moreover, the signals are delivered promptly, ensuring that I can act quickly and take advantage of favorable market conditions.
Furthermore, LuxAlgo's system allows for a high degree of customization, which is a significant advantage. I have been able to tailor the indicators to my specific trading preferences and strategies. This customization capability has enhanced the overall effectiveness of the signals and has allowed me to align them with my personal trading style.
Given the consistently positive results I have experienced, I am continuing to test LuxAlgo further.
I am in the process of meticulously documenting my trading outcomes and analyzing the performance of LuxAlgo's indicators in different market conditions. I believe that this thorough assessment will provide me with valuable insights and help me refine my trading strategies.
I am excited to share my findings with others who are interested in scalping, intra-day and swing trading and LuxAlgo's indicators. Stay tuned for updates on my ongoing testing and analysis of LuxAlgo's system.
**Get LUXALGO Indicators at the lowest cost HERE: Click HERE ASAP!**
Russell
Related Articles
Who is Ethan Harms at Raging Bull?
Simply Wall St Review (Al Bentley)
AlgoPro Review (REAL SUBSCRIBER)
Lux Algo Premium Review