AlgoPro Review (REAL SUBSCRIBER)
Please note that some of the links on this website are affiliate links. This means that, at no additional cost to you, we may earn a commission if you click through and make a purchase. We only promote products or services that we believe will be helpful to our readers. The opinions in this AlgoPro review are my own.
Do you think it's possible to get a really accurate buy/sell indicator system AND a profitable scalping bot all included for a $179.99 one-time fee?
In this AlgoPro review I will share my experience with a system that claims to be just that!
>>You Can Buy the AlgoPro Indicator and Bot System Here<<
Free Resources
I test and review alerts services full-time and you can keep updated on what I'm on my social media…
My Facebook group where we discuss alerts services and indicator systems.
I hope that these will help you!
If you are looking for my top 5 trade alerts services click here!
Bullseye Trades: Best Alerts Service

Every Monday at the market open, Jeff sends you his weekly Bullseye Trade.
2022 has been AMAZING for these Bullseye Trades!
(+50% to 300% per week in my experience)
LEARN HOW TO WIN 90% OF YOU TRADES IN 90 SECONDS!
 >> CLICK HERE TO LEARN MORE! <<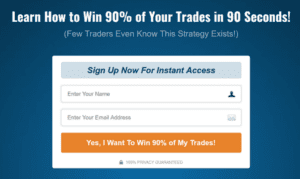 Recommended: If you like consistent and passive trading, consider a 7-day trial to ThetaTraderz.com to get some of the best trade alerts I've seen. These include spreads on SPX, Futures and stocks all with a VERY high win-rate. Perfect if you want to spend minimal time placing trades that actually work.
Here is another popular video from my channel that explains me using the AlgoPro in a real trade.
AlgoPro Review: What is AlgoPro?
AlgoPro is a series of premium indicator scripts that can be purchased (buy them here for the best possible price) and loaded into TradingView. The cool thing is you don't need a premium TradingView account – the free version works just fine.
Why am I so excited about it? Because it includes BOTs to automate your trading all for a very reasonable price.
AlgoPro utilizes over 20 years of trading experience and more than 70 indicators and tools to create a complex and distinctive trading toolkit.
It is renowned as one of the most potent indicator packages across all financial markets.
They have over 10,000 customers currently using AlgoPro.
Employing real-time data, AlgoPro performs comprehensive analysis to provide guidance in the markets.
It's indicators and signals are thoughtfully designed to accommodate various trading styles, encompassing day trading, swing trading, and scalp trading, as well as manual and automated trading strategies ('bots').
In this review I will discuss what each part of the program involves and my own personal experiences with them.
My hope is that AlgoPro will be as good or better than my current favorite TradingView indicator system (LuxAlgo read my full review here).
Let's get started with the various scripts you get access to when you purchase AlgoPro.
There are many components to AlgoPro. In this AlgoPro review I will go through the different components:
AlgoPro V1
AlgoPro V1.2

Algo

Pro 

V2

 & 

V3

AlgoPro Scalper Bot V2 & V3
AlgoPro Dashboard & Reversal Suite
AlgoPro Trend SR
AlgoPro Volume SR
AlgoPro Reversal Trader V1
AlgoPro Swing Bot
What markets and timeframes does AlgoPro work on?
AlgoPro functions across a broad spectrum of international markets, encompassing stocks, indices, forex, futures, and commodities, and it is compatible with various timeframes, including 1-minute, 5-minute, 30-minute, 1-hour, 4-hour, 1-day, and 1-week, among others.
Users have the flexibility to employ its tools for different trading strategies, such as scalping, swing trading, or even options trading.
Determining the 'optimal timeframe' remains contingent on factors like prevailing market conditions and the user's unique trading style.
While higher timeframes are generally recommended, many AlgoPro users have effectively tailored the platform to lower timeframes to align with their specific preferences.
Recommended: If you like consistent and passive trading, consider a 7-day trial to ThetaTraderz.com to get some of the best trade alerts I've seen. These include spreads on SPX, Futures and stocks all with a VERY high win-rate. Perfect if you want to spend minimal time placing trades that actually work.
Autotrading AKA 'bot' Trading
AlgoPro gives the user the ability to integrate the AlgoPro indicators seamlessly into third-party platforms like 3Commas for the creation of automated trading strategies.
This is really exciting and something I will be testing out in detail over the coming months – I love autotrading bots for true passive income!
LEARN HOW TO WIN 90% OF YOU TRADES IN 90 SECONDS!
 >> CLICK HERE TO LEARN MORE! <<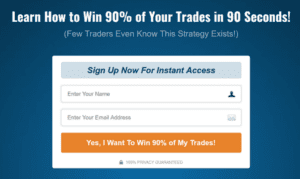 AlgoPro V1
Their V1 Indicator incorporates a blend of moving averages (MA), trend signals, volume analysis, volatility calculations, and numerous other tools to give the user strong bullish and bearish indications.
When these comprehensive tools synchronize, users receive real-time buy and sell signals, in addition to live take profit signals.
AlgoPro V1 offers a simplified, user-friendly means of visualizing complex trading instruments.
In contrast to their V1.2, which caters to customization for individual trading styles, the V1 is optimized automatically, aiming to achieve the highest gross profit available.
All of its functionalities, from buy and sell signals to every take profit alert, are seamlessly executed within the algorithm.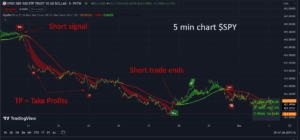 The AlgoPro V1 Indicator presents buy and sell signals intended to assist traders in their analysis.
The innovative system conducts real-time testing of all configurations to identify the most optimized settings that yield the highest profit gains, tailored to the specific asset and time frame being traded.
This functionality represents a pioneering achievement in algorithmic trading.
The system identifies the top three settings, providing a list of these three settings along with their corresponding performance metrics.
The system then automatically applies the best settings to the chart.
It's important to note that the algorithm exclusively calculates long positions (Buy – Exit) and does not consider short positions.
>>You Can Buy the AlgoPro Indicator and Bot System Here<<
Here is my first video review I've made about AlgoPro V1…
AlgoPro V1.2
You also get access to this new version of the algo script. This is interesting because it's a lot more customizable than V1.
V1.2 operates in a manner similar to its predecessor, V1, but with refinements tailored for daily and intra-day trading.
This version, V1.2, introduces a more hands-on signal approach, allowing for customization according to your individual trading style.
It incorporates a dynamic true range Take Profit and Stop Loss system.
Upon confirming a buy or sell signal based on candle close, V1.2 then calculates the most precise Take Profit and Stop Loss levels for the active signal.
Additionally, V1.2 features a novel, smoothly blended set of moving averages that enhance accuracy in identifying support and resistance levels in tandem with price action.
Users have the flexibility to fine-tune the sensitivity of all signals and take profit/stop loss levels. V1.2 seamlessly accommodates both normal candlestick and Heikin-Ashi charting.
I think that this is a better version of Algo Pro. Here is a video all about it…..
AlgoPro V2
Weirdly, this is not like the difference between V1 and V1.2. It's a standalone oscillator package with buy/sell when the oscillator is overbought/oversold.
The V2 Indicator represents a comprehensive oscillator suite designed to deliver the most reliable signals available in the market. It works best on longer timeframes like the daily charts.
By amalgamating a multitude of intricate trading tools into a single unit, whether activated individually or in tandem, it produces signals of varying strengths. This indicator excels at forecasting robust reversals and swings across diverse markets.
Employing a plethora of indicators to construct a versatile oscillator and divergence identifier, this stands as the most potent signal generator in the market for pinpointing robust bullish and bearish reversals. When our amalgamated signals synchronize, they produce a signal of specific strength, contingent upon the number of indicators that have been activated.
AlgoPro Review: V3
The AlgoPro V3 is an advanced oscillator, closely resembling the V2 model, but boasting additional integrated volume metrics for enhanced trend and momentum analysis.
When assessing price movements, the V3 oscillator dynamically alters its color scheme based on the concurrent volume activity. A fading of colors in the V3 indicator indicates a gradual reduction in volume support, signaling the potential emergence of significant price reversals.
This is relatively useful but not my favorite aspect of AlgoPro.
AlgoPro Review: Algo Pro Swing Bot
This indicator can be connected to a third-party program to automatically trade for you. It only works for Crypto and Forex unfortunately. However, there is a nice backtest system built in on the AlgoPro system that allows you to see if your particular settings would have resulted in a profitable outcome over the last few years.
I've found that it seems to be great for crypto but not forex.
The idea of set it and forget it trading is appealing to some. It's the ultimate passive income. The reality is that it can be difficult to do although I did talk to a guy in the AlgoPro discord that has been running a profitable bot since June.
AlgoPro Review: AlgoPro Trend SR
AlgoPro Trend SR is a utility designed to autonomously identify support and resistance levels by analyzing historical and current trend data, pivot points, and order block volume.
When these support and resistance zones are breached, they transform into fresh support and resistance levels. Here is my review video of this aspect of AlgoPro. I really like it!
AlgoPro Reversal Suite
Maybe you love to try to time reversal areas where say an uptrend ends and the price starts going down.
This is also known as contrarian trading – trading against the current trend. Check out the video below on all about my findings with the AlgoPro Reversal Suite…..
The AlgoPro Reversal Trader V1 is an indicator and strategy meticulously optimized for contrarian trading.
It is applicable across all markets and timeframes. Using a proprietary blended formula, the algorithm within this system identifies optimal areas for potential reversals, enabling well-timed scalp or swing trades.
When integrated with AlgoPro's V2, V3, and support/resistance tools, it forms a potent toolkit for reversal trading. Upon locating a trading entry, the Reversal Trading V1 employs the same take profit and stop loss levels as the AlgoPro V1.2
LEARN HOW TO WIN 90% OF YOU TRADES IN 90 SECONDS!
 >> CLICK HERE TO LEARN MORE! <<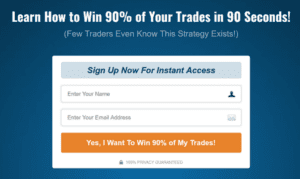 AlgoPro Review: Dashboard
The AlgoPro Dashboard offers a holistic, all-encompassing market tool. It provides instant insights into any asset across various markets by utilizing all essential technical analysis indicators.
With the AlgoPro Dashboard, you can gauge market sentiment and identify the technical indicators signaling bullish or bearish trends. Instead of cluttering your chart with a multitude of perplexing tools, this dashboard simplifies the process of visualizing your desired technical indicators.
AlgoPro Review: Crypto Trading
One thing I love about AlgoPro is that you can use third-party programs to make bots to automate your trading. The signals are great as well as you can see from the video below.
AlgoPro Review: Conclusions
This review is still very much a work in progress. I will continue to update as I gain more experience with AlgoPro. The indicator in AlgoPro V1.2 seems as good as any I've come across and the price when I purchased was only $179.99 for lifetime.
Overall, I highly recommend AlgoPro as long as it's on sale at $179.99 for lifetime.
I would be a little more hesitant to pay the full retail price of nearly $2,000.
Hope this helps!
Russell
Recommended: If you like consistent and passive trading, consider a 7-day trial to ThetaTraderz.com to get some of the best trade alerts I've seen. These include spreads on SPX, Futures and stocks all with a VERY high win-rate. Perfect if you want to spend minimal time placing trades that actually work.
Related Articles
Mean Reversion Trading Review (Nishant Pant)
Brad Thomas Amazon's Secret Royalty Program [REVIEW]
Jeff Bishop Alpha Hunter Review
Steven Brooks Daily Dividends Testimonials
AlgoPro Review