Welcome to my Oxford Club Viper Alerts review!
Longer term holds are generally not my thing. However, as you will see in this Oxford Club Viper Alerts review, the alerts that they issue often lead to gains within a week or so.
Disclosure: There are some affiliate links below, but these are all products I highly recommend. I won't put anything on this page that I haven't verified and/or personally used. I may get paid a commission if you buy anything through these links, at no extra cost to you.
I generally prefer to buy and sell within a few days. I have found that stocks with strong catalyst events within a week or so are generally where I make most of my profits.
The VIPER Alert is designed to target stocks that are coiled and ready to surge to new highs. At the heart of it all is the VIPER System and a proprietary ratio that was created to find stocks with the biggest potential and best probability for huge short-term gains.
Over the last 10 years, the system behind The VIPER Alert returned a total gain of 892% versus a 131% total return by the Russell 2000.
My FREE Facebook Group
I run a thriving Facebook group called How To Make Money Trading Stock Alerts that brings together people that use stock alerts services. It's a great place to share what works and what doesn't! We welcome anyone (with a positive attitude!) and it is FREE to join.
Howard joined the Facebook group last year and then my premium service called SideKickTraders. He recently turned $25k into $100k in three months in a BAD market!
Other Services to Consider – SideKickTrades, ThetaTraderz and EagleTrades
If you are looking for similar services…..here are three that I recommend.
1.EagleTrades is a service that does a lot of cash secure puts for passive income that work 90% of the time. They also do morning scalps on a live stream audio. Powerful daily watchlists you can use to make your own trades with breakout levels.
2.ThetaTraderz is similar options selling service that caters to smaller account sizes – a huge plus if you want to sell options but don't have a lot of money in your account to use.
3. SideKickTraders is an awesome community of stock and options traders that offers the best bang for your buck – something for everyone and all the alerts are top notch!
The Viper Report by The Oxford Club
The Oxford Club has been around since 1989! I am a Chairman Circle Member of the Oxford Club. I have access to almost all of their programs. Here are a video review of another service that I like from the Oxford Club…..
In The VIPER Alert, Matthew is looking for record-setting stocks that are, ideally, extremely undervalued… have superb financials and fundamentals… and still have tons of room for growth.
Only a small number of companies meet this rigid criteria. In the past, they have held a tech firm specializing in cloud communication services… a healthcare company that develops bioimplants… a semiconductor-maker that operates in three separate markets… and more.
With each new recommendation, Matthew will include the name, ticker symbol and a brief note explaining why this particular stock meets his VIPER Alert criteria. He may also include a call option (complete with recommended price limit) for any subscribers interested in trading options – but only if there's a play that's viable and has enough liquidity.
About Matthew Carr
Let's get started with this Oxford Club Viper Alerts review! The main guy behind this service is called Matthew Carr. He is responsible for The VIPER Alert, Dynamic Fortunes, Trailblazer Pro and Profit Trends newsletters.
Matthew has over 20 years of experience in the markets and he is known for his massive returns! Sounds like a good guy to follow, right?
Matt has experience trading almost every industry from cannabis to mining. Matt has a really interesting way to screen and rank his stock picks.
It is called The Viper Score.
The Viper Score (V Score)
The V Score is a trading strategy that often finds stocks that are dramatically outperforming the market.
The Viper strategy is pretty easy to follow. Here is a brief overview of the strategy.
The V Score goes from 0 – 100. Don't ever buy a stock with a V Score of 0 ! Matt aims to buy stocks with as high a V Score as possible. You NEVER want to be holding any stocks with a low V Score if you can help it.
The Viper System has a few criteria that must be met before the V Score can be applied. Matt uses a scanner than searches for the 4,000 publicly traded stocks to find ones that fit these metrics.
Value: Are shares priced below their 52-week highs?
Income: Is it rising at least 25% per year?
Profit: Are future profits expected to be 25% higher than current profits?
Earnings: Is EPS growth for the current year over 25%?
Revenue Growth: Has it grown 25% or more year over year?
My Experience With The Viper Alerts
I haven't traded any of the Oxford Club Viper Alerts yet. But I have been monitoring the last few alerts to see how they do.
When it comes to exit strategies, it is recommended to set a close-of-day sell stop 20% below the entry price. Protective stop recommendations are based on closing prices, not intraday prices. If a position closes below the suggested stop, sell your shares at market during the next session.
Here are some example trades.
May 1st $ARCE
Here is the price range that subscribers could have bought the May 1st stock alert, $ARCE.
I also want to show you the due diligence and ideas behind this trade according to the alert email. Here is the actual email where you can see the amount of work and diligence that is put into finding these stocks.
'New Recommendation
COVID-19 has forced everything from businesses to factories to elementary schools to colleges and universities to shut their doors to the public.
That's sparked a boom in technology that enables people to still work and go to school from afar. And e-learning is seeing some of the biggest upticks.
That's the direction the VIPER System is pointing us today.
Arco Platform (Nasdaq: ARCE) delivers educational content to private schools in Brazil. Its network, which provides both print and digital content, consists of 5,414 schools with more than 1.36 million enrolled students.
It uses a data-driven, interactive approach that allows students to personalize their learning experience. And it allows schools to provide a much broader educational approach.
The great thing is Arco's business was already booming prior to the global pandemic.
In the fourth quarter, revenue jumped 104.65% to more than $60 million as revenue jumped more than 50% for the year. Meanwhile, fourth quarter EPS swung from a loss to a gain of $0.14.
But the outlook for Arco continues to be bright.
First, we do have to understand the seasonality of its business.
Arco's weakest quarter is by far its third, when costs soar as it produces all its curriculum and accumulates inventory. But the company delivers its Core Curriculum content four times per year – March, June, August and December.
That means it has some very strong months on the horizon. And the biggest drag on earnings is at our back for the next several months.
In the first quarter, revenue is projected to grow 44.4% to $44.9 million. At the same time, EPS is expected to skyrocket nearly 400% to $0.19.
And for the year, Arco's revenue is estimated to increase 33.9% to $194.8 million as EPS blossoms to $1.06.
It's interesting that the system is seeing a lot of undervalued opportunities in Latin America and Asia. I like Arco because it diversifies our footprint beyond the U.S. and China (which are facing the possibility of another trade war).
So let's quickly go over what the VIPER System looks for…
Value: Shares of Arco Platform are roughly 15.5% below their 52-week high of $59.49. The company has a price-to-sales ratio of 20.77, which is higher than its peers' average. But it has a price-to-book ratio in line with its peers' average, plus considerably better profit and operating margins.
Income: Adjusted net income rose 78.59% in the fourth quarter and increased more than 50% in 2019.
Profits: Arco's trailing price-to-earnings (P/E) ratio is a blistering 1,041.57. That's higher than its peer average P/E of 84.64. But the company's forward P/E is 50.51. Remember, we want forward P/E to be lower than trailing P/E.
Earnings: For 2019, the company's loss per share declined from $0.30 in 2018 to $0.03. And for the first quarter, EPS expectations are for a 390% increase to $0.19.
Revenue Growth: Last year, Arco's revenue grew more than 50%. For the first quarter, revenue is projected to surge to nearly $45 million.
V Score (VIPER Score): 97.58. As a reminder, we're always looking for a score between 70 and 100. This is an excellent score. And it's better than Arco's peer average V Score of 78.12.
Action to Take: Buy shares of Arco Platform (Nasdaq: ARCE) at market. Use a 20% trailing stop to protect yourself. For speculators, there are no available calls at the moment.'
May 15th $AYX (current date is June 2nd)
Here is an example of the next Oxford Club Viper Alert that I received. You can see from the chart below how it performed for the 1st couple of weeks after the alert.
A couple of weeks is a short time frame for these trades, but it gives you an idea of the trade so far.
Here is the actual alert email for you to check out and see what the thesis was behind this trade.
'New Recommendation!
One of the opportunities I've focused on over the years is data. And the bigger the data gets, the more upside there is.
Companies have been amassing mountains of digital tidbits. But often, they struggle to understand what it all means and how it can be monetized.
Well, one of the many reactions to the COVID-19 pandemic and the global shutdowns is companies are now forced to analyze and make sense of all that data they've tucked away in various places.
And that's where data analytics and data science company Alteryx (NYSE: AYX) comes in.
The company provides a variety of analytic and cloud-based products that underpin many corporate analyses.
And Alteryx believes it's able to tap a $24 billion addressable market in data analytics.
Business has been booming.
First quarter revenue jumped 43% to $108.8 million. This was above the top end of the company's guidance of $108 million.
And for the first time ever, Alteryx's annual recurring revenue (ARR) crossed over the $400 million mark to start the year.
The company ended the quarter with 6,443 customers. This was a 30% increase from the first quarter of 2019. And Alteryx netted 356 new customers during the first three months of the year.
But on the horizon, we have Alteryx's busiest quarters.
Now, for the second quarter, the company provided revenue guidance of $91 million to $95 million. This is a 10% to 15% year-over-year increase. And it is short of its original expectations.
That's because as the pandemic gained steam in March, Alteryx's business was abruptly slow. But in April, activity was akin to April 2019.
And what Alteryx is hearing from customers coming to the data analytics platform is that these companies thought they could get by without any data initiatives. But they are quickly learning that they can't.
That means we can expect business to continue to return to normal in the months ahead.
So let's quickly go over what the VIPER System looks for…
Value: Shares of Alteryx are roughly 22.8% below their 52-week high of $160.11. It has a price-to-sales ratio of 17.38, which is higher than peers Anaplan and Guidewire, but lower than Coupa Software. It has a price-to-book ratio of 18.77, below its peers Anaplan, Coupa and Manhattan Associates.
Income: In 2019, income from operations rose 53.2%.
Profits: Alteryx's trailing price-to-earnings (P/E) ratio is 1,421. That's higher than its peer average P/E of 156.20. But the company's forward P/E is a "mere" 199.95. But remember, we want forward P/E to be lower than trailing P/E.
Earnings: EPS rose 56.7% in 2019. The company reported a loss in the first quarter. But we'll look for that to improve in the quarters ahead.
Revenue Growth: In 2019, revenue grew 65% to $417.9 million. For 2020, revenue is projected to increase 29.4% to $540.93 million.
V Score (VIPER Score): 96.96. As a reminder, we're always looking for a score between 70 and 100. This is an excellent score. And it's better than its peer average V Score, which is in "don't buy" territory.
Action to Take: Buy shares of Alteryx (NYSE: AYX) at market. Use a 20% trailing stop to protect yourself. Speculators may want to look at the November $175 calls. The last trade here was $7.30. The current bid-ask is $7.50 to $8.40. Be patient. Go as low as possible. And remember, if you do a "market order," you're going to get filled at a higher price.
Enjoy your weekend!
Here's to high returns,
Matt'
These are just a couple of alerts that were issued 3-4 weeks ago and you can see that you could have made some money on them already.
Here is a snapshot of the Viper Alerts portfolio as of May 11th 2020. They send out updates periodically. Its great to see that their equities portfolio is very much in the green!
Here is another snapshot of the Viper portfolio as of 3/25/21 (currently the market is horrendous but the portfolio is still green.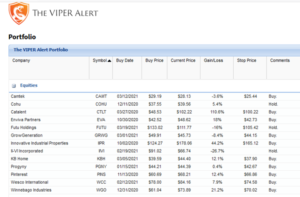 Oxford Club Viper Alerts Review: Conclusions
I hope that these example trades show you the kind of thing that you get with Oxford Club Viper Alerts. The service is high quality, but a little expensive. You can check out the current prices here.
I will try to keep this article updated as I continue to get alerts from this service.
If you like this kind of service, you also like some of my lower cost services that I have been (or currently am) a member of.
As a VIPER Alert subscriber – and a Member of The Oxford Club – you'll receive several of the Club's publications, including The Oxford Insight. This newsletter is sent several times per week.
It provides an informative snapshot of what's happening at the Club, as well as what opportunities Matthew (via his weekly column) and the other Oxford Club gurus are eyeing now. You'll also receive daily issues of Liberty Through Wealth and Profit Trends, to which Matthew is a regular contributor.
Good Luck!
Russell
Oxford Club Viper Alerts Review: Related Articles
Oxford Club Swing Trader Alerts Review
Oxford Club Insider Alerts Review
Oxford Club Technical Pattern Profits Review
My Oxford Club Viper Alerts review has hopefully showed you that the service is a high quality longer term newsletter that provides subscribers with profitable stock picks and alerts.