Silas Peters Seasonal Swing Trader Review
Disclaimer: There are affiliate links on this page. This means that if you click through and purchase anything, I might earn a commission for the introduction with no extra cost to you.
Here are some very valuable eBooks covering everything from how to choose a broker to trading oil futures and everything in between!
Check out my FREE eBooks all about trading!
The Complete Guide to Day Trading FREE EBOOK!
For a limited time, Markus Heitkoetter is giving away the electronic version of his bestselling book "The Complete Guide To Day Trading"
It's 296 pages and full of tips, tricks and practical information that you can use right away in your trading.
Click here to download the eBook now.
Rockwell Trading PowerX Optimizer Reviewed
Top Alerts Service: Bullseye Trades
If you are on a budget, I highly recommend checking out my RagingBull Bullseye Trades review. Very high value for a very low cost alerts service with a fantastic track record!
Check out Bullseye Trade alerts here.
Who is Silas Peters?
Silas Peters is a seasoned trader that has been trading for over a decade. He has traded futures, currencies, equities and options. Silas is a true professional. He has a lot of credibility compared to many 'gurus' in this industry.
He worked at the Chicago Board of Trade almost immediately after leaving college and was responsible for a global trading desk there. In this role he was responsible for executing trades for high net worth individuals, banks and hedge funds.
Silas has worked on many different trade desks and has been involved in most of the major global markets. He has also been involved with many brokerage firms.
The list of Silas accomplishments is endless. He also holds Series 3, 7, 30, 34, 65, & 66 Securities and Futures Licenses.
What is Seasonal Swing Trader?
This is Silas Peters company. He offers a variety of services within it.
My favorite product he offers is called Divergence Dominator Pro.
Here is an overview video.
Divergence Dominator Pro
This has been a very useful product for me. I really had no idea about what bullish and bearish divergence was until I started using this product.
Here is what is included in the Divergence Dominator Pro package.
TPI Indicator (thinkorswim, tradestation, ninjatrader, tradingview, metatrader 4)
DD Pro Scanner (tradestation, ninjatrader8
Price Action Pro Master Class (on-demand)
Divergence Cheat Sheet
Candlestick Pattern Recognizer Guide
TPI Fast/Slow Line CheatSheet
DD Pro Trade Journal
Turning Point Identifier (TPI) Indicator
I use ThinkorSwim so I installed the Turning Point Indicator on my ThinkorSwim charts. On the face of it, the indicator is very simple. It is just 4 horizontal lines that are displaced vertically from each other. This is shown below.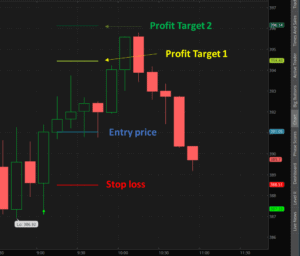 You can see the key lines drawn in by the TPI program on my ThinkorSwim chart. They are quite self-explanatory. You enter when price is at the blue entry price level and stop out when price breaks down to the stop loss.
The hope is that the price breaks through profit target 1 and then hits profit target 2.
You can see we only hit profit target 1 in the trade above. These signals are reversed for short alerts.
But what are these mysterious lines based on ?
Trading Divergence
What are trading divergences? Divergence suggests either trend continuation or trend reversal, and is largely used as a leading indicator because it precedes price action.
It forms on your chart when price makes a higher high, but the indicator you are using makes a lower high.
A divergence happens because a technical indicator does not agree with the current market price (for example, when the price makes a higher high, but the indicator you are using makes a lower high). This means that a change in direction is likely.
So, traders can potentially use the divergence pattern to enter and exit trades.
Put simply, price must have either formed one of the following in order for a divergence to exist:
• Higher high than the previous high
• Lower low than the previous low
• Double top
• Double bottom
Here is an example of bullish divergence.
The TPI indicator points these divergences out to you with the colored lines that I showed on my TOS.
These lines also include key price zones to indicate take profit levels and stop loss. These are adjustable to suit your own risk/reward.
The TPI is pretty reliable. It seems to work well on the longer time frame periods for swing trading. For example, I looked at the SPY for 1 year on the daily chart and all 6 signals were winners.
The indicator seems reliable. The video course is quite helpful. The indicator can be used with Thinkorswim, Tradestation, Ninjatrader, Tradingview and Metatrader 4.
Silas Peters Seasonal Swing Trader Review: Conclusions
If you are a swing trader you will probably find the TPI very useful. Day traders can also use the system on the 15 min and 4 hour chart. These have been shown to be very reliable trades using TPI.
There is also a scanner and the fact you can use this leading indicator on many different platforms is great.
Russell
Related Articles
Crypto Swap Profits Mastermind Reviews.
Common Patterns and Trend Reversals
Mindful Trader Review Eric Ferguson
Jeff Williams Weekend Wiretaps Review
Silas Peters Seasonal Swing Trader Review