This morning Lance from ThetaTraderz.com mentioned he was taking profits before the Jerome Powell nonsense ruined the market (again).
Here is what he posted in the ThetaTraderz discord….before Jerome started speaking about interest rates…..he took a lot of profits off the table for safety.

I love how Lance applies these Sun Tzu principles to trading! It's probably a big part of why he is consistent and successful.
Sun Tzu was a Chinese general, military strategist, and philosopher who lived in the Eastern Zhou period (771-476 BC).
He is best known for his book "The Art of War," which is still widely read and studied today as a masterpiece on military strategy and tactics.
The book covers various aspects of warfare, including planning, tactics, and logistics, and has been influential not only in military circles but also in fields such as business, politics, and sports.
It is particularly useful for trading though. There have been quite a few articles written about how to apply these ancient war tactics to the art of trading…..here is one that I enjoyed reading – 10 short trading lessons from The Art of War.
Here are some of my favorite quotes from The Art of War…….can you see how they might apply to trading?
"All warfare is based on deception."
"The supreme art of war is to subdue the enemy without fighting."
"If you know the enemy and know yourself, you need not fear the result of a hundred battles."
"The greatest victory is that which requires no battle."
"Let your plans be dark and impenetrable as night, and when you move, fall like a thunderbolt."
"If you wait by the river long enough, the bodies of your enemies will float by."
"In war, the way is to avoid what is strong and to strike at what is weak."
"Victorious warriors win first and then go to war, while defeated warriors go to war first and then seek to win."
"Opportunities multiply as they are seized."
"The wise warrior avoids the battle."
Ok….so some might not apply 😊 but some do….right?
Lance applies that last one (The wise warrior avoids the battle) on a regular basis to keep himself and subscribers safe from market moving events….
Which is why he has been able to win 88% of his daily SPX 0-DTE trades in 2023.
Anyway come and join Lance, myself and the ThetaTraderz army on the special limited time discount until Thursday midnight.
>Join for the lowest price this discord will ever be offered for ASAP<<
Russell
P.S What others are saying about ThetaTraderz discord….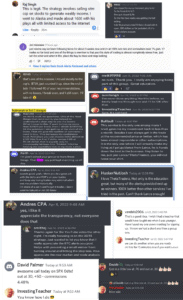 Related Articles
This ThetaTraderz subscriber hasn't lost a trade
Raging Bull LottoX (Track Record)