Don Kaufman Auto Expected Move review – What is Don Kaufman's Vomma Zone ? Is it legit?



Disclosure: There are some affiliate links below, but these are all products I highly recommend. I won't put anything on this page that I haven't verified and/or personally used. I may get paid a commission if you buy anything through these links, at no extra cost to you.
The Complete Guide to Day Trading FREE EBOOK!
For a limited time, Markus Heitkoetter is giving away the electronic version of his bestselling book "The Complete Guide To Day Trading"
It's 296 pages and full of tips, tricks and practical information that you can use right away in your trading.
Click here to download the eBook now.
Market volatility went crazy last year because of COVID's effect on the world and the economy.
In this brief article, I want to explore what Don Kaufman (TheoTrades CEO) claims to be his best indicator in predicting market direction.
Let me first give you some info about Don.
Side Note: Come and check us out at SideKickTraders.com! We alert options and stock trades (both swing and day trades). We also have a free Facebook group all about stock alerts services etc.
LEARN HOW TO WIN 90% OF YOU TRADES IN 90 SECONDS!
 >> CLICK HERE TO LEARN MORE! <<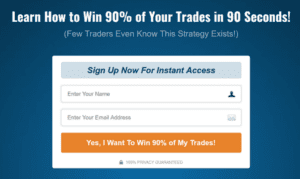 FB Group and Free eBooks
Check out my Facebook Group for a community of traders that are interested in stock alerts services.
If you are interested in learning an options trading strategy with a 95% win rate……check out my store of free eBooks!
Don Kaufman Theotrades Co-founder
Don Kaufman started his trading education career teaching traders at ThinkorSwim (the brokerage). Many don't realize but ThinkorSwim has a lot of educational material!
I'm not quite sure how the shift to finance was made, because from my research it looks like Don has a degree in Molecular Genetics!
Don has had over 20 years of experience as a financial analyst as well as being a professional stock trader.
He now owns and runs TheoTrades a company dedicated to providing trading courses to help traders excel.
Here is a more in-depth review of TheoTrades.
Don Kaufman Vomma Zone Strategy
Don's strategy is based on Vomma. Wow, that sounds exotic!
Vomma is the rate at which the vega of an option will react to volatility in the market. Vomma is part of the group of measures—such as delta, gamma, and vega—known as the "Greeks," which are used in options pricing.
For example if an option has a vega of 3 on a stock that's at $100, it indicates that the price will go down by $3 for every percentage decrease in implied volatility and go up by $3 for every point increase.
In his free presentation, Don talks about how ETF's have been very unstable this last year or so. Because Don is a master at volatility trading, this has opened up some very lucrative strategies for him.
Volatility of the Volatility Index (confusing right!?)
Don tracks the 'deep volatility' of the VIX (which is the actual Volatility Index!). This is called the VVIX…..
As many traders know, the VIX basically measures how fearful traders are at a particular time. This newer VVIX tracks the volatility of the VIX……
I'm sure Don can explain this better than I can (watch his presentation!).
The Vomma Investment Strategy
Don Kaufman uses levels in the volatility to give him an indication if there is a chance to make money.
He calls this the 'red line' on the VVIX.
When the volatility goes above the red line, we enter the Vomma Zone. Which sounds like his most important zone.
Don uses his Auto Expected Move tool to track the volatility levels that are important to him.
An article that Don posted on TheoTrade.com might describe it more clearly than I am.

'What we term the Vomma Zone, is a critical area for the VVIX that signals potential for major movement in the VIX and the SPX.
Where is this threshold you ask?
When the VVIX crosses above 110, this is major signal that institutions are using VIX options to hedge the potential downside risk in the market. When there is a surge in call buying, this causes the VIX options to become more expensive and, as a result, causes the VVIX to rise.'
Once the Vomma Zone is achieved, Don has a window of time to make some money! He explains that it can just be a few hours or as long as multiple months.
You can more information on which section of the stock market you might want to be in if we stay in the Vomma Zone. I think he discusses it more in his presentation.
He prefers to use options instead of stocks because of the leverage potential.
Apart from the Vomma Zone and that he uses options – there is little to no more information that I can find for free that gives more details about the actual trading strategy.
Don Kaufman Expected Move
Here is what we DO know about his strategy. He uses a calculation to figure out the probability of a stock closing in a specific price range by a certain date. He uses implied volatility in the options contracts to do this.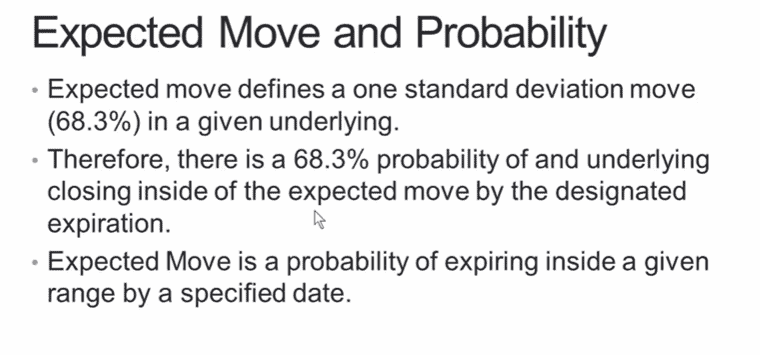 Having a nearly 70% chance of know a price range a stock is likely to close in on a particular date can be a powerful tool. How he combines these calculations with the Vomma Zone isn't clear.
LEARN HOW TO WIN 90% OF YOU TRADES IN 90 SECONDS!
 >> CLICK HERE TO LEARN MORE! <<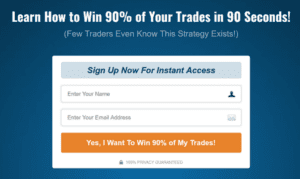 Is The Don Kaufman Vomma Zone Legit?
The Vomma Zone is obviously a real 'thing'. The thing is not so much if the Vomma Zone is legit, but rather how reliably successful a strategy based on this is.
Sure, it does provide another tool to understand the market with. But, without purchasing one of Don's premium products, it difficult to really know if being in the Vomma Zone actually helps you!
Don is a well-known trader in the industry that has worked with some of the major brokerages as a trading educator. This gives him some credibility in my opinion.
Don Kaufmann Rebel Trades Free EBOOK!
You can get The Rebel's Guide To Trading Options by Don Kaufman for FREE HERE.
It is a 50 page eBook that covers a range of topics that rock the boat on the mainstream idea's about trading.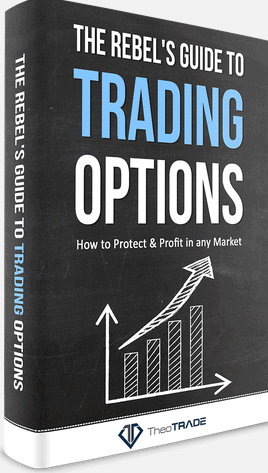 Here is a video I did on The Rebel's Guide To Trading Options by Don Kaufman…
Vomma Zone Conclusions

The Vomma Zone is a free webinar that you can watch in your own time.
Don Kaufman of TheoTrades explains the concept and then pitches you on one of his other products that gives you everything you need to implement the strategy.
If I end up doing the premium product I will update this article.
Russell
Related Articles
TheoTrades Ultima Spike Review
David Jaffee Beststockstrategy Review
Did you find this Don Kaufman Auto Expected Move review helpful? Don Kaufman's Vomma Zone is legit, but it isn't clear from the sales presentation what else is involved in this options trading strategy.