Mean Reversion Trading aka TradingExtremes.com Review
Please note that some of the links on this website are affiliate links. This means that, at no additional cost to you, we may earn a commission if you click through and make a purchase. We only promote products or services that we believe will be helpful to our readers.
Recommended: If you like this style of trading, consider a 7-day trial to ThetaTraderz.com for more conservative, passive and consistent spread trading.
Mean Reversion Trading is a discord alerts and education service run by Nishant Pant. He is known for his '$25k challenges' where he claims to have consistently traded $2,500 into $25k+ in a year – repeatedly over many years.
I joined Mean Reversion Trading and in this Mean Reversion Trading Review I hope to give you some insights into the program.
Free Resources
I test and review alerts services full-time and you can keep updated on what I'm on my social media…
My Facebook group where we discuss alerts services.
I hope that these will help you!
If you are looking for my top 5 trade alerts services click here!
Who is Nishant Pant?
Interestingly, very little information about the owner of this service is available on his own website. Even Google only turns up more information from his profile on his relatively popular book on Amazon.
Here is what I can gather about Nishant Pant….
He is a serial entrepreneur (although I'm not sure what businesses), accomplished software engineer, and a highly successful options trader with 17 years of experience.
Throughout his career, he has devoted 11 years to software development in the wealth management and finance industry.
His deep passion for the financial markets has not only allowed him to amass and grow his personal wealth through savvy stock market investments but has also provided him with the exceptional freedom to invest in multiple businesses he has founded over the past decade.
LEARN HOW TO WIN 90% OF YOU TRADES IN 90 SECONDS!
 >> CLICK HERE TO LEARN MORE! <<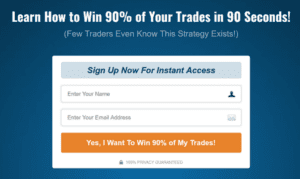 Nishant Pant $25k Challenges: Legit?
This is something that Nishant Pant is known for.
Nishant Pant claims to have a history of 10 successful 25K challenges using a debit spread strategy. These challenges are where he starts with $2500 and grows that to $25k in a year.
A crazy amazing feat!
He mentions that he has had 3 failed challenges and all of them happened in the early stages, where he couldn't catch a break and losers kept piling up in the beginning stages of the challenge.
It doesn't look like he still does these challenges publicly though from what I can gather from the Discord server and his logs.
Learn how to trade credit spreads for FREE HERE!
Nishant Pant Mean Reversion Trading Review: Strategies

At first glance, it looks like Nishant Pant uses safe strategies with an emphasis on new members reading his huge rule book for risk management – something that immediately strikes me as legit.
In the rule book he discusses EVERYTHING you need to know about his key strategy and risk management.
Nishant Pant exclusively trades 5 width debit spreads.
He claims they are very effective and he uses them to double his money very quickly.
He usually trades bull call spreads on market pullbacks. Diversification is a key component of this method. And that not only means diversifying your trades across Sectors but also diversifying them across time periods, expirations etc.
Recommended: If you like this style of trading, consider a 7-day trial to ThetaTraderz.com for more conservative, passive and consistent spread trading.
Basically, Nishant times his entries using some simple mix of the technical indicators (RSI, DMI, Bollinger Bands and Keltner Channels and support/resistance along with it) on a pull back.
He trades most stocks using spreads and typically has expirations 30 – 60 days out.
The number of trade alerts you can expect from Nishant varies wildly. Anything from a couple to dozens of trades a week depending on the market etc.
Nishant uses numerous strategies to trade.
Here are his 5 main ones….
1. Mean reversion – These trades use 3-4 technical indicators to spot swing-trading setups. The goal of these trades is to go against a short-term over-reaction on a stock's price, while keeping the long-term trend in mind.
2. Post earnings trades – Nishant places these trades approximately 0-14 days after earnings. These are not regular mean reversion trades and the technical indicators used for mean-reversion trades are not applicable for these trades. These trades are taken purely on support & resistance, without using any fancy indicators. Since, most indicators are lagging indicators, they take some time to catch up with a stock's price/action. When there is a sudden knee-jerk market reaction after an earnings announcement, support/resistance levels are the easiest way to pick out trades.
3. Squeeze Trades – After a stock explodes out of a consolidation phase, Nishant puts on these "squeeze trades" on the first pullback. He doesn't use the traditional way of entering these trades which is popularized by John Carter's TTM_Squeeze indicator. The reason for this is that there are many false signals generated by the indicator.
4. Hedging Trades – Nishant prefers to trade bull call spreads as markets are trending up. However, stock market corrections are a reality and when they happen, they take every stock down with them. This can result in multiple weeks of my bullish trades getting affected. When that happens, Nishant takes put spreads as hedges to cancel out any losers. The goal of these hedges is to turn the affected expiry into a delta-neutral state where the wins from the put spreads will cancel out the losses from the call spreads, resulting in a no profit/loss situation.
5. Black Swan trades – Nishant calls these "bailout trades", these are the reason that he keeps 70% of his portfolio in cash, in case of market crashes.
RECOMMENDED: LuxAlgo Indicators for 30% OFF using my discount code STA30 HERE (It's my favorite indicator system!!)
***LUXALGO FREE GUIDE: Get my full profitable strategy using LuxAlgo HERE in my eGuide! Includes an ongoing log of my LuxAlgo trades on $SPY!***
I really like how they stress that you must stop out at 50% loss and to only use 30% of your capital at anyone one time.
This allows for the capital to be used when the market drops and could be the difference between a big losing month and a breakeven one.
LEARN HOW TO WIN 90% OF YOU TRADES IN 90 SECONDS!
 >> CLICK HERE TO LEARN MORE! <<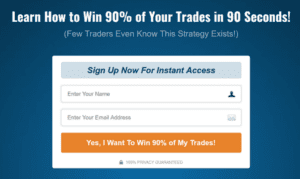 Mean Reversion Trading Review: Discord Trade Alerts
The Mean Reversion Trading Discord is very well managed. Nishant is reasonable active in the discord and I've seen him alert as many as 12 trades in just 2 days!
Here are two example trade alerts from his channel in the discord. Both are the closing alert but he does a very similar style for opening trades in the channel as well.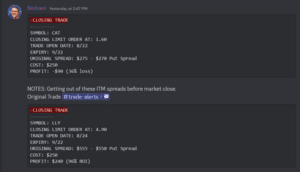 The alerts are easy to follow and I like how Discord is mobile friendly as well. The alerts are very timely and it's fairly easy to replicate the trades.
What is The Win-Rate?
I just took a random sample of recent performance from Nishant Pant' spreadsheet log of the trade alerts. I looked at July and August 2023.
There were 61 trades closed in this time period with 37 winning trades and 24 losing trades.
This gives a win-rate of about 60%.
Winning trades seem to give double the profits of the losing trades so overall you would expect that these trades would have resulted in significant profits for Nishant and subscribers.
Here is a small snapshot of Nishant Pant trading log….to give you an idea of what he trades etc. This was a nice winning streak.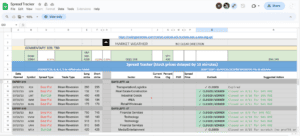 Mean Reversion Trading Review: TrustPilot
I love trusting TrustPilot. A lot of people don't trust it – they think it's rigged in the vendors favor but I've always found the reviews on it to be fair. That seems to be the case here as well.
Mean Reversion Trading by Nishant Pant has a 'Great' rating on TrustPilot with 71% of people giving it 5 stars. After reading all the reviews on TrustPilot and comparing what they are saying to my own experience – they seem pretty spot on.
Occasionally there will be a review that doesn't make sense anymore (for example one guy complained they only use bullish trades but since I've joined it's all been bearish trade alerts).
Recommended: If you like this style of trading, consider a 7-day trial to ThetaTraderz.com for more conservative, passive and consistent spread trading.
LEARN HOW TO WIN 90% OF YOU TRADES IN 90 SECONDS!
 >> CLICK HERE TO LEARN MORE! <<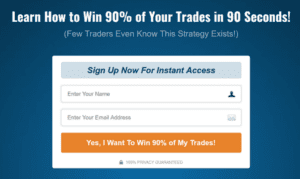 Learn how to trade credit spreads for FREE HERE!
Why Do Some People Lose Money?
One of the critical components of the Nishant Pants' 25k trading method is "Bailout trades".
He advocates keeping 70% cash in the portfolio at all times. When a correction happens (and you saw in the last 7 months that corrections are a sad reality of trading), you will see 2-4 weeks worth of trades getting wiped out.
During these times, all stocks are trading at a discount and it is the best time to add new trades. The goal of bailout trades is to use the saved cash to add extra trades during these situations so that they cancel out your losers.
In some cases you could even come out a winner during these times despite having weeks full of losing trades.
HOWEVER……many traders fall victim to their own emotions during these times. When they see a few weeks of losers in their portfolio, they become fearful and instead of sticking to the plan, they go back into their shells and stop trading completely, watching their portfolios dwindle in front of their eyes.
If you don't trust the strategy/guru or don't learn it yourself then some people will just take those losses and go on TrustPilot to leave a bad review. It's the same with most services etc.
Pros
Solid legit spread strategy that works in all markets
Good education on risk management
Works for small and large accounts
Highly rated on Trustpilot
Cost is reasonable
Cons
Significant number of negative reviews on TrustPilot not answered by Nishant Pant
Trade alert volume can be quite high at times (10-20 in a week!)
Volatile trades can be worrying for new traders (50% losses are a regular occurence)
Win-rate is low which means you have to be ok losing almost half of your trades
Very directional trading that doesn't use theta decay
Learn how to trade credit spreads for FREE HERE!
Mean Reversion Trading Review: Conclusions
I hope that you have found my Mean Reversion Trading review helpful. With any of these services people's experience vary widely depending on so many different factors.
Overall, I don't believe many people have achieved the '$2,500 to $25k Challenge' but it looks like most get a decent education in debit spread trading and risk management.
This service is good – don't get me wrong.
However, a lack of transparency (reported in TrustPilot reviews) did line up with my experience with Mean Reversion Trading.
I think the problem comes when people want 1,000% returns…..then start seeing 50% losses and get discouraged.
The win-rate seems to be around 50% – 60% and most people I know who traded with Nishant in 2022 reported small overall losses at that time.
This year (2023) looks like it has been much more profitable (from his spreadsheet) but TrustPilot has very few reviews since 2022.
I do think it's worth trying out Mean Reversion Trading and I think that many people will have some success with it…..but bare in mind that these debit spreads are directional trades, have a low success rate and it can be difficult for people to match Nichant Pant performance. Emotions get in the way of many directional strategies.
I recommend not to expect +1,000% in a year as the owner is known for and uses in his marketing for the service.
If you like trading spreads, consider trying my friend Lance's service for a 7-day trial to ThetaTraderz.com it is a much more conservative, passive and consistent spread trading service.
The credit spread trades in ThetaTraderz.com are much easier to replicate and the win-rate is MUCH higher than Mean Reversion Trading. You can also get a free training course for Lance's Credit Spreads here.
Russell
LEARN HOW TO WIN 90% OF YOU TRADES IN 90 SECONDS!
 >> CLICK HERE TO LEARN MORE! <<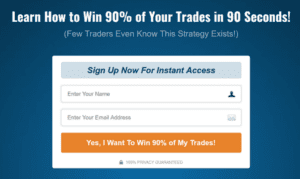 Related Articles
Jeff Bishop Alpha Hunter Review
LuxAlgo Oscillators Review [Real Subscriber]
Jason Bond Small Account Journey Review
Deal Hunters Alliance Review (Chris Graebe)
Would you be against automated daily dividends?
Mean Reversion Trading Review