Welcome to my Stock Market Wolf review. Is Stock Market Wolf a SCAM or legit?

Disclosure: There are some affiliate links below, but these are all products I highly recommend. I won't put anything on this page that I haven't verified and/or personally used. I may get paid a commission if you buy anything through these links, at no extra cost to you.
The first thing that you see when you land on StockMarketWolf.com is a banner saying 'In a world full of sheep, be a WOLF'.
Is Stock Market Wolf a SCAM or legit?
Read on to find out!
My Facebook Group
I run a thriving Facebook group called How To Make Money Trading Stock Alerts that brings together people that use stock alerts services. It's a great place to share what works and what doesn't! We welcome anyone (with a positive attitude!) and it is FREE to join.
Other Services to Consider – SideKickTraders, ThetaTraderz and EagleTrades
If you are looking for similar services…..here are three that I recommend.
1.EagleTrades is a service that does a lot of cash secured puts for passive income that work 90% of the time. They also do morning scalps on a live stream audio (sometimes!). Powerful daily watchlists you can use to make your own trades with breakout levels.
2.ThetaTraderz is similar options selling service that caters to smaller account sizes – a huge plus if you want to sell options but don't have a lot of money in your account to use.
3. SideKickTraders is an awesome community of stock and options traders that offers the best bang for your buck – something for everyone and all the alerts are top notch!
Who is The Stock Market Wolf?
Andrew Diaz is the founder of StockMarketWolf.com. He is a 31 year old day trader that has been in the game since 2008.
Andrew has BS in Biology and two Master Degrees (MS in Biotechnology and an MBA with an emphasis in Finance and Management) by the age of 27.
He is similar in a way to me in terms of trading experience, higher education and the people he learned trading from. These include Tim Sykes, Cameron Fous and Warrior Ross.
Interestingly, on the webpage and in the service, Andrew doesn't make any income claims or even give a track record. This is interesting but the ads he is running give a different story. See the ad below.
This is likely to be a very effective ad given the large trade win. I don't pay much attention to this type of marketing though because it's easy to parade your best trading days and not the losses.
StockMarketWolf Review: Day Trading Chatroom
The Wolf chatroom is a Discord server.  Here is an overview of what you will find in the server.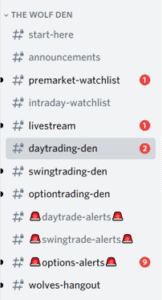 1. PreMarket Watchlist: This is a list of stocks premarket that Andrew thinks can move during the day.
I like the premarket watchlist (example below).
Here is a guide to how Andrew suggests subscribers use the morning watchlist….
Entry target: where to look for possible entry
Support: where we currently have support, based in the chart. below support =bearish move, potential shorting opportunities.
Light Red Highlight: stocks with float less than 50M, thus low float stocks.
WATCHLIST TIPS
1. You do NOT need to go through every stock.
2. Filter through the list and trade the stocks that match your trading strategy.
HOW ANDREW FILTERS THROUGH THIS WATCHLIST
1. First it's filtered by gap%, float, price range, daily chart analysis , 5 min chart analysis
2. Andrew will set price level alerts for the stocks of interest and or conditional alerts based on technical indicators
3. If the stock doesn't his target and sells off in the morning, he will still see if it reverses later, but he won't look at the chart anymore, he will wait for his price level or conditional order to ping him.
2. Stock Market Wolf: Intra-day Watchlist
This is not nearly as good as the morning watchlist. It looks like just a screenshot of a list of stocks from his broker. There is little to commentary.
3. Live Stream
The live stream in any chatroom is usually a huge attraction. Here is how it works in Stock Market Wolf. The stream is via Zoom.
1. Everything on the screen on the left side are scanners for day trading. The best one being on the top left which is Andrew's custom scanner. Whatever hits the scanners, subscribers can chart and analyze them using what Andrew teaches in the crash course.
2. Everything on the right hand side of the screen is scanners for swing trading
3. Everything on the bottom is miscellaneous
4. In the middle of screen Andrew displays charts, which do not necessarily mean those are the only stocks you should be looking at
5. Take your trades based on the lessons learned in the course
6. Ensure to position size appropriately and have proper risk management
Andrew has a bunch of disclaimers basically saying that you need to use the watch list based on what you've learned and your own judgements. This is a good way to learn to trade more independently.
4. Stock Market Wolf Day Trading Chatrooms
This is one of the main reasons people join these services – interactions with others. There are three chatrooms, one focused on day trading, one on swing trading and finally an options chatroom. There are typically 200 – 300 people online so the chatroom is relatively active.
I noticed that the people in the chatrooms on the server are mainly 'lifetime' members (I can tell by their name color and the role assigned to them).
This rooms are mainly just subscribers giving commentary and ideas to one another. Andrew is mildly active in the day trading chatroom.
Trade Alert Channels
There are 3 official alerts channels, one for each of the three styles of trading that are discussed in the chat channels above. These are not posted by Andrew. It looks like his mods post the vast majority of the trade alerts.
Unfortunately, we really know nothing about who the mods are of their track records.
The 'analysts' give a running commentary on positions they are taking. It's very standard stuff for a Discord room.
I can't find any summary of wins/losses or any track record of any kind for the alerts channels.
Stock Market Wolf Course
The beginner course that Andrew offers is pretty good for new traders. I'd actually probably so very good – but ONLY for newer traders. There isn't a whole lot in it that more experienced traders will find value in. That might be why it's called a beginners course…..
Here is a video review I did all about the Stock Market Wolf course recently.
Stock Market Wolf Pricing
They have a few different prices depending on what you are looking for. The most expensive is Lifetime access which is $3,999. It seems that a lot of the active people have purchased this membership. Which is a good sign…..I think!
The lowest cost is The Cub Program. Here is what you get for $25 a month.
Beginner Course (the one I discussed above)
Premarket Watchlist (no entry targets)
Access to Discord Cub Member Chat
Bi-Weekly Livestream (Monday's Only)
The one that I'm in is called The Wolf Program. It's $99 a month and includes…..
Beginner Course
Day Trade Alerts
Swing Trade Alerts
Option Trade Alerts
Premarket Watchlist with Entry Targets
Access to Discord Wolf Member Chat
Bonus: Livestream Periodically
Finally, we have the Alpha Wolf at $150 a month….
Beginner Course
Day Trade Course (chapters given monthly)
Option Trade Course (chapters given monthly)
Day Trade Alerts
Swing Trade Alerts
Options Trade Alerts
Premarket Watchlist with Entry Targets
Access to Discord Alpha Member Chat
Bonus: Livestream Periodically
You can check out the most recent pricing here.
These prices are competitive with others in this niche.
Stock Market Wolf Review: Conclusions
I'm finding the Stock Market Wolf discord room to be pretty average – it's not bad, but it doesn't stand out in any real way. However, I think that Andrew's courses are very worthwhile for the newer trader, and they come 'free' with the monthly subscriptions.
These courses would be hundreds of dollars each as standalone products.
The alerts are not issued by Andrew often and the live stream is pretty much just a bunch of scanners. I haven't seen any real live trades or commentary on them. Maybe it happens infrequently….I'm not sure yet.
If you want to check them out here for a month (there is no free trial though) maybe you will find more value in the service than I have so far.
Is Stock Market Wolf a scam? No. Most things are not 'scams'.
Good Luck!
Russell
Related Articles
​​Jeff Bishop Options Trading Accelerator Workshop
Full-Time Swing Trader Michelle Reveals Her Strategy!
https://www.unconventionalprosperity.com/david-jaffee-best-stock-strategy-passive-income/
Hopefully you found this Stock Market Wolf review helpful. Is Stock Market Wolf a scam? I don't think so….what do you think?