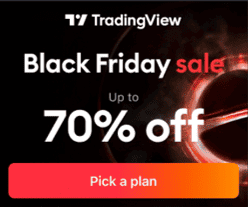 TradingView Premium Black Friday 70% SALE!
Hi Guys,
Why pay for TradingView? The no-cost plan has so much – right?
That was my previous thought process….
However, as I've dived deeper into the world of TradingView indicators (e.g. LuxAlgo which also has a HUGE BLACK FRIDAY SALE at the moment) I've found many limitations with Basic TradingView.
For example, I want to start automating my trades on TradingView after some great success with AlgoPro and LuxAlgo.
However, you have to pay the small premium fee to be able to do this on TradingView for more than one bot. TradingView is the most popular charting platform with over 30 MILLION users!
It allows traders to chart, add indicators, and analyze real-time data to accurately predict stock price movements and profit from short-term price changes.
Originally designed with a focus on stocks and ETFs, TradingView has expanded its coverage to include cryptocurrencies. Additionally, the platform now offers support for financial derivatives such as futures and CFDs.
Don't forget to explore the top-notch platform tailored for CFD trading and even Forex!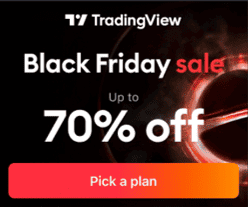 In addition to this, paying the small amount for premium TradingView gives you access to SO many extra useful tools and info including…
Faster data on the 1 second time scale. This means you can chart and trade on much faster time-frame charts like the 1s, 5s, 10s and 30s. It's crazy but really useful.
You can display more than 2 indicators on a chart simultaneously. This means you can have LuxAlgo, AlgoPro and a bunch of other indicators all simultaneously for confluence etc…..fun that you can't have with the basic no-cost version of TradingView.
Deep Backtesting. You can easily do deep back testing of your strategies and indicators if you have the paid version of TradingView. Which is really cool. If you are looking to run autotrading bots this is crucial.
Futures Data. This is delayed by 15 minutes on the no-cost trading view but upgrading to the paid versions give real-time data.
Honestly, there are so many benefits that it's easier just to read all about them on the TradingView BLACK FRIDAY SALES page HERE.
Only a few days left on this HUGE TradingView sale…..which only happens once a year.
Russell
PS Don't miss the awesome LUXALGO Black Friday SALE HERE.
Related Articles
QuantVue Prop-Focused Indicator System Review
AlgoPro Review (REAL SUBSCRIBER)
Jeff Williams Atomic Trades Review
TradingView Premium Black Friday 70% SALE!