Jeff Williams Atomic Trades Review
Please note that some of the links on this website are affiliate links. This means that, at no additional cost to you, we may earn a commission if you click through and make a purchase. We only promote products or services that we believe will be helpful to our readers.
Atomic Trades by Jeff Williams is a swing trading strategy and service which has the goal to turn $5,000 into $25,000+ within one year using penny stocks (typically under $1 per share).
But is it legit? Does it work?
Read my Jeff Williams Atomic Trades review to find out!
Free Resources
I test and review alerts services full-time and you can keep updated on what I'm on my social media…
My Facebook group where we discuss alerts services.
I hope that these will help you!
If you are looking for my top 5 trade alerts services click here!
Bullseye Trades: Best Alerts Service

Every Monday at the market open, Jeff sends you his weekly Bullseye Trade.
2022 has been AMAZING for these Bullseye Trades!
(+50% to 300% per week in my experience)
LEARN HOW TO WIN 90% OF YOU TRADES IN 90 SECONDS!
 >> CLICK HERE TO LEARN MORE! <<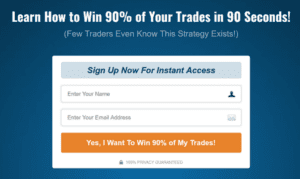 Jeff Williams Atomic Trades Review: Who is Jeff Williams?
With everyone trading options these days, it's actually quite hard to find a service trading penny stocks. This was quite different a decade ago when I first entered the trading world.
Jeff Williams, a seasoned trader, accomplished author, and dedicated educator, boasts a decade-long tenure in the trading industry. I've followed him and his various programs for several years now and I've always been impressed with his transparency.
His expertise centers on day-trading the SPY (using options in Market Navigator) as well as navigating the realm of small cap penny stocks. Jeff's remarkable track record of achievements speaks volumes, and his fervor for guiding others towards triumph in trading is unmistakable.

Within the Raging Bull platform, Jeff spearheads a range of services, with his offerings evolving periodically. Presently, he oversees the operations of Market Navigator (I highly recommend Market Navigator in my review here), Ape Hunter and Atomic Trades.
Despite their differences, these services are unified by Jeff's exceptional trading skills and unwavering commitment to transparent trade analysis and timely alerts.
Interestingly, Jeff's journey extends beyond trading. Before his prominence in the trading world, he shared the role of a school gym teacher with Raging Bull's co-founder, Jason Bond.
>Learn more or join Jeff's Atomic Trades HERE<<
Jeff Williams Atomic Trades Review: What Do You Get?
By becoming a valued member of the Atomic Trades exclusive trading community, you'll gain complete access to Jeff's personal trading journey.
Week by week, you'll immerse yourself in a real-time case study, witnessing firsthand how Jeff harnesses the power of his top trading strategy: rapid 1–4 day swing trades.
These trades are Jeff's #1 weapon, and he firmly believes they can help grow his actual trading account from $5,000 to $25,000 within the upcoming year.
The education you'll receive is of utmost importance. Jeff will guide you through every trade he executes, providing a comprehensive, step-by-step breakdown that will empower you to enhance your own trading skills.
From each ticker symbol to every entry and exit point, you'll receive timely notifications directly to your email inbox and smartphone through the Raging Bull app. This ensures you stay informed ahead of each move Jeff makes.
Upon joining today, you'll also have exclusive access to Jeff's live trading sessions on a daily basis. This means you can join him in real-time as he searches for potential winning opportunities.
In essence, Jeff is equipping you with all the essential tools to embrace and apply the high-probability strategies he employs every week. These techniques are designed to identify and effectively manage top-tier swing-trade setups.
Naturally, Jeff can't guarantee that every trade will result in a profit. It's important to recognize that losses are an inherent aspect of trading.
However, if you decide to follow these trades independently, you can take comfort in knowing that Jeff is not just offering advice from a distance. He'll be right there alongside you, committing his personal funds each time he issues an Atomic Trades alert.
LEARN HOW TO WIN 90% OF YOU TRADES IN 90 SECONDS!
 >> CLICK HERE TO LEARN MORE! <<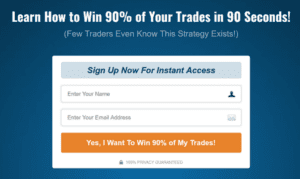 War Room
Each trading day from 3pm EST until the markets near their closing bell, Jeff will be actively engaged in this dynamic chat room. Together as a group we explore trading opportunities, curate our watchlist, and Jeff imparts valuable lessons on the art of skillful trade execution. It's quite useful!
Atomic Trades Daily Watchlist
Every day, Jeff sends out an email watchlist to his subscribers. Here is an example of one such watchlist…..
'Today was a solid day with 2 wins total on LIDR and WAVD. I am still holding MMAT at this time but think I might sell before the close and look to get into something more aggressive.
Stocks Ideas: TTOO, APCX
TTOO is breaking out of a higher high and higher low pattern on the daily chart and also breaking a previous resistance level at $.18s. I like this now for a possible test of $.30 area. My trade here would be to look for an entry around $.20 to $.22 with a sell target in the $.28 to $.30 area.
APCX is a great consolidation into breakout on the 8 month daily chart. I like the range here now until about $4 or even $5 if things went strong. My entry here would be to look for a small pull back to $2.50 area for a starter sell of near $3 and if it goes bigger, maybe $3.50 to $4.
Options Idea: CVNA
CVNA is up big, almost 5% when the markets are getting slammed. I love the possible squeeze now to $55 to $60 if markets show any rebound later this week. My trade here would be August 11 $49 calls around $5.20 area for a possible sell of $7 to $8.'
>Learn more or join Jeff's Atomic Trades HERE<<
When he buys into these ideas he alerts via the APP. I do like that he gives pre-notifications for people to start looking at these trades. You'll also notice that he is trading stocks often under $1 per share with this service.
Atomic Trades Trading Journal
You can see a snippet of Jeff's trading journal below. It's a mixed bag when it comes to wins and losses. However, I do applaud the transparency.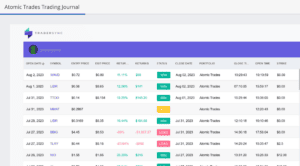 I would say that so far Jeff has been more consistent in his trades in his Market Navigator service. He keeps a similar trading journal for the Market Navigator service and it has a much more profitable track record at the time of writing this.
Jeff Williams Atomic Trades Review: Conclusions
In conclusion, Jeff Williams stands as a true luminary in the trading arena.
His extensive experience, demonstrated success, and genuine passion for teaching others make him a standout figure in the industry.
Through his adept guidance and transparent approach to trade analysis, Jeff empowers traders to navigate the markets with confidence and skill.
Whether it's his mastery of day-trading the SPY options in Market Navigator or his insightful insights into small cap penny stocks with Atomic Trades, Jeff's expertise shines brightly.
With a diverse portfolio of services and a commitment to excellence, he has firmly established himself as a trusted mentor and source of inspiration for those looking to achieve success in the world of trading.
Overall, I think Atomic Trades is a great service to learn from if you are interested in swing trading penny stocks. I like the transparency, all of Jeff's trades are real and documented in his trading journal.
You can purchase Jeff Williams Atomic Trades service here.
Good Luck Trading,
Russell
LEARN HOW TO WIN 90% OF YOU TRADES IN 90 SECONDS!
 >> CLICK HERE TO LEARN MORE! <<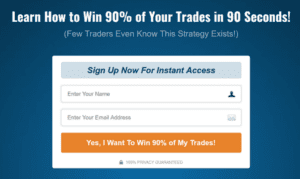 Related Articles
Deal Hunters Alliance Review (Chris Graebe)
Jeff Bishop Alpha Hunter Review
Jason Bond Small Account Journey Review
Simply Wall St Review (Al Bentley)
Jeff Williams Atomic Trades Review