Welcome to my Warrior Trading course review!
Disclaimer: There are affiliate links on this page. This means that if you click through and purchase anything, I might earn a commission for the introduction with no extra cost to you. In no event will we be liable for any loss or damage including without limitation, indirect or consequential loss or damage, or any loss or damage whatsoever arising from loss of data or profits arising out of, or in connection with, the use of this website.
Through this website you are able to link to other websites which are not under the control of stockalertsreviewed.com. We have no control over the nature, content and availability of those sites. The inclusion of any links does not necessarily imply a recommendation or endorse the views expressed within them.
Ross Cameron is one of the most popular day traders online. He offers a huge course and live day trading every day in his Warrior chatroom.
He claims massive income from his day trading scalps. Students find it almost impossible to piggy back on his trades…….but is it worth buying his Warrior Trading course?
FB Group and Free eBooks
Check out my Facebook Group for a community of traders that are interested in stock alerts services.
If you are interested in learning an options trading strategy with a 95% win rate……check out my store of free eBooks!
Side Note: Come and join our free Facebook group where we discuss all the different alerts services and courses!
Bullseye Trades: Best Alerts Service

Every Monday at the market open, Jeff sends you his weekly Bullseye Trade.
2022 has been AMAZING for these Bullseye Trades!
(+50% to 300% per week in my experience)
LEARN HOW TO WIN 90% OF YOU TRADES IN 90 SECONDS!
 >> CLICK HERE TO LEARN MORE! <<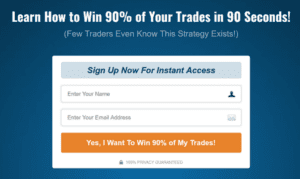 Who Is Ross Cameron?
Ross is one of the most controversial gurus out there. This is probably because of his ridiculously huge profits and aggressive marketing.
Ross started trading in 2001. He started with an inheritance of $100k but over the next two years he spent most of it and lost most of the rest in the stock market.
He lived in New York City and worked as an architect.
The story seems to have a big hole from becoming profitable in the early 2000's to starting Warrior Trading in 2014.
He claims to have turned $500 into $100k in 44 days…..I mean…..what?! He does provide 'proof' here but I dunno I'm still skeptical…..
He then apparently grew that account to $1MM over the next couple of years.
There is a ton of free info on his YouTube channel including daily free live trading sessions. Lot's of proof of his earnings etc.
Warrior Trading Course Review: Overview
The most popular package is called The Warrior Starter Program. It costs $997 and you get a month of Warrior Trading room as well.
Here is what it includes…
Monthly access to the Warrior Starter classes below, as well as access to Warrior Trading live trading chat room and HOD Momo and Gapper scanners through the chat room scanner software.
Warrior Starter also comes with 30 days of free simulator access.
The 15 chapters of the Warrior Starter Course teach everything that traders at all levels need to know before they can perfect their own trading strategy. You'll learn everything from the history of the stock market, to how to read a trading platform, the basics of making a trade, which trading tools are must-haves, why being in the right mindset matters, and how to determine which trading strategy moving forward might be the best fit for you.
Here is the course content.
About 19 hours of videos, with quizzes & additional study materials
Bullseye Trades: Best Alerts Service

Every Monday at the market open, Jeff sends you his weekly Bullseye Trade.
2022 has been AMAZING for these Bullseye Trades!
(+50% to 300% per week in my experience)
Chapter 1: Becoming a Day Trader
Goes through his simulator that you are suppose to trade on for 30 days on before real trading. Not that interesting or useful. You get access to this simulator as a monthly member. He shows that most of the students trading on the simulator have lost money.
The Warrior Trading Simulator platform allows paper trading students to see their metrics and performance over time. As students use the
platform, they monitor trades the students are making, aggregate the data, and provide metrics to help improve their performance.
I love this! It's a legal agreement to trade with the simulator for 30 days before trading with real money.
This section of the course outlines the plan……here it is.
Here are the conditions for moving on from the simulator!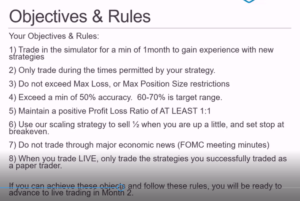 Then there is a 2 hour section on risk management! This is guy is clearly trying to help new traders not blow up their accounts.
He goes into a lot of concepts and shows his own track records etc. to illustrate profit/loss ratios etc.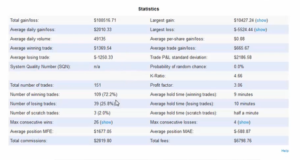 Ross talks about how he looks for immediate green after entering – breakout or bailout.
LEARN HOW TO WIN 90% OF YOU TRADES IN 90 SECONDS!
 >> CLICK HERE TO LEARN MORE! <<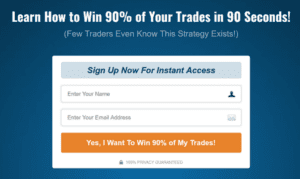 Chapter 2: Picking Stocks for Day Trading
Part 1: Popular Financial Instruments for Day Trading
Part 2: Long-vs. Short-Selling
Part 3: What Makes a Strong Stock?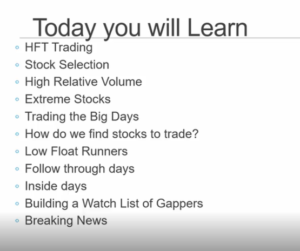 Chapter 3: Account Types
Part 1: Different Account Types for Traders
Part 2: Choosing a Broker and Opening an Account
Chapter 4: Fundamental Analysis
Boring!
Chapter 5: Technical Analysis
Part 1: Chart Types & Time Frames
Part 2: Candlesticks
Part 3: Support & Resistance
Part 4: Gaps & "Windows" on Daily Charts
Part 5: Our Favorite Multi-Candle Chart Patterns
Part 6: Popular Technical Indicators
Part 7: Understanding What Makes a Strong or Weak Daily Chart
Part 8: Setting Up Your Charts
Trading Platform Walk-Through
Account Information, Balances, Buying Power, Positions Window, Open & Closed Orders Window
Chapter 7: Order Entry Window – Popular Order Types
Chapter 8: Level 1 Market Depth & Order Entry
Chapter 9: Level 2 Market Depth & Hot Keys
Part 1: Understanding Level 2
Part 2: Hot Keys & Hot Buttons
Chapter 10: Time & Sales AKA The Tape
Chapter 11: Stock Halts
Chapter 12: Scanning 101
Chapter 13: Preparing to Sim Trade
Part 1: Understanding Risk
Part 2: Reviewing Your Trades
Chapter 14: The Psychology of Trading
Introduction: 50% Skill, 50% Mental
Part 1: Recognizing & Understanding Emotions in Trading
Part 2: Stages of Learning to Trade
Part 3: Strategies to Support Your Best Trading
Part 4: Meditation & Mindfulness Practice
Chapter 15: Day Trading as a Business, The Learning Path & What's Next
Part 1: Spend 3 Months Sim Trading & Treating It Like Real Money
Part 2: The Warrior Learning Path
This is a very deep dive course that is well put together.
Bullseye Trades: Best Alerts Service

Every Monday at the market open, Jeff sends you his weekly Bullseye Trade.
2022 has been AMAZING for these Bullseye Trades!
(+50% to 300% per week in my experience)
Warrior Starter Program Review: Conclusions
My key takeaway from the Warrior Trading course is that this is only for the seriously committed trader. The course is exhausting and seems to never end.
This is a good thing in someways as you get amazing value. I suspect many people never complete it though.
The course covers pretty much everything you need to know about day trading stocks. There are a ton of strategies in massive depth including live trade examples. Ross is clearly passionate at drilling in risk management to new traders.
An amazing course but be prepared to work hard for weeks on this! Maybe even months if you don't have much time.
Beginner traders will get the most from this course in my opinion.
Most of what Ross covers is standard for day traders and most experienced traders will know it all. The value experienced traders can get from the course is learning the nuances of execution from Ross and some golden nuggets a long the way.
Overall, this is a great course if you are prepared to work hard every day for months to achieve your goals.
Russell
Related Articles
Oxford Club Technical Pattern Profits Review
SideKickTraders Swing Trading Review
Hopefully my Warrior Trading course review will help you decide if it's something that you might want to invest in.