Welcome to my Whisper Reactors Review! Also called WhisperNumber.com…..

This service was brought to my attention recently by a friend in my Discord chat (SideKickTraders.com)
He has had a lot of success trading this alerts service, so I thought I'd give it a try.
Disclosure: There are some affiliate links below, but these are all products I highly recommend. I won't put anything on this page that I haven't verified and/or personally used. I may get paid a commission if you buy anything through these links, at no extra cost to you.
Other Services to Consider – SideKickTrades, ThetaTraderz and EagleTrades
If you are looking for similar services…..here are three that I recommend.
1.EagleTrades is a service that does a lot of cash secure puts for passive income that work 90% of the time. They also do morning scalps on a live stream audio. Powerful daily watchlists you can use to make your own trades with breakout levels.
2.ThetaTraderz is similar options selling service that caters to smaller account sizes – a huge plus if you want to sell options but don't have a lot of money in your account to use.
3. SideKickTraders is an awesome community of stock and options traders that offers the best bang for your buck – something for everyone and all the alerts are top notch!
Come and join my Facebook group and see for yourself what real subscribers to Rhino Alerts and many other stock alerts services are saying about them.
Anyway….on with the Whispers Reactors review….
Whisper Reactors Review: What is it?

Whisper Reactors is a service that sends out alerts when they are planning to buy a stock. The idea is simple. Basically, they look for companies that are likely to move up after a positive earnings report.
This is a good strategy to me because it has a high probability of success – nothing is worse than buying a company BEFORE earnings and have it tank on a bad report. Or even a good report!
About WhisperNumber
WhisperNumber was started in 1998 by John Scherr. John is an advocate of the 'wisdom of crowds' methodology that has proven itself over the past twenty years as a  very useful way to anticipate earnings expectations that move stocks.
The WhisperNumber expectation is regularly referenced in prestigious financial media sources as a trusted gauge. Here are John Scherr's articles on Seeking Alpha.
The Whisper Reactors alerts service has, according the their website, had POSITIVE RETURNS IN TWELVE STRAIGHT YEARS!
Whisper Reactors Review: Whisper Number Strategy
This is the key to this strategy. The stock is rated based on this 'Whisper Number' that they calculate. WhisperNumber.com puts together a list of the companies that are most likely to see a positive price movement if they beat the whisper number.
Sometimes the stock starts to move upwards in price the next day and sometimes it takes a month. They are good at figuring out the average time frame for a move up.
You can learn more about this idea here.
Whisper Reactors Review: Trade Example
Trade Example: $HAL
"Whisper Reactors Alert 1-day momentum reactor
Halliburton (HAL) reported earnings today (before market open) of $0.11. This was three cents ahead of the analysts estimate and two cents ahead of the whisper number. The average 1-day price move when exceeding the whisper is +1.3%. We'll look to enter the long position at today's (10/19) open, and exit at close of trading today or sooner at discretion. (Reminder: Optional 6% stop loss on all positions and momentum reactors are more influenced by major market direction/volatility. Recent subscribers and less experienced traders should consider this report higher risk.)"
As you've seen in the example above, each Whisper Reactor alert provides a company name and ticker, entry point and date, target price move, and exit point (between one and thirty trading days from earnings release) – everything you need to place a trade.
Here is what has happened so far on the $HAL alert. I scalped the trade at the open for a few % profit as these trades do tend to be good for day trades at the open (the alert comes out pre-market).
They are really suppose to be swing trades though and you can see from the chart above that $HAL has already risen 10% in 4 days.
Update: I revisited $HAL several months later and was amazed to find that indeed this stock had continued up in price to reach a 100% price increase !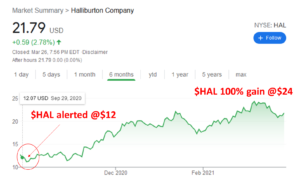 Obviously this is just a single trade and doesn't say much about future performance. However, I will try to keep this article updated as I take more of the trades so that we can get a better idea of the actual longer-term performance.
Whisper Numbers Review: Prices
WhisperNumbers is very reasonably priced. Check out the prices below.

With each subscription you get:
Email Alerts
Earnings Reactors Calendar
Specific Entry and Exit Dates
Target Price Points and Percentages
Enhanced Earnings Profiles
Extended Historical Data
Whisper Reactors Review: Conclusions
So far, I like the service for both scalping and potentially swing trading over weeks and months. The idea behind it (Whisper Number)  is a solid strategy and does seem to return decent gains to subscribers. You can choose to play the stocks or options on the alerts.
For the price it is worth a try in my opinion!
Check it out here for more details.
Russell
Related Articles
Graham Summers' Strategic Impact Review
Greg Mannarino Review (Robin Hood of Wall Street)
I hope you found this WhisperNumber.com review helpful!