Welcome to our Greg Mannarino Review! I asked a friend that has traded 10 of Mannarino's ideas to give me an idea of his success so far. 
This review was written by a real follower of Greg Mannarino's options trading strategy. He is a member of my Facebook group were we discuss all of these alerts services, both free and paid.
If you are interested in learning more about a bunch of stock alerts services that I have reviewed, be sure to check out my YouTube channel.
Other Services to Consider – SideKickTrades, ThetaTraderz and EagleTrades
If you are looking for similar services…..here are three that I recommend.
1.EagleTrades is a service that does a lot of cash secure puts for passive income that work 90% of the time. They also do morning scalps on a live stream audio. Powerful daily watchlists you can use to make your own trades with breakout levels.
2.ThetaTraderz is similar options selling service that caters to smaller account sizes – a huge plus if you want to sell options but don't have a lot of money in your account to use.
3. SideKickTraders is an awesome community of stock and options traders that offers the best bang for your buck – something for everyone and all the alerts are top notch!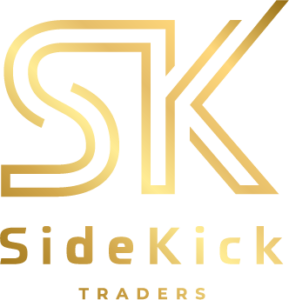 Who is Greg Mannarino?
Greg Mannarino, the self-proclaimed, "Robin Hood Of Wall Street" is an active/full-time trader of the markets with a large loyal following that he proudly calls his "Lions".
Greg offers his options trading ideas for FREE!
Greg started out at an entry level position at Bears Stearns and eventually made his way to the trading floor where he learned that working on Wall Street "wasn't like the movies"..
Greg eventually moved on to get a medical degree and practice medicine beginning in 1996 and eventually retired from the practice.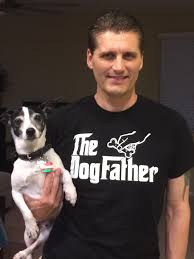 Greg now spends his time playing the market and communicating his options trades to his followers… for FREE!
Greg has 40,000 subscribers to his email trade ideas. He offers his options picks for free but just asks for a donation occasionally.
He just asks for $5. I sent him $10.. because I had made $1000 from him lol I figured it was fair!
Greg Mannarino's Option Trading Strategy
Greg's signature option trades have dates that are usually around 8 months out with high premiums.
When I initially came across Greg I was skeptical because his strategy of far away dates and high premiums are something I hadn't seen before, and of course, -if it's free it can't be good, right!?-. Boy, was I wrong..
I decided to take the plunge and buy a contract on his next alert.. I took a position in APPL thinking all of that premium money would be tied up for weeks or months..
But the very next day I checked my account and was already in triple digit profits.
I took profit and waited for his next alert that came later that day.. I entered that trade and another trade that he alerted later that day. By the end of the same trading day I had reached my profit goal and cashed out.
So far in my experience I am 100% in profit with Greg's options alerts. Greg claims he has only been wrong two times in the two years he's been alerting.. And from my experience I don't see any reason to doubt that.
You will want to go into Greg's alerts with a long-game strategy.
Greg usually takes profits at around 4-8%, which at such a high premium is usually triple digit profits (and could be more depending on how many contracts you buy).
These profits, along with his win/loss record, over time can be very lucrative, especially if you manage your risk/reward correctly.
You can expect a a few picks a day and then nothing for days. It is very varied
Greg usually also begins & ends the trading day with a YouTube video explaining his take on the market, along with some colorful & entertaining opinions on politics that influence the market.
Recent Track Record (Example of a Trade)
Here's the latest trades I took. I bought 1 contract of each. My goal is 5% profit since his premium is so high.
I hit the 5% pretty quick on FB and took profit.
The QQQ got caught in the "Trump tweet" fiasco, so I bought a second contract on the dip. Took profit on those 2 contracts yesterday at around 4%. Usually always 3 digit profits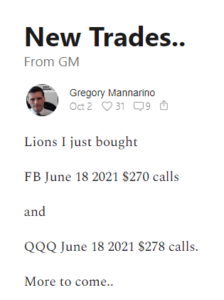 Greg Mannarino's Service Review: Conclusions
I would highly recommend Greg Mannarino's alert service. His service is free and he has an excellent track record. You can check out Greg's website here.
The only downside is that the option picks are expensive. He buys contacts that don't expire for a year or so. This means that they are pricey but it also means that he gets around the issue of time decay and the fact options can expire worthless.
But, he still takes advantage of the fact that he gains leverage from the contracts.
Overall a smart strategy that clearly works for him and his subscribers.
Related Articles
Near Future Report Review (REAL SUBSCRIBER)
The Palm Beach Letter Review (REAL SUBSCRIBER)
I hope that you found our Greg Mannarino review helpful!