Robert Williams Future Wealth Newsletter Review
Future Wealth is a monthly stock trading newsletter published by Seven Figure Publishing.
The goal of the newsletter is "building wealth through the science of futurism" — which is a fancy way of saying that Future Wealth attempts to help investors capitalize on game-changing technologies.
Disclosure: There are some affiliate links below, but these are all products I highly recommend. I won't put anything on this page that I haven't verified and/or personally used. I may get paid a commission if you buy anything through these links, at no extra cost to you.

FB Group and Free eBooks
Check out my Facebook Group for a community of traders that are interested in stock alerts services.
If you are interested in learning an options trading strategy with a 95% win rate……check out my store of free eBooks!
Mark's Future Wealth Newsletter Review
Mark is a REAL SUBSCRIBER to the Future Wealth newsletter. He agreed to write about the service for us!
Before reading this review, be sure to check out our YouTube channel and subscribe for all the fastest updates on stock alerts, investing and trading service reviews!
Also, if you are interested in joining an active Facebook community of traders that are dedicated to reviewing and sharing their experiences with stock alerts services – join us here!
Other Services to Consider – SideKickTrades, ThetaTraderz and EagleTrades
If you are looking for similar services…..here are three that I recommend.
1.EagleTrades is a service that does a lot of cash secure puts for passive income that work 90% of the time. They also do morning scalps on a live stream audio. Powerful daily watchlists you can use to make your own trades with breakout levels.
2.ThetaTraderz is similar options selling service that caters to smaller account sizes – a huge plus if you want to sell options but don't have a lot of money in your account to use.
3. SideKickTraders is an awesome community of stock and options traders that offers the best bang for your buck – something for everyone and all the alerts are top notch!
The Complete Guide to Day Trading FREE EBOOK!
For a limited time, Markus Heitkoetter is giving away the electronic version of his bestselling book "The Complete Guide To Day Trading"
It's 296 pages and full of tips, tricks and practical information that you can use right away in your trading.
Click here to download the eBook now.
I will let Mark tell you about his experience with the Future Wealth Newsletter now!
Fast Facts
Author/ organization — Robert Williams, Chief Futurist, Seven Figure Publishing
Cost — $49 with a 30-day money-back guarantee
Subscribe — call (844) 370-6637 or email and ask about their $49 special offer
Incentives — special reports for new subscribers based on current promotions:

Trillion-Dollar DNA
The Trillion-Dollar Mega-Merger
The Takeover Targets of the Trillion-Dollar Club
Trillion-Dollar Coattail Trades
The Secret 5G Stock Blueprint
The Streaming Wars Report
The Next Telemedicine Moonshot

Schedule — Digital-only subscription published once a month
Pros
Clear, compelling writing packaged in a crisp, clean format
Each issue has one theme, and one stock, which is well-researched and explained
Website is organized and easy to navigate
Library of special reports is extensive and one of the best of any newsletter service
Cons
Daily emails feel persistent if you only want the monthly newsletter
Stock "alerts" are infrequent and email only
Portfolio can be slightly unclear for new subscribers
Real Subscriber Review
Below is my explanation, evaluation, and experience as a paid subscriber of Future Wealth.
Why subscribe to Future Wealth?
Future Wealth is rare in the investment newsletter world — a no-frills, uncomplicated, useful guide to investing in a single sector of the stock market.
It does not try to be all things to all investors; therefore, it succeeds where other publications fail.
It is simply one of the most comprehensive, clear, simple, investment newsletters on the market today.
Future Wealth seems to be accomplishing its mission:
At Seven Figure Publishing, we aim to deliver you independence from strongholds in the market… on your terms. Finding your financial freedom is important to us. That's why we aim to deliver you top-notch market research you can put into action to take hold of your own financial stability. Giving you the tools you need to feel financially secure — especially outside of the government and Wall Street — you'll have the knowledge you need to survive any market. Plus, we deliver an unbiased 360-degree view of what's happening around you… that you won't find in mainstream media. This means life-changing opportunities in every aspect of the market:
Unbelievable wealth opportunity in the future of technology and biotechnology
A sophisticated and opportunistic global economic outlook you can act on
How to grow your retirement nest egg in a safe and reliable way
Fast-moving trade opportunities you can act on TODAY — securing your financial freedom beginning right now.
There's no better way to feel empowered to make the right decisions for you and your family. We're here to give you the tools, research, and analysis to make the financial independence you're looking for a reality.
Why is it called Future Wealth?
Future Wealth tracks technological breakthroughs that impact our daily lives so we can build a wealthy future.
The goal is to pinpoint technologies and companies on the verge of a breakthrough.
According to Future Wealth, breakthrough technologies follow a "Breakthrough Path" from the inception of the idea, to attracting investment capital, to mass consumer adoption.
This pathway is predictable (and quantifiable) if you know what to look for.
Who is Robert Williams?
After nearly 20 years in the trenches of high finance, Robert has joined St. Paul Research to assume the role of Chief Futurist.
Robert cut his teeth as an analyst for one of the most revered and prestigious medical institutions on Earth, whose endowment is valued at $4.3 billion.
From there, Robert became the lead analyst for a Fortune 500 private company — a firm with revenues above $12 billion.
He also worked for the companies of two billionaire owners of major professional sports franchises (NFL and MLB), collaborated with countless bestselling financial authors, and founded an internet business.
What is the investment philosophy behind Future Wealth?
Future Wealth is based on the concept of peering into the future to see what technology might emerge.
According to Robert Williams, "futurism" isn't crystal balls and fortune-telling.
Futurism is studying and anticipating technological breakthroughs. Future Wealth thinks that breakthrough technologies can change the world, but they must pass certain milestones along a path.
Williams believes that since these milestones are predictable and quantifiable regular investors like us have a chance to profit from their emergence.
Future Wealth attempts to discover, research, and recommend companies with the strongest tailwinds leading to a breakthrough.
What companies and stocks are in the Future Wealth portfolio?
Future Wealth's full list of stocks is accessible to subscribers only, but the portfolio is packed with interesting tech and biotech companies.
The 'portfolio' is actually three separate portfolios — Autopilot, Main, and Speculative.
Autopilot consists of 6 companies and appears to be primarily ETFs and Dividends
Main consists of 11 companies and is updated monthly until positions close
Speculative consists of 8 companies which are "penny" stocks trading under $5/share
Underlying each of these portfolios is what Robert Williams calls the "Futurist's Oath" — If a technology lacks:
1) a visionary idea, 2) infinite access to capital and/or 3) the potential for mass consumer adoption — a breakthrough simply cannot occur, meaning our investment dollars are better served elsewhere.
How have Future Wealth stocks performed?
Future Wealth portfolios are doing well.
Below is their published performance data at the beginning of September 2020: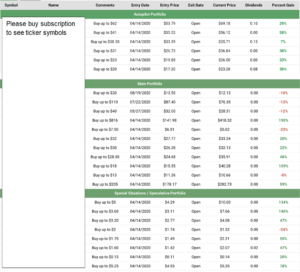 Is the service worth the $49 annual subscription fee?
Yes! As you can see in the charts above, if you invested in almost any of their stock recommendations you would have easily paid for your subscription.
Even stocks that are currently "red" might recover and bring a nice return. So far, the results for this newsletter are healthy.
I haven't chosen yet to invest in any of the Future Wealth recommendations, but I will take a careful look to see which stocks might become part of my personal portfolio in the future.
Robert Williams Future Wealth Newsletter Reviews: Conclusion
Final Grade — A+
Future Wealth is a bargain worth buying.
The newsletter is interesting, solid, and deliberate. As with all financial services, results vary from investor to investor.
However, this newsletter delivers on the $49 promise. In my experience, most readers will enjoy reading and acting on the monthly suggestions. I predict subscribers will value this newsletter.
Future Wealth Newsletter Review: Related Articles
Jimmy Mengel The Crow's Nest Review
Gorilla Trades Review (REAL SUBSCRIBER)
I hope you found this Future Wealth Newsletter review by Mark (a real subscriber to the service) helpful.