Our Humbled Trader review aims to show you who she is and how you can learn about her trading techniques.
If you browse YouTube for stock trading channels, you have probably come across Humbled Trader.
Her videos are honest, funny and very direct. Her content is all useful content with no fluff. Most of it is free as well!
Disclaimer: There are affiliate links on this page. This means that if you click through and purchase anything, I could possibly make a commission without adding any extra cost to you.
Other Services to Consider – SideKickTrades, ThetaTraderz and EagleTrades
If you are looking for similar services…..here are three that I recommend.
1.EagleTrades is a service that does a lot of cash secure puts for passive income that work 90% of the time. They also do morning scalps on a live stream audio. Powerful daily watchlists you can use to make your own trades with breakout levels.
2.ThetaTraderz is similar options selling service that caters to smaller account sizes – a huge plus if you want to sell options but don't have a lot of money in your account to use.
3. SideKickTraders is an awesome community of stock and options traders that offers the best bang for your buck – something for everyone and all the alerts are top notch!
New Humbled Trader Academy and Discord Combo
Who Is Humbled Trader?
Her name she uses is 'Shay' and she is an Asian day trader from Canada.
I really like her open, honest and hilarious approach to day trading education.
She has many other revenue sources. She most likely makes money from YouTube ads, her own stock trading education services among others.
Humbled Trader net worth is estimated to be somewhere between $500k and a few million dollars. This however, is pure speculation and cannot be confirmed. However, it is reasonable to assume this from her YouTube ad revenue etc.
She also really doesn't like the conventional way that stock traders sell their courses and services. The 'Tim Sykes' lifestyle marketing approach is NOT her thing and she pokes fun at it a lot!
Humbled Trader Trading Strategy
You can learn more about the Humbled Trader trading strategy on her website or YouTube channel. She is very much a day trader that prefers to use price action and volume instead of patterns.
She tends to trade stocks 'long' betting that they will increase in price. She will buy anything from penny stocks to large cap! I haven't really seen her trading options, crypto or Forex.
Humbled Trader Discord Review
While Shay provides a TON of free content on her YouTube channel, she also has a premium service on Discord.
For a long time she didn't appear to have any paid product or service.
Now she does and it's AWESOME! Check it out here.
However, it looks like she is expanding her business (Humbled Trader Inc.) and early 2020 she entered into an agreement with Huma Holding (a private equity firm) with the idea of growing her business to a valuation of $2MM+.
Shay's discord chatroom is priced mid-range – $139 a month.
******UPDATE: As of 2021 you can only purchase Shay's discord alerts if you pay for her new Humbled Trader Academy. You get a year of the discord alerts with the course.******
She offers a bunch of interesting features that are aimed at teaching traders rather than spoon feeding them stock alerts. Here is a brief summary of what you get in the premium Humbled Trade Discord chatroom.
– Pre-market analysis of the hottest stocks etc. News, PR's and any major catalysts seem to be discussed at these briefings.
– During market hours she gives a running text commentary in the chatroom on stocks, news and the market conditions.
– A lot of video lessons that are relevant to today's market and are constantly updated.
Here is what her website states you get…..
My Experience With Humbled Trader Discord
I signed up to check out her Discord. It seems well organized with the main attraction being her pre-market livestream on Zoom where she talks us through her watchlist building, This starts around 8:30am ET and last about 30 mins.
If you want to see the end result of her watch list building, I have included a lot of examples after this section. Typically, there are 3-5 stocks that she analyzes and watches. Sometimes, she buys then and sometimes she goes with something else entirely.
Humbled Trader Discord Channels
Here are the main 'alert' channels. Simple layout is nice…..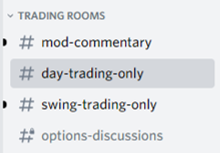 Mod-commentary is only for the mods to put in some simple one line ideas here and there. No trade alerts in here, just narrative like '$NIO red' etc.
Day-trading-only is my favorite room as it is where Humbled Trader interacts and posts her buy/sells on the day trades.
She is fairly active. The only downside here is that her alerts are posted amongst all the subscribers chatter so it is hard to just follow her ideas – a stand-alone HT only channel would make it easier to filter out the noise.
The swing trading channel doesn't seem to have any contribution from HT. It is mainly the mods and subscribers taking swing trades.
Here is a video I did documenting the inside of the Humbled Trader Discord room (includes a quick peek at my first trade with her in one of my broker accounts)
Humbled Trader Watchlist
She also has a lower cost service where she sends you the Humbled Trader Watchlist every morning at 9am. She includes her favorite 3-5 stocks for the day and a trading plan. She also includes a video as well.
I joined this service – it seems like great value for only $47 a month.
You can learn more about Humbled Trader's chat room and watchlist service on her website.
You get her email watch list at 9am – 9:15am every morning. She uses a lot of abbreviations – so many she has had to make a full list that she sends out. See below, especially the one near the bottom in red (her humor coming through!).
'WL Key Terms- How to Use Humbled Trader Watchlist?

Key Level/Pivot- Psychological price level that signals whether the stock is bullish or bearish short term for day trading. Also known as the "over under" level. Key level is also a potential level to set your risk/stop
Float- Amount of shares outstanding available for trading by the public
WL – Watchlist
IO- Institutional Ownership %
MC- Market Cap
Short %- If the number is over 20%, I consider the stock highly shorted
Potential dilution- Low on cash, S3, F3, S1 filed, ATM offering potential, Warrants/ convertibles outstanding
SSR – short sale restriction. means short sellers can only short on the ask, on uptick. and cannot short weakness on the bid. SSR doesnt mean it will short squeeze, but many times it does
ETB – Easy to borrow. Meaning the stock has a lot of shorts, and likely to squeeze.
HTB– Hard to borrow. Meaning the stock is hard to find short, and not as likely to squeeze.
PM – Pre market
AH – After Market
PH – Power Hour
SS- Short Sell
Bot- Buy, or Long
SL- Stop loss, or "stops"
RR – Risk to Reward
Res- Resistance Line
Supp- Support Line
R/G- Red to green
G/R- Green to red
PMH- Premarket highs
PML- Premarket Lows
LOD- Low of the day
HOD- Hight of the day
Front side- Strength is very strong and holding breakout with volume, generally from open to 11am EST.
Back side-  Stock strength is overall dying, volume drying, generally after 11am EST
PDC- Previous day close price
ATH- All time high. Stocks that break ATH tends to go HIGHER
ATL- All time low. Stocks that break ATL tends to go LOWER
ON – Overnight
Pop- When a stock candle shoots up to above average range really quick. Usually at the open.
Grind- When a stock candle gradually climb up. Usually in mid day/afternoon.
Rug Pull- Same as a "dump". When a stock (usually small caps) suddenly gets a quick and drastic sell off. Opposite direction of a "Pop".
POS – Piece of sh*t, or Turd. Often used term on small cap pigs.
WW- Worth watching, meaning a stock seems to be setting up for a play soon, pending volume and trend confirming'
So, you can see that you need to get familiar with her terminology before you can quickly assess her watch list. She makes it clear that these watch lists do not constitute any kind of 'buy alert'.
Sidenote: Come and join our Facebook group (6000+ members!) where we discuss stock alerts services.
Humbled Trader Review: Example Watchlist
I signed up for the $47 a month watchlist that is sent out pre-market.
Here is the day 1 watchlist. After each entry in the list, I will give a quick commentary on how the trade worked out.
Humbled Trader Watchlist Review: Day 1 (7/29/30)

Here is the list that was sent out around 9am ET.
'HTBX $2.93 (Heat Biologics shares are trading higher after the company announced its coronavirus vaccine demonstrated immunogenicity proof-of-concept in pre-clinical studies.)
-79M float, $73M MC, S3 
-Recent bag holder chart that ran up to $4.3 in early July
-Since that run, this has had consecutive red days for over a week so I am leaning bearish on the name
-Key level to watch in today is the $2.9's area
-Leaning bearish on this ticker
-Ideally I would want to see this run towards $3.5-$3.7s to take a starter short, but will set the risk tight
-IF it shows strengths, I will cut it, no hesitation
-Above key level, we can see $3.05, $3.25, $3.5, $4's
-Below the key level, we can see $2.7, $2.5, and back below $2's
How it worked out: $HTBX failed to break over the key level of $2.9. It presented an opportunity to short from the $2.8's all the way down to below $2.5 within an hour or so. I think this was a pretty good call from Humbled Trader! A short position near market open could have resulted in a relatively quick 20% profit.

Here is the chart for the first couple of hours. A nice short as she indicated in the watchlist.
KODK $15.15 (Eastman Kodak shares are trading higher following a WSJ report suggesting the company has landed a $765 million US loan under the Defense Production Act to manufacture drugs to treat a variety of conditions.) 
-22.7M float, $340M MC 
-Once President Trump had his press conference and mentioned KODK, it has been on a massive squeeze AH yesterday. Recovered all the way from $7.50
-Long bias but will turn into a massive short if it continues on this path of super over extension. Again do not chase into parabolic moves with no clear support nearby. 
-Plan your trade along key levels with clear exit plan in mind before entering the trade 
-PM support level is around $13.5 area. Above it KODK continues to remain strong 
-Below $13.5, $12.75 and $12 are decent support areas
-Ideally trade this on pullbacks to key support areas risking break of that support area
-Do not continue to hold your position if trade is not working or if there is a trend reversal
How it worked out: WOW! A huge move all the way up to nearly $60…..I missed the huge run up but I shorted the stock from the $50's to the $30's for a $17k+ win in minutes! Humbled Trader really called this one!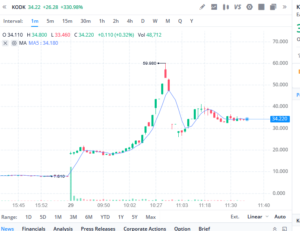 LB $22.8 (L Brands shares are trading higher after the company announced it sees $400 million annualized cost reductions through profit improvement plan for Victorias Secret. The company also announced it has reopened most Bath & Body Works and Victoria's Secret stores in North America.)
-Bullish news, gapping up thin into daily
-Expect some profit taking early on, and then reclaim of key level for a next move up higher
-$22.3's-22.5 the key area to hold on the stock, if we sell off early at the open, we have some downside
-Below key area we have support around low $21's, and we could possibly get $20.5's
-Look for potential curl at those bottom support levels for a trend reversal to retest highs
-If we reclaim key area of 22.3's-22.5's, we can test PMH $23's, and then $23.5 $24 daily levels
How it worked out: Wow, another one that followed Shay's plan very closely! It actually did a bit better than expected. It dipped at the open and then went up to new highs. Nice!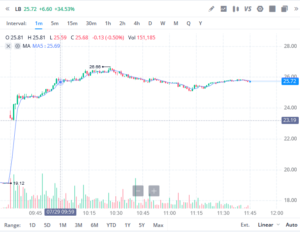 AMD $74.8 (Advanced Micro beats by $0.01, beats on revs; guides Q3 revs above consensus; guides FY20 revs above consensus )
-Nice beat as well as guidance raise. However we did run up into earnings for multiple days.
-Not looking to fight trend on an earnings winner. Watch how the stock reacts to key level after open to determine direction long or short.
-$74.8's the key area to hold in order to stay bullish on the stock
-That level holds, we can retest PMH $75.8, then new daily highs $76.4's
-If we really push and go parabolic we can see $79's possible
-However, if we are unable to hold key level $74.8's, we have downside to sell off the gap
-Downside support we can see $73.5s, and then $73s, $71.8's
-If we do sell off heavy at the open, let it settle and hold a LOD and start trending up to join for a potential reversal. Do not pick bottoms'
How it worked out: It did hold up close to the key area at $74.7ish and then ran up to her profit target in the $76's quite quickly. So, that is 4/4 for my first day with her service.
Humbled Trader Review: Day 2 (7/30/20)
Here is the pre-market watchlist that was sent out. I will provide a brief commentary after each entry regarding how the trade went and if/how I played it.
'BLNK $11.6 (Yesterday's News – The company announced it will collaborate with EnerSys to develop "high power inductive/wireless and enhanced DC fast charging systems with energy storage options for the automotive market)
-21M float, $149M MC, S3 
-Another EV name that made a decent run in after hours trading yesterday
-Key level to watch in today will be $12.65
-If we can hold above this level and strong buying volume comes in, this can take off
-Below the key level, this may turn to a 50/50 trade
-Above key level, we can see ATH at $15 and once we clear ATH, all bets are off then
-Over ATH we can expect $16.25, $17, $18.6 
-Below the key level, we can see $11.1, $10, $9.25, and below
How it worked out: I didn't take this trade. It just wasn't easy to see which way the price was likely to go when it opened. It didn't really hold her key level of $12.65 until later in the day and then it ran to mid $14's. So, I guess it did follow her guidelines….kindof. Here is the chart from the day. It did trend up nicely, but it took a while to consolidate above the key $12.65 level and it is likely that many traders were either stopped out by this or didn't take the trade. I didn't take the trade.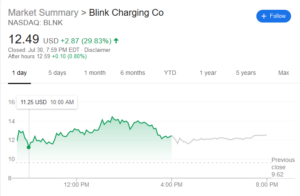 EDSA $12.6 (company filed an IND application for a phase 2/3 Coronavirus study)
-2.7M float, $100M MC 
-Gapping up over 125% this PM. Ran last year to $13.5 on big volume so that is a resistance to be aware of.
-No bias on it yet
-PM support level is around $12.15 area. Above it EDSA continues to remain strong 
-If it gets over $13.5 and reclaims that area, then I would be very bullish
-Below $12.15 the final line in the sand is $9.75 area
-Ideally trade this on pullbacks to key support areas risking break of that support area
-If $9.75 fails it is heading to $8.5 and $8
-Plan your trade along key levels with clear exit plan in mind before entering the trade
How it worked out: This would have been a great short it fell nearly 50% from market open to close. The problem is that it did reclaim the $13.5 level early on. It did collapse throughout the day though, so I guess it would have been possible to start shorting it around $13 or something. I didn't play it. Here is the chart.
HOME $13.6 (At Home Group sees Q2 revs above consensus  (9.44 +0.59)
-Bullish gap up into key daily gap fill area, if we can hold above it today this could turn into a nice daily breakout. 
-Wait to see how the stock trade around the key area o f$13.8's
-If we can hold that area after open 10-20 min, then we have upside for a steady all day move up higher to see $15, $16.4 PMH
-Above PMH we could see $17, $18
-However, if we cannot hold and consolidate to the upside above $13.8, we have downside to gap fill
-Downside support to sell off tour $13 first, then $12.1, $11
How it worked out: I actually played this today. I shorted it several times. It just couldn't regain or hold that key level at $13.8 so I assumed that it would probably be better to short. I shorted it from the $13's down into the $12's several times. 
KNDI $15.2 (Kandi Technologies Group shares are trading higher after the company highlighted the formal launch of its electric vehicles on the US market.)
-37M float, $210M MC, S3 
-EV name that made a decent run in after hours trading yesterday 
-Key level to watch in today will be after hours highs area of $14.9
-Just like many other moves in the summertime, a lot of action in pre-market that tends to fade back before market opens 
-Ideally I would want to see this regain and hold key level
-Above key level, we can see $16's, $18's, and possible retest of PMH at $19.38
-Below the key level, we can see $13.5, $12.75, $11.9, and possible back to $9's
How it worked out: It was a nice short for me! Here is the chart. You can see that it failed to hold $14.9 and therefore would be a short. Sure enough, it went down to her target price of $9's.
OSTK $73 (Overstock.com Q2 EPS $0.84 Does Not Compare To $(0.08) Estimate, Sales $783.00M Beat $597.60M Estimate)
-It's been a while since they beat earnings, especially this time its significant because everyone expected them to lose due to COVID
-Bullish daily chart, if we can hold key area of $68.1's, we could get more upside on the daily
-Upside if we hold, we can see Test of PMH first around $71, $71.4,s.
-Above that we can see $74, $77.5's potentially if we really push with high volume
-However, if no buying volume come in and we fail $68.1 key area early on, we have some downside to fill the gap
-Downside we can see $66 first, and then potentially $65′
How it worked out: It worked! It held the key area of $68.1 and ran up to the high $77's for the rest of the day!
Finally, this week I traded a CRAZY idea from Humbled Trader's watch list – $ADTX. One of the craziest stocks I have traded recently! Here is what she had to say pre-market about it.
ADTX $6.95 (Aditxt Introduces AditxtScore™ for COVID-19 and Announces the Completion of Validation Studies by Stanford Blood Center)
-2.5M float, $20M MC
-Broke out of ATH (all-time highs) in premarket session and made a really nice push up to $10.4's
-Has since faded back down to the key level area of previous highs
-Key level to watch in this premarket session is this $7's area
-No bias on this yet, but would like to see it hold over the ATH for another potential push up
-Above key level, we have $7.4, $8.85, $10.4 PMH
-IF we can break over PMH, the next levels up we will have $10.89, $11.2, $11.65, $11.9
-Unable to reclaim and hold key level we have $6.15, $5.5, $5, $4.5 and below 
Here is how I played it. It was a nice 32% winner for me in an hour.
The Humbled Trader Review: Conclusions
I have followed Humbled Trader for a while now and I have always found her YouTube videos to be hilarious and educational.
She did not have anything to sell for most of the time and it has really just been this year that she has started her premium Discord chatroom. I find it very interesting she partnered with a private equity firm earlier this year and it has been fun researching her for this article.
I always wondered what Humbled Trader's real name was! I was able to discover a lot more about her real identity by a simple Google search.
However, I was asked to remove this information from the article as I was contacted and warned about 'privacy' concerns.
Her Discord chatroom seems quite expensive for what it is. However, she is clearly a legit trader with a flair for educating new traders and she appears to have a solid strategy.
So far, I am quite impressed with her daily pre-market watchlist! I am adding it to my secret toolbox that helps me make money in the market every month.
Here is a link to her website where you can explore the different resources that she has and premium programs.
Good Luck!
Russell
Humbled Trader Review: Related Articles
Tom Gentile Money Map Press Review
My Humbled Trader Review hopefully helped you to learn more about this hilarious woman!