Jason Bond Strike Raider Review
Please note that some of the links on this website are affiliate links. This means that, at no additional cost to you, we may earn a commission if you click through and make a purchase. We only promote products or services that we believe will be helpful to our readers.
Jason Bond has seen massive success in 2023 in his Small Account Journey (SAJ) services (Read my full review here) and he just launched Strike Raider which is hopefully going to bring even more gains than SAJ!
But is it working?
Read my Jason Bond Strike Raider review for more info….
Free Resources
I test and review alerts services full-time and you can keep updated on what I'm on my social media…
My Facebook group where we discuss alerts services.
I hope that these will help you!
If you are looking for my top 5 trade alerts services click here!
Bullseye Trades: Best Alerts Service

Every Monday at the market open, Jeff sends you his weekly Bullseye Trade.
2022 has been AMAZING for these Bullseye Trades!
(+50% to 300% per week in my experience)
LEARN HOW TO WIN 90% OF YOU TRADES IN 90 SECONDS!
 >> CLICK HERE TO LEARN MORE! <<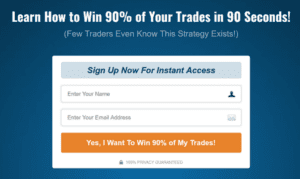 Jason Bond Strike Raider: Who is Jason Bond?
Having spent approximately a decade as an educator, Mr. Bond transitioned from his teaching profession.
In 2011, he made the decision to leave his teaching career behind in order to establish his newsletter, "Jason Bond Picks," and fully commit to being a penny stock trader.
In these early days, Jasons focus primarily revolved around day and swing trading of small-cap stocks with prices ranging from $1 to $10.
This approach entails holding stocks for only a brief duration, typically no more than a couple of days.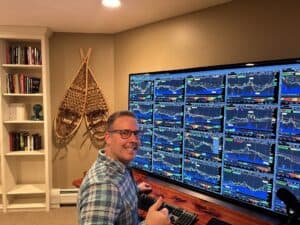 Jason initiated this program with the intention of mentoring and training new investors, empowering them to effectively manage their own trading endeavors and develop their personal stock selections.
To facilitate this, he provides a range of instructional resources and materials designed to familiarize individuals with his trading strategies, thereby enabling them to engage in profitable trading activities.
These days as a co-founder of RagingBull.com, Jason is known for his Small Account Journeys where he uses Bull Puts to grow small accounts FAST and sells options successfully.
Jason Bond Strike Raider Strategy
Jason purchases an at-the-money (ATM) call option while simultaneously selling an out-of-the-money (OTM) call option for most of the trades in Strike Raider.
However, he emphasizes it's crucial not to go excessively OTM, as there won't be a substantial premium due to the lack of demand for such calls.
Jason determines the appropriate width of the trade by analyzing the Average True Range (ATR).
Typically, Jasons goal is to achieve a 200-300% potential upside for these trades, which is considered the optimal range.
Here are a couple of example trades…..
META August 18 +$325 / -$350 call debit spread at $8.16. Max profit is at $350 or $25.
NEOG August 18 +$23 / -$25 call debit spread at $.70. Max profit is at $25 or $2. 
Hopefully, these two trades give you an idea of what Jason does in Strike Raider. It's a different strategy to his successful Small Account Journey Strategy and time will tell if it's more profitable or not!
The upside potential profit is much larger for Strike Raider – over 100% profits are possible on the trades. However, the win-rate is likely to be lower than his SAJ trades.
Jason Bond Strike Raider Review: What Do You Get?
With Jason Bonds Strike Raider you get real-time trade alerts, a chatroom, email updates and several workshops to learn the strategy and Jasons trading philosophy.
Nobody works harder to teach and help traders than Jason Bond in my experience.
The trades are all options spreads so you need to have a margin account to be able to do these.
Jason Bond Strike Raider Review: Conclusions
In conclusion, embarking on your trading journey with Jason Bond's Strike Raider offers an unparalleled opportunity to thrive in the dynamic world of trading.
The comprehensive package includes a myriad of valuable resources, ranging from real-time trade alerts and an interactive chatroom to insightful email updates and workshops.
These components collectively provide an immersive learning experience, equipping you with both the tactical knowledge and the broader trading philosophy championed by Jason himself.
What sets Jason Bond apart is his unwavering commitment to the success of his traders. Through his extensive dedication and tireless efforts, he has demonstrated an unparalleled level of support and mentorship.
In particular have a look at Jasons Small Account Journeys that have given subscribers some huge winning streaks over the last year.
In my personal experience, I have yet to encounter an individual who works as diligently as Jason Bond to impart essential skills and insights to traders of all levels.
His genuine passion for educating and uplifting his community is a testament to his remarkable character and dedication. With Jason Bond, you're not just gaining a trading strategy – you're joining a thriving community led by a true trading virtuoso.
So, if you're ready to unlock your full potential as a trader, harness the power of Jason Bond's Strike Raider.
Equip yourself with the tools, knowledge, and unwavering support you need to navigate the markets with confidence and achieve your trading goals.
Good Luck Trading,
Russell
Related Articles
AlgoPro Review (REAL SUBSCRIBER)
Jeff Williams Atomic Trades Review
Jeff Bishop Alpha Hunter Review
One Ticker Trader Reviewed (Larry Benedict)
How to Make the Most of Stock Alerts
Jason Bond Strike Raider Review