Options Bandits Review
Disclaimer: There are affiliate links on this page. This means that if you click through and purchase anything, I might earn a commission for the introduction with no extra cost to you. In no event will we be liable for any loss or damage including without limitation, indirect or consequential loss or damage, or any loss or damage whatsoever arising from loss of data or profits arising out of, or in connection with, the use of this website.
Through this website you are able to link to other websites which are not under the control of stockalertsreviewed.com. We have no control over the nature, content and availability of those sites. The inclusion of any links does not necessarily imply a recommendation or endorse the views expressed within them.
Social Media for Stock Alerts Reviewed
Facebook Group About Stock Alerts Services: JOIN HERE
Stock Alerts Reviewed YouTube Channel: JOIN HERE
LEARN HOW TO WIN 90% OF YOU TRADES IN 90 SECONDS!
  >>CLICK HERE TO LEARN MORE! <<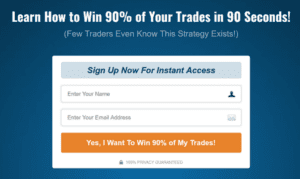 Bullseye Trades: Best Alerts Service

Every Monday at the market open, Jeff sends you his weekly Bullseye Trade.
2022 has been AMAZING for these Bullseye Trades!
(+50% to 300% per week in my experience)
Options Bandits Review: What is it?
I first came across Options Bandits via an aggressive Facebook ads campaign. Here are my first impressions on my YouTube Options Bandits review after purchasing the Options Bandits program for $199…..
Make sure to subscribe to my YouTube channel here :).
Options Bandits is a simple business model. A one page website with many many many screenshots showing wins and praise for the 'alerts' that you purchase for a one-time fee of $199.
There aren't actually any alerts as such though. This program is a pre-market watch list with key levels for targets and stops. They give you the options contracts that they suggest to use in the trade as well.
There are no real-time buy/sell alerts though and the trade management is completely in your hands. You get a daily pre-market watch list complete with instructions on what to do with each ticker.
Here is an example from this morning…..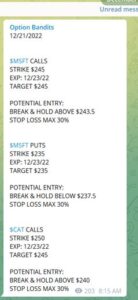 Based on a 1 minute chart you decide if you will execute the suggested options trade.
They recommend if a particular price level is held on the 1 min time frame then an entry should be initiated.
In this case the $MSFT calls play did trigger an entry and the trade played out as shown below.
I like how they have fairly tight stop losses and 30% gain when a trade is triggered is pretty nice for a 30 minute day trade.
Obviously, the example trade shown above is one that worked out. However, that is the only trade that triggered for me out of the first 8 that I was sent over the last 2 days.
Is that a bad thing? Probably not! I think that this service could help build discipline and help prevent over-trading. Only entering when the trade is triggered convincingly and sticking to the rules could result in a net positive profit/loss in my opinion.
However, the strategy is unclear regarding where the key levels are coming from – I have tried to email them to get more info but nothing so far. I suspect it is an algo alert of some kind.
12/23/22 Options Bandits Alerts (posted near market close for back testing purposes)
Here are the latest picks from the Options Bandits for 12/23/22 for you guys to check out as example trades. All data printed in this blog post is given long after the plays have played out.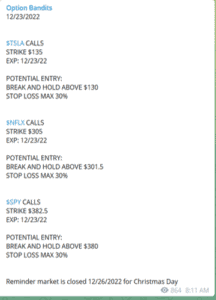 Here is part 2 of my Options Bandits review – I think that now I have been part of this service a little longer I have a more positive perspective…..
12/27/22 Options Bandits Review
Here are the picks that came out this morning on Telegram.  They added a notification this morning saying that the previous days alerts will no longer vanish and therefore we will be able to look back at the alerts from previous days – which is good.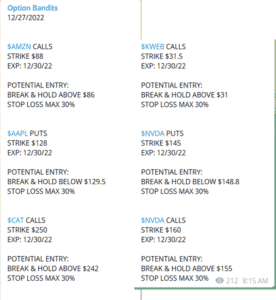 Here is a brief overview video analysis of the picks from today. I went through about half of them and then got bored….lol. You get the idea though and it would be impossible for me to go through every single one of these every day.
12/30/22 Summary so far regarding the win/loss rate
My impression is that many signals fail to trigger – that is they never meet the entry criteria. This is not a bad thing…..it cuts down the number of trades dramatically.
I mean who wants to be taking 5 trades like a crack head day trader every day? Anyway here is my latest update….
Options Bandits Review: Conclusions
For the price this seems to be a fairly valuable service especially if you are just looking for a handful of simple ideas sent to you via telegram every morning before the market opens.
However, the people behind this company are anonymous and therefore there is no credibility data about them available. I have asked for a track record etc. and no response from them yet.
We are left with signals that appear to work some of the time but with no back testing or verifiable track record this could just be luck…..right? I will try to keep a track record if I can (in a similar way that I do with Bullseye Trades here).
I'll try to keep this article updated as I learn more and test this service out over time.
Russell
LEARN HOW TO WIN 90% OF YOU TRADES IN 90 SECONDS!
  >>CLICK HERE TO LEARN MORE! <<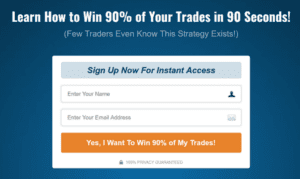 Bullseye Trades: Best Alerts Service

Every Monday at the market open, Jeff sends you his weekly Bullseye Trade.
2022 has been AMAZING for these Bullseye Trades!
(+50% to 300% per week in my experience)
Options Bandits Review: Related Articles
Jeff Williams Market Navigator Review
My Top 5 Trading Alerts Services and Tools
Options Bandits Review