Trade Ideas Review
Trade Ideas is, amongst many other things, a powerful trading idea platform that offers a ton of signals for traders to act on. Day traders can use these real-time signals to make trades or just find new ideas to watch. There is a live trading room as part of the platform.
The Trade Ideas platform is extensive, and I will try to give an overview of it in this article.
The one thing that fascinates me the most about this platform is Holly (you will learn more about 'her' a little bit later on :))
*****15% DISCOUNT CODE FOR MY READERS!! IF YOU BUY ANYTHING FROM TRADE IDEAS MAKE SURE TO USE MY COUPON CODE 'STP15' FOR A 15% DISCOUNT!*******
Disclaimer: There are affiliate links on this page. This means that if you click through and purchase anything, I could possibly make a commission without adding any extra cost to you.
What I'd recommend instead: My favorite stock indicator and strategy system that I've found after 10 years of trying products!
Rockwell Trading also has a better more user-friendly system than Trade Ideas called the PowerX Optimizer.
PowerX Optimizer Reviews here!
Free Ebooks and Facebook Group
Check out my Facebook Group for a community of traders that are interested in stock alerts services.
If you are interested in learning an options trading strategy with a 95% win rate……check out my store of free eBooks!
The Complete Guide to Day Trading FREE EBOOK!
For a limited time, Markus Heitkoetter is giving away the electronic version of his bestselling book "The Complete Guide To Day Trading"
It's 296 pages and full of tips, tricks and practical information that you can use right away in your trading.
Click here to download the eBook now.
Trade Ideas Review: What is Trade Ideas?
Trade Idea's was developed in 2003. It is a sophisticated platform that uses artificial intelligence to back test stocks and alert high probability trade ideas in real-time.
It provides traders with a ton of value. When you purchase a subscription to Trade Ideas, you get access to the website and app that has a ton of premium features…
Real-time stock data
Real-time alerts
Custom scanning
Custom charting
AI alerts
Auto-Trading by Holly
Trade Ideas Review: TI Strength Alerts
TI Strength Alerts is a low-cost alerts section of Trade Ideas. It's only $17 a month. You get 5 trade ideas sent to your email every Sunday night.


I did a video about the trades and what to expect from Strength Alerts. It's possibly worth it if you are looking for just 5 simple ideas for week long swing trades.
You won't get a lot of guidance, it's more like a watch list with simple flag patterns and breakout levels marked.
*****15% DISCOUNT CODE FOR MY READERS!! IF YOU BUY ANYTHING FROM TRADE IDEAS MAKE SURE TO USE MY COUPON CODE 'STP15' FOR A 15% DISCOUNT!*******
Here is the back tested results for the TI Strength Alerts versus the SPY. Pretty impressive! The back test assumed you buy on the Monday morning and held them all (equally weighted) until the following Monday open.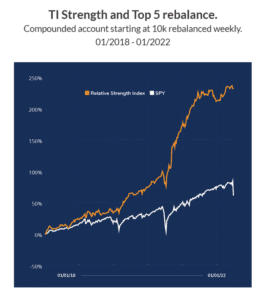 You can also just try one of these stock picks every week for FREE by clicking below and following the instructions to sign-up for the free weekly pick.

Here is the creator of TI Strength alerts explaining how it works!
Trade Ideas Review: Scanning
Finding stocks before they make moves up in price is really at the heart of momentum day trading. Trade Ideas is a great way to find these movers and many of the top traders use it as their main scanning program.
It is a powerful scanner that can be used to find pretty much any criteria. Things like top gainers/losers, breakouts, volume spikes, high of day movers etc. the possibilities are endless. There are so many preset scanners.
You can also make your own scanners to fit your own criteria. You can scan for technical patters like Bull Flags, all types of breakouts, Fib levels etc. Basically anything you can imagine Trade Ideas can do!
There really is nothing like it on the market.
Top traders like Ross Cameron use this software daily.
What I'd recommend instead: My favorite stock indicator and strategy system that I've found after 10 years of trying products!
Real-Time Stock Race Feature
The Real-Time Stock Race is a very unique way of data visualization. The Stock Race is an interesting idea that distills the stock market action down to its basics and helps beat the data overload most trades experience.
It enables you to see important metrics generally displayed in a spreadsheet-like 'Top List Windows' in a straightforward and engaging way. Your top-ranking stocks will race against each other, helping you to see top winners, the losers, and the ones in the middle field at a glance! You can use any Top List Window of your choice.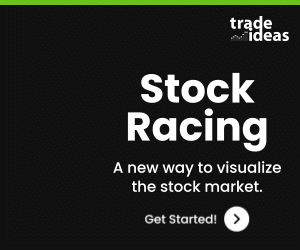 Trade Ideas Review: Holly
Holly is Trade Ideas AI or 'bot' that is designed to provide the best real-time stock picks to subscribers.
The cool thing about having a bot do the work for you is that they are not prone to our human emotions. Holly learns from her past mistakes (unlike some of us…ahem).
Holly has many different algorithms that she uses to constantly scan and find the highest probability setups. Basically, she is like 100 of the best traders you know all compiled into one.
You can watch Holly in real-time enter and exit trades as well as follow her buy/sell signals. She even gives entry prices, stop losses and price targets.
Holly is a day trader so don't expect any swing trades – she usually trades up to about 20 trades a day.
Get a Free Trade Idea from Holly Every Week!
Holly's Trading Strategies
Holly is super smart. She constantly back tests her favorite strategies. Every night Holly works for you doing extensive back testing and reviewing trade parameters. She incorporates what the markets are doing and then tests AGAIN.
Basically, none of us can work as hard as Trade Idea's Holly bot.
Before the market opens, Holly will pick the highest probability strategy that she has determined from all the back testing to be the best for the coming day.
Basically, Holly is a BEAST.
She has 60 strategies to optimize and pick from!
You can get one her weekly picks emailed to you by signing up here.
Here are the results reported from one user in my Facebook group. Unfortunately, I'm unable to find these results in my Trade Ideas dashboard! It's very clunky.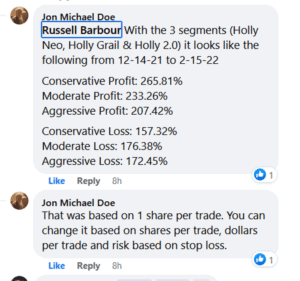 I could go through every one of the 60 strategies that she has going on….but it's probably just better to go and check them out here in the full guide.
Here is a quick video about a few trades that the Holly bot took today.
Trade Ideas Review: Conclusions
If you are an active day trader or momentum swing trader then you will likely find Trade Ideas to be extremely helpful. Many top traders swear by it!
The program is just so powerful and offers the user so many trade ideas (excuse the pun!).
You can use Trade Ideas with your current trading strategy or use it to test new ones. It is by FAR the best stock scanner on the market for active day traders.
The thing I hate the most about it is that it is really hard to use.
You have to wade through hours of tutorials and do a lot of work just to understand how to use the most basic functions! Here is the first video I did on the program on the day I started to learn about it….you can tell how frustrated I am!
The coolest part in my opinion is the auto-trading offered by Holly the AI assistant that is part of the premium subscription. I mean who doesn't want to make passive income via one of the best AI trading bots in the world!
If you can figure out how to work the damn thing….
You can try out Trade Ideas for free here.
Russell
What I'd recommend instead: My favorite stock indicator and strategy system that I've found after 10 years of trying products!
Related Articles
Kyle Henris Elite Investor Academy Review
Steven Brooks GPS Trader Review
Trade Ideas Review