Welcome to my FalconStocks review!
A few people in my stock alerts reviewed Facebook group recently brought FalconStocks to my attention. So, I started following their alerts and this is what happened….
Other Services to Consider – SideKickTrades, ThetaTraderz and EagleTrades
If you are looking for similar services…..here are three that I recommend.
1.EagleTrades is a service that does a lot of cash secure puts for passive income that work 90% of the time. They also do morning scalps on a live stream audio. Powerful daily watchlists you can use to make your own trades with breakout levels.
2.ThetaTraderz is similar options selling service that caters to smaller account sizes – a huge plus if you want to sell options but don't have a lot of money in your account to use.
3. SideKickTraders is an awesome community of stock and options traders that offers the best bang for your buck – something for everyone and all the alerts are top notch!
Who Are FalconStocks?
FalconStocks is run by Shane and Marie (husband/wife team). It seems that they have had extensive experience on Wallstreet as traders and brokers. They alert penny stocks in the service.
According to their website, their track record is very impressive. You can check out the last 16 year (!!!) track record here. The only red flag to me is that they are not shy about claims like 'FalconStocks now owns the best penny stock picks record of any newsletter online'.
I get it, marketing has to be good in this industry because there is so much competition. However, their website does make these bold claims that are impossible to quantify – I mean how do you prove that they are 'the best' ?
They also run a sister site called WaveStocks.
What Do You Get With FalconStocks?
Falcon posts a single stock pick every week. Generally, the stock is a 1 – 3 day hold. The stocks usually cost less then $5 but more than $0.5. They are almost always NYSE or NASDAQ stocks that they believe are undervalued.
You get a full report on the stocks that they find. This is clearly not a pump and dump type of service. The reports are excellent and well researched.
Here is an screenshot of what you see on the Falcon Stocks site. Each week they add the new ticker with some simple information about what price range to buy in, short term price target and long term price target.
You can also see how some of these picks did (the 'hit price' in black).
One thing that I noticed is that they don't seem to give a stop loss. Typically on these style of swing trades, I will set a mental stop loss of about 10%.
Real Subscriber FalconStocks Trade Results
I will continue to update this article as I do more trades.
In the meantime, here are the latest results that my friend John has had with the service. You can see the % gains on the right in red. These are all profits (don't be fooled by the use of red to make them stand out!).
One trade a week is all they do – but it's all they really need to do! You can see that the hold times are very short, typically a day or two.
My First Trade With Falcon Stocks
2/9/21
I took my first Falcon stock, $COMS. I never follow alerts blindly, so before I bought this stock I did some simple technical analysis. Unfortunately, I stopped out of this for a significant loss….not a great start!
Update: If I had held just a few more days, $COMS would have been a nice winner….typical! Still, it never reached the $6+ gap fill target and has continued down since. A difficult trade for sure….
You can also go to the screenshot I showed earlier and back test several of the alerts to see what would have happened. Here is the screenshot again in case you don't want to scroll back up!
2/23/21 $LPTH
I missed $TMBR the following week after $COMS. Probably just as well as it went straight down since the call out. There was a chance on TMBR to day trade it for some nice profits though…..
The next trade I took with Falcon Stocks was $LPTH. I bought it the day after the alert. This is probably a mistake with this service as most of the moves up seem to happen the same day. Malcolm in my Discord group played it and captured $4.07 to $4.38. I bought and sold it for a large loss though as the market continued its red streak.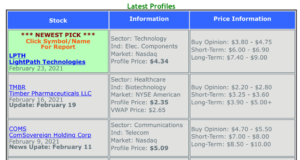 Falcon Stocks Review: Conclusions
I like services like this one. High quality stock picks that come out once a week for a very affordable price. The current cost for Falcon Stocks is only $159 a year.
I like how the owners have experience on WallStreet. But, at the same time they are just the couple next door. The stock picks seem to be very high quality with most becoming winners within a day or two. I also love how you can see their track record when you login.
Falcon has had some stocks that double or more over a 2 week period! They claim a peak gain of over 90% on these stocks! This is true passive trading where you spend 5 minutes buying a stock and just let it run up in price. The success rate is very high, but time will tell if they start a losing streak.
If you found this review useful, be sure to come and join my thriving Facebook community where thousands of members discuss different stock alerts services.
Russell
FalconStocks review: Related Articles
Bryan Bottarelli The War Room Review
SideKickTraders Swing Trading Review
TradeStockAlerts Review (REAL SUBSCRIBER)
Simba Stocks Review (REAL Subscriber!)
I hope that you found this FalconStocks review helpful! Leave comments below if you have any feedback on this service!