Strategic Intelligence by Jim Rickard Reviewed by a REAL SUBSCRIBER!

This is an honest review of this stock newsletter, written by my friend, Mark.
Disclosure: There are some affiliate links below, but these are all products I highly recommend. I won't put anything on this page that I haven't verified and/or personally used. I may get paid a commission if you buy anything through these links, at no extra cost to you.
Other Services to Consider – SideKickTrades, ThetaTraderz and EagleTrades
If you are looking for similar services…..here are three that I recommend.
1.EagleTrades is a service that does a lot of cash secure puts for passive income that work 90% of the time. They also do morning scalps on a live stream audio. Powerful daily watchlists you can use to make your own trades with breakout levels.
2.ThetaTraderz is similar options selling service that caters to smaller account sizes – a huge plus if you want to sell options but don't have a lot of money in your account to use.
3. SideKickTraders is an awesome community of stock and options traders that offers the best bang for your buck – something for everyone and all the alerts are top notch!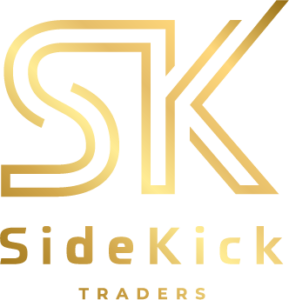 I will let Mark get started with his review! – Russell.
Why do I Review Stock Newsletters?
One of my relatives gave me $18,000 and asked me to invest it.
Through a series of mistakes, I promptly lost $2,000 — which is why I now read investment newsletters!
My goal is to learn as much as possible, by reading as many newsletters as possible, so I can tell you which newsletters I think are worthwhile in an honest, unbiased way.
I am not paid by these companies, and I invest my own money to buy subscriptions!
Jim Rickards' Strategic Intelligence Review
Fast Facts: Jim Rickards' Strategic Intelligence
Jim Rickards' Strategic Intelligence is a monthly investment newsletter published by Paradigm Press.
The newsletter is written to help everyday Americans cut through political and economic deception to avoid the impending financial collapse of the U.S. dollar. It is financial assistance for "doomsday preppers."
Author — Jim Rickards, former advisor to the CIA and The Pentagon
Cost — $49 with a 6-month 100% money-back guarantee
Contact — call 844-370-6638 OR use the order link here
Pros of Jim Rickards' Strategic Intelligence
Getting Started Guide is an easy way to understand the service
Includes a large menu of alerts, issues, briefings, links, updates, reports, and portfolio
No confusion about the purpose and goals of this newsletter
Reports are interesting, if a bit dramatic
Cons of Jim Rickards' Strategic Intelligence
Jim Rickards' writing is blunt, opinionated, and scary
Newsletter motivates using fear and worst-case scenarios
Portfolio contains little, or no, explanation of why stocks were selected
What You Get for $49
12 monthly issues of Jim Rickards' Strategic Intelligence Rickards claim this is the one place where he publishes his ongoing financial intelligence analysis. Each issue is delivered to your inbox on the 4th week of the month.
Regular updates on the Strategic Intelligence model portfolio in your inbox the 3rd week of the month
Access to LIVE monthly calls with Jim Rickards. Call discuss new developments and answer frequently asked questions
Access to members-only website, newsletter archives, special reports library, and bonuses including:

Crisis Dossier #1: The $3 Company Behind the Last Pure Silver Mine in the World
Crisis Dossier #2: My #1 Way to Profit from Falling Stocks… Even in a Great Depression
Crisis Dossier #3: Ticking Time Bombs: Stocks to Avoid During A Market Crash
Crisis Dossier #4: Five Recession-Proof Stocks to Buy Right Now
Crisis Dossier #5: How to Make Your Home Your Personal Fortress
FREE Book: The New Case for Gold — Jim Rickards' best-seller
Who is Jim Rickards?
Jim Rickards is the editor of Jim Rickards' Strategic Intelligence.
He is an American lawyer, economist, and investment banker with 35 years of experience working on Wall Street.
Rickards advised clients of the impending 2008 financial collapse, of a decline in the dollar, and a sharp rise in the price of gold.
He is the author of The New York Times bestseller Currency Wars, published in 2011 and The Death of Money, published in 2014.
Real Subscriber Review
As a paid subscriber, here is my evaluation of Jim Rickards' Strategic Intelligence.
Why subscribe to Jim Rickards' Strategic Intelligence?
I'm not convinced you should subscribe to this newsletter.
In my opinion, Jim Rickards' Strategic Intelligence is intended for a specific type of investor who believes our financial system is ready to collapse.
Rickards' solution for the coming apocalypse is to invest heavily in gold and precious metals (which is fine if you have a substantial amount of capital).
Rickards also recommends other preparations for financial Armageddon. He says…
So, what can you do? To protect your family, I would suggest stocking up on essentials, just like I've done it. Make sure you have enough water, basic food, and toiletries to last at least 3 months. I currently own a small lot of property in the mountains of New England where I have dug three wells, planted abundant gardens, and built a significant greenhouse. I have also installed the largest non-commercial solar power system in New England. Sufficient to say, I will not be dependent on anyone to take care of me or my family. Again, if you don't remember anything I say, remember this — you can't count on the United States government to save you during this next Great Depression.
Jim Rickards' Strategic Intelligence is filled with lots of doomsday analysis. It's not that the newsletter is poor quality, it's simply constant negative doom and gloom.
I suppose there are readers who might find value in the newsletter. Certain people and personalities will resonate with Rickards message.
There are enough readers who agree with his assessment that by the time the coronavirus pandemic is over, entire industries will be wiped out and millions of Americans will be without jobs.
We are living in unprecedented times which could mean a long recession (or worse). But are we on the verge of the next Great Depression in America?
Rickards believes our recent economic shutdown will trigger something we haven't seen since the Depression of 1929-1933.
Strategic Intelligence is written to address the decline of the U.S. dollar and its inevitable collapse.
Rickards is trying to sound the alarm about the coming financial crash so that anyone with ears to hear will be prepared.
But that's part of the problem with this newsletter. If the worst-case scenario happens, will investing in a pocketful of $10,000+ gold coins make a meaningful difference?
My recommendation is to subscribe to this newsletter only if you enjoy doomsday prepping, and you have the capital to invest heavily in gold and precious metals.
What is the investment strategy of Jim Rickards' Strategic Intelligence?
It is difficult to understand Rickards' investment strategy. As best I can tell, he believes in what he calls "motif investing." Here is the explanation from the newsletter:
Motif Investing is a concept-driven trading platform. It allows you to create portfolios of up to 30 stocks or exchange-traded funds (ETFs). You can pick how much portfolio weight you want to allocate to each stock or ETF. Then after you've created and weighted your motif, you can buy it through Motif Investing's brokerage platform for just $9.95. Motif Investing offers more than 150 professionally built portfolios. But we've built one from scratch exclusively for Rickards' Strategic Intelligence readers. It's called the "The New World Money" motif — a simple way to buy all the currencies included in the new SDR basket in a single click.
Jim Rickards' Strategic Intelligence created the motif shortly after the International Monetary Fund announced the yuan would be added to the SDRs. We rebalanced it when the specific weights each currency received were announced. At the time, the weights were as follows:
SPDR Barclays 1–3-Month T-Bill ETF (U.S dollar): 42%
Currency Shares Euro Trust: 31%
Currency Shares Chinese Renminbi Trust: 11%
Currency Shares Japanese Yen Trust: 8%
Currency Shares British Pound Sterling Trust: 8%.
Since we created the motif, prices have shifted those initial percentages. But we believe it still mirrors our expectations for SDRs, and we'll look to rebalance at least once a year.
In order to invest in the The New World Money motif, you must be a paid subscriber and follow the instructions included in one of Jim Rickards' Strategic Intelligence special reports.
What stocks is Jim Rickards' Strategic Intelligence holding and how are they performing?
Jim Rickards' Strategic Intelligence portfolio is bare-bones — probably the smallest portfolio of any financial newsletter I've read.
The full portfolio is accessible to subscribers only, but if you are not a subscriber, then you aren't missing much!
As of mid-October 2020, there are only nine stocks in the portfolio. Jim selects these stocks based on his New World Money motif.
So, how is the doomsday motif performing? In a word — disastrously! Six of nine stocks are negative, three of them significantly ranging in value from -4% to -57%. Inexplicably, Rickards has been holding the two worst performers since 2017 as they continue to decline.
The three top performers were all invested in the past four months of 2020 (since the pandemic) and are currently yielding a small profit of +2, +3, and +31%. So much for the "sky is falling!"
Of the nine stocks Strategic Intelligence is currently holding, I have only heard of one of their recommendations. At the risk of understatement, this is not an inspiring portfolio.
Conclusions: Strategic Intelligence Review
Is Jim Rickards' Strategic Intelligence worth the $49 annual subscription fee?
No, not unless you believe the dollar will collapse and our economy will be destroyed.
If you do believe that, then I'm not sure how this newsletter will help you anyway.
You might be better off reading The Escape Artist to learn how you can flee the country to become an American expat living in Nicaragua.
Final Grade — D+
Jim Rickards' Strategic Intelligence is clear, decisive, and focused on a single problem — but it fails miserably to provide helpful solutions.
The portfolio is filled with bad stocks, which appear to be poorly chosen, as a kind of leaky financial Noah's Ark, in an attempt to ride out an economic tsunami.
Rickards might be right, but if he is, I'm not sure his doomsday advice can rescue us. Save your $49 — you might need it!
Related Articles
Greg Mannarino Review (Robin Hood of Wall Street)
Near Future Report Review (REAL SUBSCRIBER)
I Hope that you found Mark's Strategic Intelligence review helpful!