Josh Answers face is a mystery…..or is it?
Josh Answers is obviously a fake name for the guy that runs Trading Fraternity (a stock trading a real estate educational site).
Here is an overview video I made about the guy! It gives you a summary of what is basically in the rest of this article…..so if you don't like reading check it out….
Other Services to Consider – SideKickTrades, ThetaTraderz and EagleTrades
If you are looking for similar services…..here are three that I recommend.
1.EagleTrades is a service that does a lot of cash secure puts for passive income that work 90% of the time. They also do morning scalps on a live stream audio. Powerful daily watchlists you can use to make your own trades with breakout levels.
2.ThetaTraderz is similar options selling service that caters to smaller account sizes – a huge plus if you want to sell options but don't have a lot of money in your account to use.
3. SideKickTraders is an awesome community of stock and options traders that offers the best bang for your buck – something for everyone and all the alerts are top notch!
So, this guy 'Josh Answers' is a trader and real estate investor that has a huge YouTube channel where he shows off his cars and mansions.
He lives in San Diego and over the years (he has been posting on YouTube since 2014) many people have been curious about his real identity.
The reason people are so curious is that he never shows his face in his videos and obviously uses a fake name. This never goes down well with traders that might be looking to buy his trading courses or alerts.
It screams SCAM!
When you add his 'lifestyle marketing' into the mix, it doesn't look good for him if he is trying to seem legit. His Instagram is all pictures of his thumb behind some expensive car steering wheel designed so that you can see the car logo to ensure you know just how cool he is……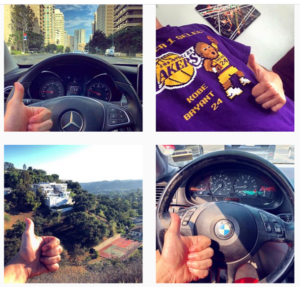 Josh Answers Face REVEALED…..I think?
The consensus on the internet is that Josh Answers real name is Jonathan Massieh, the son of a priest.  He claims that he is worried about security and also being shunned in the religious community for being finance orientated – hence he hides his identity.
Is this Josh Answers face? Or his brother?
Either way…..in my opinion it doesn't matter who it is! The content he produces on YouTube is pretty good and free.
He talks about mindset, finances and real estate as well as trading.
The lifestyle 'porn' that he shows in the form of the rich life style can also be inspiring to new traders.
What Does Joshua Answers Offer?
Besides his popular YouTube channel…..he does sell a few courses etc. Some people immediately get their panties in a twist when someone dares to sell any educational product.
Truth is that I also sell stuff (like the SideKickTraders discord subscription or my popular course called How To Not Blow Up Your Trading Account!)
Selling knowledge is a perfectly normal thing to do! But if you are a trader, some people immediately scream 'scammer!'.
Anyway…..here are some of the things that The Trading Fraternity site has listed as products/services.

Everything seems very fairly priced to me…you can go to the site and check out the videos he has on what is included in each of the products.
The most expensive product he offers is called Stream Alerts and seems like a text SMS service for stock alerts. It costs $75 a month. Sounds pretty standard.
I'm not seeing anything in his paid stuff that really grabs my attention. I think that the value from Josh Answers is the free stuff on his YouTube so I haven't signed up for his courses etc.
Josh Answers Conclusions
The mystery surrounding this guy is intriguing and maybe that is part of his marketing efforts. His stuff appeals to younger traders that like the lobster, fast cars and mansions life style portrayed on his social media.
If you are looking for some interesting, informative videos to watch – I recommend it.
Russell
P.S if you are looking for an alerts service and awesome trading community to join……try mine! It's called SideKickTraders. Here is one of our best performing subscribers talking about it.
Related Articles
Altucher's Investment Network Review
Jeff Bishop Bullseye Trades Review
Oxford Club Technical Pattern Profits Review
Long Term Investments to become a Millionaire (Hopefully!)
So what do you guys think? Is Josh Answers really Josh or Jonathan Massieh ?